by Victoria M. Howard
Missy (Dennis) Rothfuss comes from a pedigree of third generation horsemen. Her father, Roy, got his start in Delaware, and her mother, Sharlene (Stark) Dufford, in Western New York. Her stepfather, Bruce Dufford, is also a horseman from Pennsylvania.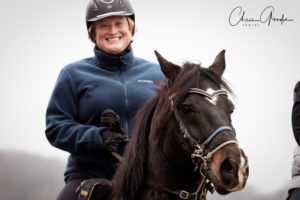 Like many others, Rothfuss started showing horses, instead of racing. She showed her Arabians and was actively involved in 4-H and Pony Club.
"I was born in Freehold, New Jersey. Besides showing my own, I did a lot of catch riding for people who had problem horses," Rothfuss said.
A lot has happened since then. Currently, Rothfuss is the head outrider at The Meadows Racetrack and Casino and has been for the past 20 years. She has also been the head outrider at the Little Brown Jug for the past three years and was one of the outriders at the Breeders Crown at Poconos in 2013 and 2018.
How did this experienced, dedicated horsewoman get her start outriding?
"I was in my senior year of high school when Tom Leasure, the race secretary at The Meadows, asked my mother if I would be interested in being the backup outrider. Luckily for me, the principal, Mr. Dell, worked out a schedule so I could leave school and train at the track in the afternoons. Twenty-four years later and I'm still there," Rothfuss said.
"Those days we were called parade marshalls, and believe me, it is not all smooth sailing. It may look like a glamorous, easy job, but it's not.
"The first loose horse I ever caught will be one I'll always remember. My horse was petrified to get near another. One day, a shaft hit my horse in the stifle and while pulling him up he bucked me off, tossing me into the winner's circle. The whole thing was caught on tape and I would love to have that tape now.
"At that time, I was a bartender. One night, driver Brian Sears came in and told me I could ride, but if I got a better horse, he would help me.
"I bought a nice old cowpony named Henry and away we went. Brian, along with driver George Brennan helped me out a lot.
"I remember when I was ponying one for George and it was beating me in the arm with a roller burr. He yelled, 'Don't let go — it will make you tougher.' I didn't and it did. Ray Paver and my father-in-law, Don Rothfuss, also helped me out a lot with my new horses on the track."
Currently, Rothfuss owns seven riding horses. Her main man is Salem, a 24-year-old standardbred/quarter horse cross who has been busy at his job since he was 3.
Then there's Dude, a palomino/quarter horse Missy saved from the kill pen five years ago. T (Mount Tirley) is an 'off the track' quarter horse, as is Sam, her 'other off the track' quarter horse.
Pali, the 'newbie' of the bunch is a 28-year-old Paso/Fino cross who is now retired, enjoying the good life in the field. Oz is another Palomino Missy pulled from the kill pen two years ago, and Wingnut Dinger, is a 6-year-old trotter she is currently training to be an outriding horse.
"Dinger is currently racing, but he's so willing and smart, I'm hoping he can do both," Rothfuss said.
And last but not least is Oz, who has the best personality in the world and babysitter to the racehorses in the field.
Teaching a horse to be an outriding horse takes patience, skill and knowledge — everything Rothfuss has.
"I start with ground work — lots of lunging and getting them used to the track. I do a lot of work just riding on the back tracks with the joggers. There's a lot of trotting and my husband, trainer Jim Rothfuss helps me once they are ponying — then they are ready for qualifiers. My daughter, Shaunna Morris, is my back up who brings them down and rides with me.
"It's so much less pressure that way and the horse learns in a positive way. The Meadows is a really hard track to ride at for you go about 1/8 of a mile walking back and forth. You ride back to the race with them and the starting car comes behind you.
"Believe me, it can be mighty stressful at times and is probably the least favorite part of my job. My horses will ride qualifiers awhile until they can handle that by themselves. I never practice pulling one up at speed and never want my horses to learn to be hot on the track. I want them calm and cool. I'm incredibly slow in starting one. It's about three months before I start qualifiers with them because I want to know exactly what's under me, for a bad horse not only can hurt you, but drivers and other horses too."
An outrider's job can be quite dangerous. Drivers and horses in a race rely on the quick thinking and expertise of the outrider and her horse.
"We are like the clean-up crew — you never really see us until something goes wrong. My horse and I handle the bad actors making sure they get to the starting gate safely. We run down any loose horse and keep them out of harms way.
"It can be tough at times and you and your horse must be fearless. There is no room for fear and you must always be on top of everything. Anything can and does happen, such as I've have had horses rear up on me; bikes fly over my head, and been ripped off my horse a time or two. No situation is ever the same.
"And an outriding horse is just as much an athlete as a racehorse — they just don't get the fame and glory."
Because of the horrific pandemic we are experiencing, racetracks are temporarily closed. What is Rothfuss doing during this downtime?
"I walk my dogs a lot. I have two Rottweilers, a min pin and a spaniel mix.We walk about 3 miles a day. My husband Jim and I still have the racehorses to tend to. We currently have a stable of eight. We've had to back off, so we do a lot of trail riding and the horses are getting field time," Rothfuss said.
"My outriding horses have been turned out for the time being, and we are all praying and waiting for this nightmare to end."