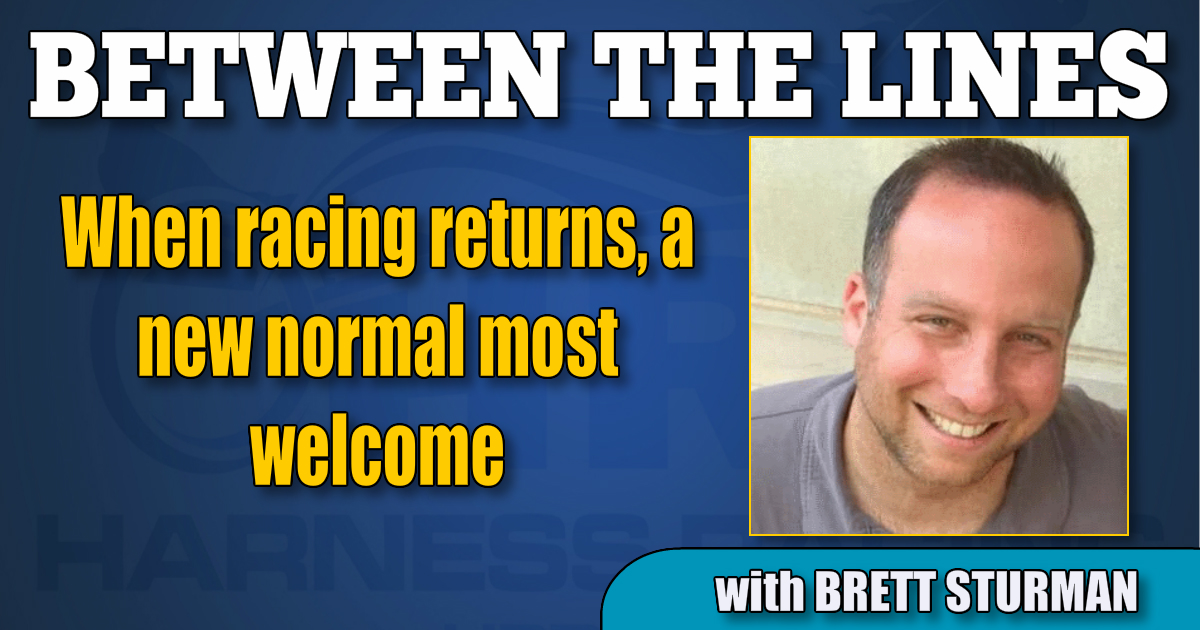 When racing returns, a new normal would be a welcome change
by Brett Sturman
Throughout the COVID-19 pandemic, all the talk these days is that of a "new normal" in our daily lives. I, for one, am skeptical and would be reluctant to embrace whatever a new normal is supposed to mean, but in terms of harness racing it's a different matter. If a new normal in harness racing means a leveling of the playing field for when horses return to the track, that would undeniably be a good thing.
On March 9, the industry was rocked by the announcement of prominent harness racing trainers as the subject of federal indictments for among other things, doping. Then, just one day later on March 10, Yonkers announced the cancellation of their race cards and immediately thereafter the dominos began to fall for all other tracks to the point now where these is no racing for an indefinite period of time. After these two events, the racing landscape will look much different for both horsepeople and bettors alike whenever racing does resume.
The one track that will be transformed entirely will be Freehold. Over the past few years, Nick Surick has turned Freehold into a mockery, making the track his own personal playground. At the track which typically features smaller named trainers and slower horses, Surick has compiled 214 wins since January of last year. How big a number is that? The next closest trainer after Surick has just 31 wins. With Surick out of the picture, it'll be a completely different ballgame at Freehold. Other trainers will actually have a chance now, and bettors won't have to pick between playing Surick's 2-5 entry in an optional $6,000 claimer or sitting out the race. I'd expect that handle should improve.
At Yonkers, two of the top three trainers since Jan. 1, 2019 certainly won't be racing at the Hilltop when racing resumes and in all likelihood will never race there again, period. In that time period, Rene Allard and Richard Banca amassed 194 wins and 188 wins, respectively. They trailed only Scott Di Domenico by a narrow margin, while leading Ron Burke and Jennifer Bongiorno by more comfortable margins. Where will those combined 382 wins between the two of them get distributed to?
In Pennsylvania, Pocono and Chester will undoubtedly show a different composition of top trainers. Not only is Allard gone, but also gone is Chris Oakes who is perennially at the top of the Pocono trainer standings. Oakes sported a trainer UDR .437 at Pocono since January of last year which was only bested by – wait for it – 21-year-old family member Hunter Oakes who has a UDR of .452. If there's any integrity at all, there won't be an Oakes name in the program when racing starts back.
Those named in the indictments that won't be racing are just the beginning of how racing will be different. There are countless other trainers who will continue to race, but whose normal methods of operation will change. Just as bettors, race participants and anyone who even half follows harness racing had long assumed those named in the indictments were cheating to begin with, it's still widely assumed who the barns with an edge are. They're at every track – even the Meadowlands – and one would think that their operations will be scaled back not knowing if they are the current subject of wiretaps or if they will be the next to fall as federal investigators acquire more information from those subjects already facing trial.
When racing starts back, it'll initially be very difficult to lean on who the most bet-able trainers are because their records may not resemble their accustomed success based on changes in their methods. What else will make the races challenging to handicap aside from the barns of where the horses come from, are the horses themselves.
Bettors in harness racing are used to assessing a horse's form on a near week-to-week basis. If horses don't start racing again until the summer, three months or more may have passed since they last raced. Form from earlier in the year will be meaningless, and it will take at least a couple of starts for bettors to be able to gauge what type of condition a horse is returning in. The uncertainty of it all could lead to lower handle at first, but with everyone not having a solid idea of what to expect, it could make for a lot of unpredictable race payouts.
It'll be anyone's guess at first who the trainers are to bet and who the horses are to bet, and that is something harness racing hasn't seen for a long time. It will be a positive change.
Phoning it in…
I agree with Ray Schnittker's conclusion regarding the scrapping of qualifiers from Friday's Harness Racing Update (full story here), although for different reasons than what were stated.
Schnittker referenced the thoroughbreds where according to him, trainers can work a horse privately and call in the workout time. Most workout times are recorded more formally than that, but I agree with the question of how useful the time is anyway.
In harness racing, the main idea of a qualifier to make sure a horse is fast enough to race at a track. The problem is that qualifying standards are about 50 years out of date. At the Meadowlands for example, the qualifying time for a 3-year-old pacer is 1:59. Does anyone really think that if not for qualifying, there would be 3-year-olds at the Meadowlands that can't break 1:59? It might be one thing to have a 2-year-old qualify in order to show that they are ready to compete in a race, but for proven horses that pace in 1:50 and trot in 1:52, what are they actually qualifying against?
It's similar from a handicapping standpoint. In theory it would be nice to see how fast a horse qualifies and use that information in handicapping a real race, but qualifying performances aren't always indicators of race performances. I've seen horses that qualify evenly in 1:55 and then go down the road first out in 1:50.
The time and cost associated with qualifying for both owners and trainers isn't worth it.