by Dean A. Hoffman
The Canadian Pacing Derby was first contested in 1936 and in the ensuing decades, it's gained status as a classic prize for the best older pacers in training.
But only one horse has won the Canadian Pacing Derby three consecutive years and that's Rambling Willie.
(NOTE: One of Willie's victories was a dead-heat with Pickwick Baron. Also, The Count B, a legend in Canadian pacing annals, won the Canadian Pacing Derby four times in the 1940s, but never three in a row).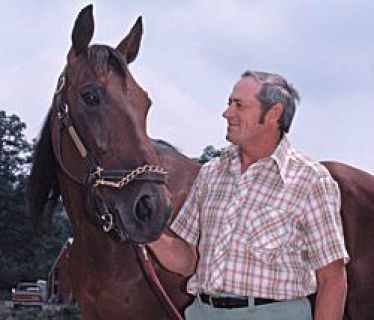 That's just one of the reasons why Rambling Willie, "The Horse That God Loved," will be enshrined in the Canadian Horse Racing Hall of Fame this year.
The gelding from humble origins overcame myriad physical woes to enjoy a career that saw him become a living legend. Rambling Willie retired in 1983 with winnings of $2,038,219.
Willie won 128 times in 305 tries and 69 seconds and 43 third-place finishes. That's 240 times that he hit the board racing often against the best pacers in North America.
Rambling Willie wasn't born to be a star. His pedigree ran to the bushes quickly. His sire Rambling Fury and his paternal grandsire Ensign Lad really have no other bragging rights than Rambling Willie.
He was foaled near Monroeville in northeast Indiana in 1970. He didn't race as a freshman but showed enough potential the following season that trainer-/driver Bob Farrington put up $15,000 to buy him.
A native Ohioan, Farrington was the leading dash-winning driver from 1964-68 and he pioneered the concept of the year-round stable to maximize his stable's earnings.
Rambling Willie raced in the name of Farrington's wife Vivian and Ohioan Paul Siebert. Mrs. Farrington's father was a minister and she regularly tithed her share of Willie's earnings to churches. That's how Rambling Willie became known as "The horse that God loved."
For all of his success in The Canadian Pacing Derby, Willie was unable to match that in the Provincial Cup, another big Canadian prize for older pacers, contested at Windsor Raceway. Bob Farrington took the Provincial Cup off Willie's schedule.
"Bob was a guy who wouldn't go back to a track if he didn't have luck there," says Dean Collins, then the caretaker of Rambling Willie and now a trainer/driver at The Meadows in western Pennsylvania. "Bob was sharp in picking his spots to race Willie. After he raced against the top pacers a few times, Bob would find a softer spot for Willie."
Rambling Willie often spent time in Ontario as the late Dr. Lloyd McKibbin ministered to his many ailments. Collins and others who watched Dr. McKibbin work sing the praises of the veterinarian.
One vet wanted to removed Willie's aching splint bones, but McKibbin said he preferred simply to freeze them.
"He'll be as good as new," McKibbin assured Collins. And Willie was.
Collins sung the praises of McKibbin's horse intuition, saying, "He was years ahead of his time. He'd make the best vets today look dumb."
Collins said that McKibbin would apply pressure to Willie's nostril in an effort to stimulate a nerve. Collins tried it but never achieved quite the same results.
When Rambling Willie was in Ontario getting McKibbin's attention, Collins based him at trainer Doug McIntosh's farm for jogging and training.
"Willie was a very nice horse to jog and train, but a bit on the lazy side," recalls McIntosh. "I don't believe Bob ever trained him too hard."
One time, Farrington called and asked McIntosh how the horse was and Doug reported "seems good."
Farrington was aiming to race Willie in an upcoming feature at Sportsman's Park in Chicago and asked McIntosh to train the old horse to a jog cart, get to the half-mile in 1:05 or 1:06, then come the final half as fast as Willie could pace.
"I was pumped up," recalled McIntosh. "I got him to the half in 1:06, then started asking him. He had nothing. I pushed him hard. Nothing. I snapped the whip. Nothing."
McIntosh knew that Farrington would be calling to ask how Willie trained.
"Bob called at 9 o'clock sharp," he said. "I was really nervous."
Farrington asked McIntosh how Willie had trained and McIntosh said, "Not that good, Bob. He only went to 2:12."
Farrington just laughed and said, "Willie's ready. I'll order a truck."
McIntosh was taken aback, but he recalls that two weeks later Willie won the feature in Chicago in a swift 1:58.3.
"What a horse Willie was," said McIntosh
The bay gelding became the richest standardbred in history in a 1979 race at Scioto Downs in Ohio, not far from the Bob Farrington's original home in nearby Richwood. He ended that season with $1.6 million in career earnings, easily surpassing the trotter Savoir.
That was quite an accomplishment for a gelding with such humble origins. He held the money title for only one season as the wunderkind colt Niatross displaced him during the 1980 season.
During the latter stages of his career, Rambling Willie embarked on a promotional tour that took him to tracks across the continent. This was organized by the US Trotting Association in cooperation with local tracks. Copies of the book "Rambling Willie: The Horse That God Loved" were available for purchase and Willie obliged in personalizing books by putting an inked hoofprint for each customer.
Willie retired from racing in 1983 and lived out his life as a celebrity standardbred at the Kentucky Horse Park. He died there at age 25.