by Sandra Snyder
Grit, determination and raw talent propelled McWicked through a seven-year racing career that saw him earn $5.1 million, make 40 appearances in the winner's circle and take a record of 1:46.2 over The Red Mile. With those statistics, the son of McArdle and Western Sahara joins an elite group of horses elected into the Canadian Horse Racing Hall of Fame just months after their last appearance on a racetrack.
"There was never once that I ever went to the track not thinking that horse had a chance to win and there was never once I was ever disappointed with him. Every single time that horse went to the track he gave it all he had," said Casie Coleman, who trained McWicked through his three, four, six, seven and eight-year-old campaigns. "He definitely deserves it and we're very thankful to the voters that voted him in."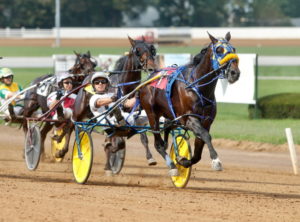 Bred by Andray Farm, McWicked was purchased for $35,000 out of the 2012 Harrisburg Yearling Sale by the Andy Miller Stable, Paymaq Racing and Hannah Miller. At two, racing under the tutelage of trainer Julie Miller, he would amass three wins and $179,617 in 10 starts before being entered in the Harrisburg Mixed Sale.
Based on the recommendations of his long-time advisers, pedigree expert Norman Hall and trainer Jimmy McDonald, Ed James would ante up $210,000 for McWicked, which, in spite of his then wife's initial doubts, would prove to be a wise investment.
"Most investments that people come up with and make money with they tell you how they figured it out, but nine times out of 10 it was just a wild-assed guess," said James, adding that the team around McWicked was the key to the horse's success. "Good people, good people that figured out what was wrong with the horse after I bought him and turned him into the horse he is."
After wintering in Florida with McDonald, McWicked made the move to Coleman's barn and proceeded to light up the sophomore pacing colt ranks, never finishing worse than fifth and banking $1,482,447 in 23 starts. McWicked triumphed in the finals of the Max Hempt Memorial (in a world record 1:47.3), Delvin Miller Adios, Progress Pace, Pennsylvania Sires Stakes and Breeders Crown and was honoured with the O'Brien and Dan Patch Awards for top three-year-old pacing colt.
At four and five McWicked would make just 14 starts, without recording a win, and undergo surgery following his 4-year-old campaign and again in the summer of his 5-year-old season. Trainer Steve Elliott guided the pacer through his 5-year-old season and started him up in 2017, but James sent him back to Coleman in June. After winning his first start back in Coleman's barn, McWicked picked up his first stakes win since December 2014 in the June 17 Mohawk Gold Cup. The horse would record just two more wins in 2017, but he would hit the board in 16 of 27 starts and bank $598,335.
Jimmy McDonald winter trained McWicked throughout his career and the Florida resident qualified McWicked once at Pompano Park before returning him to Coleman in the spring of 2018. That 10-length romp would prove a harbinger for what was to come. By November, the horse had captured the elimination and final of the Ben Franklin, William R. Haughton Memorial, Canadian Pacing Derby final, Allerage Farms Open, Dan Rooney Invitational, Breeders Crown Final and TVG Open. His record of 12 wins, three seconds, two thirds and $1,662,094 in 19 starts saw him sweep Aged Pacing Horse and Horse of the Year honors at both the O'Brien and Dan Patch Awards.
"My number one favorite was when he won the Canadian Pacing Derby in Toronto," said Coleman. "Nobody was really talking about Wicked at all. Everything was all Lazarus, Lazarus, and I'm like, 'Man did everybody forget who McWicked was?' and then he just comes and destroys him. That was definitely my favorite win for him.
"And second favorite is pretty easy too, at the Red Mile when he went in 1:46.2, that was a pretty special race, too."
Coleman firmly believes that 1:46.2 could have been even faster had McWicked been racing on four good feet.
"It was always a problem and it'd be crazy to know what he could have done if he had a good foot. For instance, the race that he went in 1:46.2 he actually had one bar shoe on," the trainer said. "In my mind a bar shoe 100 per cent slows a horse down, no question about it, and I had no choice. It was either bar shoe or we don't race, because I had to take all the pressure off of his quarter crack."
The grit and determination to overcome obstacles, whether a bad foot or a bad trip, are the things Coleman loved most about McWicked, although the trainer admits it is hard to come up with anything she didn't like about the horse.
"I honestly can't even think of anything. He's gorgeous, he's perfect gaited. If I was going to change anything I don't even know what the hell it would be, because he pretty much was the perfect horse," said Coleman.
"His lungs and his heart were just unreal. There have been many times where coming up to the three-quarter pole and he's first-over and some wicked fast fractions and you're thinking, 'Man, he's got to get tired, like he's obviously going to be giving up here any time,' and next thing you know he hits another gear that you don't even know where the hell that gear come from."
McWicked started his 8-year-old campaign in high gear last May, clocking a preferred win in his first start, and added five more stakes titles and $1,053,576to his resume before he was retired in November. His third million dollar season garnered McWicked a second Aged Pacing Horse of the Year title at both the O'Brien and Dan Patch Awards.
It may also have been that grit and determination which inspired harness racing fans across North America. Coleman regularly received good wishes on social media and in person, fielded requests to meet the horse and handed out more of his horseshoes than she can count.
"I've won a lot of big races with a lot of nice horses, but Wicked, when I post something it's crazy how many messages I'd get," said Coleman. "It just, to me it felt like other people really thought that they had something to do with him too."
Coleman and the horse's key caregivers, who included Tyler Schlatman, Jeff Kemp and Ben Hollingsworth through his career, along with second trainer Mark "Bubbles" McKinnon, are definitely going to miss the fiery pacer, who started his second career at Winbak Farm of Ontario in February, serving a full book of mares.
"He's a real cool horse. I've had many times where I'm in a different part in the paddock and Wicked has shipped in later in the night and you'll hear somebody else in the paddock say, 'Oh here comes McWicked', because he just comes in roaring and screaming and prancing," said the trainer. "He definitely knew that he was a good horse and demanded to be treated that way. He was a lot of fun. It's going to suck not having him in the barn."
For his part James, who turns 89 this year, felt McWicked had accomplished everything he needed to on the racetrack and is looking forward to seeing his progeny race. The Aurora, ON resident will not have to wait long. He has a 3-year-old and a 2s-year-old from limited test breedings undertaken in 2015 and 2016.
"I've had a bunch of good horses in the last probably 60, 70 years —1956 when I bought my first horse — he's what you call a home run," said the owner.