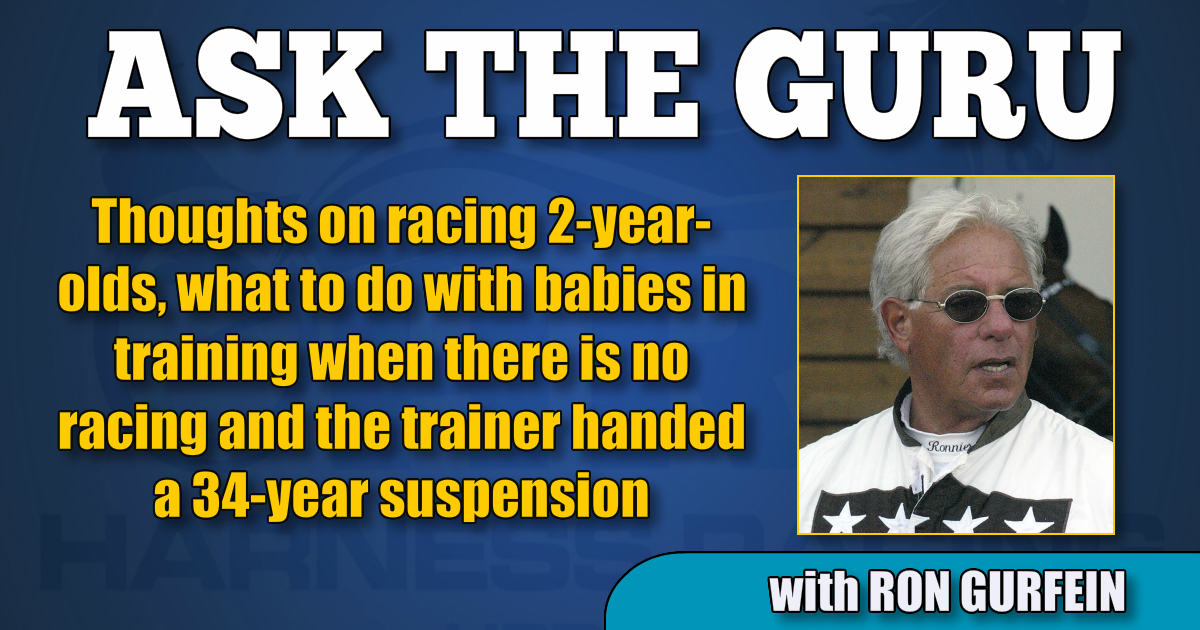 Thoughts on racing 2-year-olds, what to do with babies in training when there is no racing and the trainer handed a 34-year suspension
by Ron Gurfein
Tidbits: My sincerest condolences to Ray Schnittker and his family on the passing of his dad Warren. There are few finer gentlemen in our sport than Warren Schnittker and he will be missed by all of us.
* * *
It didn't take long. A month has passed since the FBI indicted 29 men and women for various nefarious acts involving racehorses. Due to the virus, the timetable has been pushed back to at least September when there will be any exacting results.
* * *
Bobby Martinez (no relation to the guy who's white cowboy hat is often seen floating in some Canadian lake or other) has just received eight class I positives for Ostarine (Enobosarm) a drug known as a successful muscle builder that is not approved for humans or horses by the FDA. Two were post-race and six were out of competition testing. Martinez a famous trainer of quarter horses was handed a 34-year suspension and a $480,000 fine by the New Mexico Racing Commission. I love those numbers.
Do you thinks our bandits would be playing with EPO if we could make those number stick?
All of the Martinez positives came in a 10-day span last July at Ruidoso Downs home to The All American Futurity.
The best is, it seems when Martinez was confronted by reporters he claimed he was simply a "paper" trainer and that he never even saw the horses in question, it was someone else. Stay tuned for the rest of the story.
* * *
A few weeks ago I wrote about workman's compensation as the bane of the horseman's existence. Well just when you think things cannot get any worse, the California Workman's Comp Fund comes up with a shortfall to the tune of a surcharge to all horsemen of $1,233 per horse for all horses in training in the state of California in the first quarter of 2020. To an outfit like Ron Burke, that would be a surcharge of over $250,000. And you're worried about April stake payments.
* * *
There are few drivers that I was closer to in my career than Walter Case. To say he was a great reinsman is an understatement.
Last week he said on social media that he would love to drive again but he was afraid he would make a fool of himself.
To me that's like saying Tom Brady will make a fool of himself playing for Tampa Bay. Casey, if you are listening, go for it, you can't miss. No one that great could ever be bad.
Rich Johnson asks: I have read many articles recently by people that suggest it would be wonderful if we eliminated 2-year-old races and how it would improve the image of the sport. What is your take on the matter?
I have to hold my tongue to be polite because to me there is no idea I have ever heard that is more ridiculous.
The most exciting part of racing standardbred horses is the 2-year-old year. Don't get me wrong, I love some 3-year-old events such as the Hambletonian and Oaks, the Kentucky Futurity, the Jug, Meadowlands Pace and the NA Cup, but every 2-year-old race to me is great no matter how big or small because we are constantly seeing the birth of tomorrow's stars.
I don't know of many that will ever forget Snow White at the Red Mile, or even the first qualifying race of Greenshoe.
Let's put the esthetics aside and look at the financial picture. Anyone in favor of this idea must realize that it changes the entire financial dynamic of the sport. You now have a one-year gap lot feed and caring that someone has to foot the bill for. I seriously doubt we would attract many owners that are willing to buy a yearling in September and wait 20 months to race. The thought is beyond the pale.
If the sales were later, where would the average farm get the room to store an entire crop of yearlings for any period of time? Remember, three months after the yearlings sell now the foals start coming.
I don't know why I answered this question because it is so far out there I get upset that anyone could even imagine it.
Joel Kravet asks: How many of today's trainers would know how to put a pair of elbow boots on a horse?
Funny question and purely as a guess I would say not many. I am sure any trotting horse trainer over the age of 60 would have little problem but the younger ones were most likely never exposed to horses that hit their elbows as the gait of the trotting horse has radically changed in the last 10 years. Are there still those that need them? Of course, but they are few and far between.
I have a story about elbow boots that is interesting, though.
It was more than 30 years ago and late afternoon and I was puttering around my barn at the Meadowlands waiting to go race my horses when the loudspeaker squawks, "Ron Gurfein come to the paddock immediately."
Now I am in my barn, my horses and caretakers have not even left yet for the races. What in the world would they want me for?
I jump in my golf cart and arrive at the paddock where Ted the paddock judge is standing in the middle of the doorway pointing to a guy with his hands loaded with a conglomeration of equipment.
There before my eyes stood Monte Gelrod with his hands entangled in elbow boots.
"I sure hope you can put these dam things on because I don't have a clue," was my greeting. Well I gave him my Elbow Boot 101 lesson but that didn't go too well as I was recalled a week later to perform the same operation.
Don't be hard on Monte it really is a task to put them on correctly.
Havana Persson (Swedish sports director from Roback) asks: Do you remember Share The Promise? She has won the elite mare year award and I was wondering if you could tell me about her.
Share The Promise was moved to my barn early in her 2-year-old year by my friend and patron Bob Waxman. She won The Review in Springfield in 1:56.3 and was second to another filly of mine Bella Verde in the Hayes at DuQuoin in 1:55. Those were her only good starts. When she got to the Red Mile she was sore, and I turned her out shortly thereafter. At 3, soundness and tying up prevailed and she hit the board in many starts, but she was difficult to drive because of her problems.
She definitely had ability in those days. A 1:55 2-year-old was a valuable commodity, plus she had a fabulous pedigree. It doesn't surprise me at all that she has become a noteworthy broodmare. Please inform as to her further successes, as well as the training next year of the colt recently delivered by Delicious.
Some trainers have called and emailed me asking what to do with the babies in training.
I am not sure anyone can answer that question accurately at this point in time. One thing is certain, we all know how soft their bones are at this time of year, so right now let discretion be the better part of valor and don't speed.
No matter what you do now, as long as you stay within reason you will not change the eventual ability of a colt. However, I do not suggest any long turnout period because many will quickly forget what you have spent six months teaching them and/or will get in some bad habits. Repetition is a wonderful thing when it comes to horse training.
It's not necessary to train 2:15 every week, but I wouldn't go three weeks without a reasonably quick work.
I refuse to speculate as to when you will race again There have been rumors in New Jersey that May 1 as a target date, but being front and center in the pandemic fight I find it difficult to see a resumption in New Jersey before some of the states less infected.
That said, never underestimate the power and relentless drive of Jeff Gural and his team. I have seen a never ending string of miracles from that corner.
I will assume there will be pressure to get the industry back rolling before we go to church or the movies, but that is yet to be accomplished.
I do know that the Meadowlands is researching ways to bring empty stands racing back ASAP as I am sure many other venues that I am not a familiar with are doing.
Be positive, there is a light at the end of the tunnel and whatever is in the cards hopefully it will be the best for all of us.
Tom Santoro asks: In the book the Care and Training of the Trotter and Pacer a trainer mentions that he did not like a white footed horse, yet I saw where Casie Coleman said she liked white on a horse. What are the pros and cons?
To begin with, there is some fact to the idea that white footed horse will give you more problems than horses that have no white. I personally find that white feet are more prone to quarter cracks, take longer for injuries to heal, and are more prone to skin irritation.
That said, I would still buy a white footed horse if I truly loved him.
As for Casie Coleman, I really don't like to speak for her or anyone else for that matter, but I doubt she was quoted in regard to white feet.
Casie is a promoter of her own stallions and the flavor of the day is Betting Line. My first comments about the Betting Line foals was they looked a lot like Golden Money Makers, a stallion of my youth that was black with a lot of white. As some would say, has too much chrome.
Most of these theories are old wives tales and it seems to me that the older horseman stick to these ideas way more often than the younger ones do.
To sum it up I myself have had a very hard time with trotters that were white where they interfered but have had no problem with any white area that was not compromised.
This reminds me of a guy that asked me why there are very few good chestnut colts. My answer is because there are none. If you look at the Harrisburg sale from last November they sold over 1,000 yearlings and only one was a chestnut.
My advice: if you love a horse, buy it. The white will look great in the winner's circle.
Jeff Cantine asks: Please discuss your routine for tie up horses when you are stabled on the grounds of a racetrack?
That's an easy question to answer as I have spent 99 per cent of my time as a trainer on the grounds of a racetrack. However, my answer will create a myriad of negative feedback as very few horseman agree with my theories on the matter.
I relate tying up to getting severe cramps as in basketball or swimming. What does the athlete do? Certainly doesn't exercise.
Therefore, I suggest first leaving the horse in the stall for a minimum of 48 hours and give plenty of fluids as well as some pain killer and muscle relaxer. Most horses will be fine, but hand walk and then double jog (go one or two miles and then go back two hours later and do it again) just to be safe and then drive on.
I have had a few very difficult cases where I had to resort to more stringent methods like training a 2:45 mile every day. This would represent the rarest of scenarios.
One more tip on this subject: Please don't let the blood parameters that come back from the blood labs make you crazy. The numbers they have decided on for proper range for SGOT and CPK are way lower than many horses will perform perfectly under. Know your animal and be guided by the parameters he shows you are best for him. There are horses that are severely tied up at 750 and those that are fine at 1800.
Thanks to all of you for the kind words and please keep the questions coming in. Have a wonderful week and STAY SAFE.
Have a question for The Guru?
Email him at GurfTrot@aol.com.