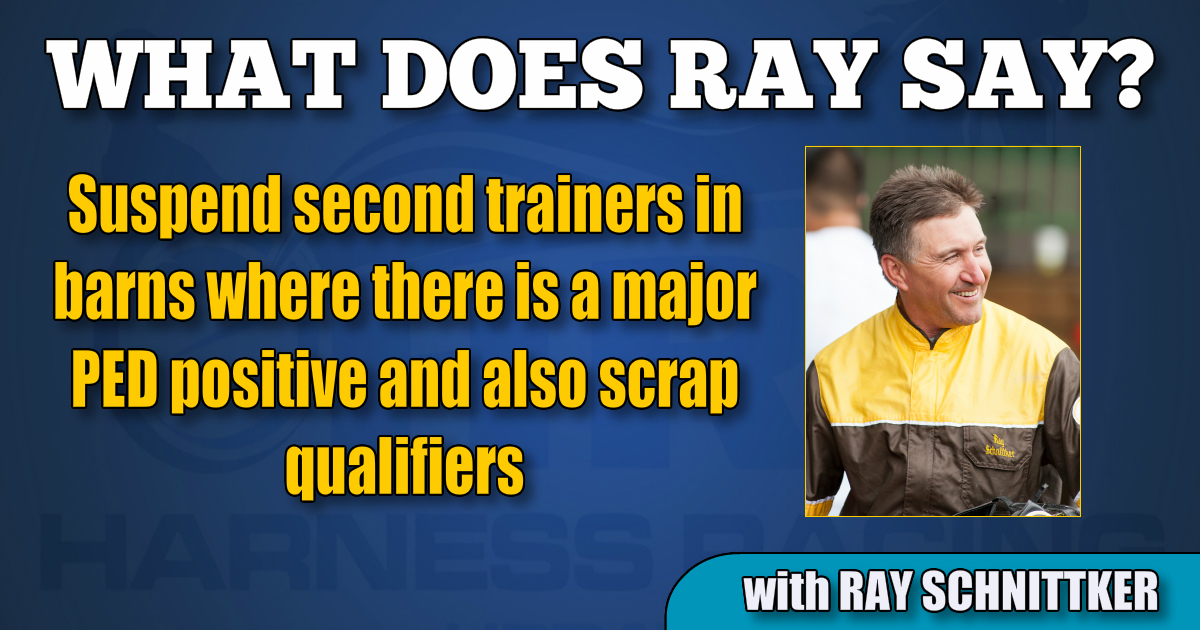 Suspend second trainers in barns where there is a major PED positive and also scrap qualifiers
So explains multi-talented horseman and common-sense sage Ray Schnittker.
by Dave Briggs
(Editor's note: Condolences to Ray Schnittker and his family on the death of his father, Warren, on Wednesday at age 91).
Ray Schnittker had two burning issues on his mind this week. He said it's time to get rid of qualifiers and also time second trainers serve lengthy suspensions if their bosses get nailed for major Performance Enhancing Drug (PED) positives.
On the latter, Schnittker said second trainers that don't blow the whistle on bosses that are cheating need to also serve lengthy suspensions if they keep quiet about what's going on in the barn.
"I think we should have a rule that if a trainer goes down, say for two years… their second trainers automatically get a year, too, because they didn't say anything," Schnittker said. "Maybe people will start stepping up.
"This has to be an integrity game… So, they get a year, too. Then they'd be accountable, too. Now, no one is accountable."
As for scrapping qualifiers, Schnittker said it's long overdue. The process has limited value and creates unnecessary expense for horse owners.
"I think we should be doing away with qualifiers except, maybe, one time for 2-year-olds," Schnittker said. "In France, they have one line for their career… and they bet more money there on harness racing than anywhere in the world."
Schnittker said harness racing needs to follow the thoroughbred model of reporting workout times.
"I just trained a bunch of 3-year-olds in :56 at Goshen. What's wrong with me just reporting that so they can put it in the program? The thoroughbreds do that, they just call it in and they tell them, 'Okay, I worked the horse in :48.1 for four furlongs' or blah, blah, blah.' They write it down and it's in the program. Away they go.
"No, I've got to go to Pocono Downs, it's going to cost that owner $300 or $400 for me to get that horse shipped to Pocono. It's an hour-and-a-half away, an hour-and-a-half home. I've got to get somebody to warm the horse up or me go with the horse and have a groom look after the horse… It's a whole, total waste of time to me and a waste of money.
"I had an old trotter. I took him to Yonkers before they shut down. I qualified him in :59. He's got to go like :56 for his race. So for his :59 qualifier, I go down there early, because Yonkers you never know what the traffic will be like. It's like a six-hour deal to get a :59 qualifying mile in him. I said, 'This is stupid.'
Schnittker said the problem is going to be even more acute when racing resumes after the COVID-19 pandemic subsides and thousands of horses will need to qualify.
"After COVID-19, we're going to have like 5,000 horses qualifying for opening week when they open these tracks up," he said.
"Most tracks, they don't even want to have qualifiers anymore, either. It's not like years ago when everybody was stabled at the track. It was no big deal then. Now, three-quarters of the tracks you've got to ship in to qualify."