by Melissa Keith
Until this week, there was faint optimism that maybe, just maybe, Truro Raceway would be able to adhere to its original April 10 opening date. But Monday, track management announced a tentative new date for the Bible Hill, NS half-mile's 2020 debut: Friday, May 8. It could be even later, depending on provincial COVID-19 trends; general manager Kelly MacEachen has stated that she will re-evaluate the situation on May 1.
To date, the two Cape Breton, NS racetracks have not announced changes to their scheduled seasonal debuts: Saturday, May 9 for Northside Downs and Sunday, June 7 for Inverness Raceway.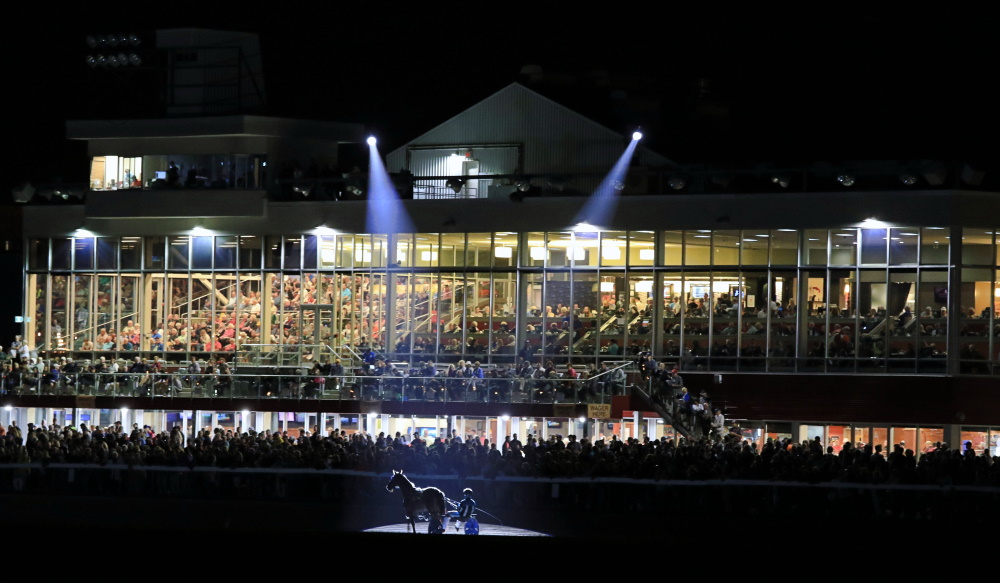 Thursday, Red Shores Charlottetown, PEI announced that it would not be opening as planned on Saturday, May 2. The region's most prominent track is now slated for a June 4 season-opener, which could obviously change depending on the Coronavirus situation. The two Atlantic Lottery Corporation Red Shores-branded tracks (at Charlottetown and Summerside) announced on March 26 that 220 full-time, part-time and temporary employees were furloughed because of COVID-19 protocols.
Brett Revington is racing director for the Atlantic Provinces Harness Racing Commission (APHRC). He told HRU that the commission has been holding conference calls every two weeks, with the next one scheduled for Wednesday, April 8. "I know we're all looking to get going again, but it doesn't look like it will be anytime soon," he said. "Hopefully June, and that's an optimistic return [date]. It just depends on when these restrictions can be lifted."
Given the new uncertainty about how the future will unfold, Revington said regional tracks were being cautious. "We're really following the direction of the chief medical officer for each of the provinces — all of the [Maritime] tracks are. We're really treating it as a fluid situation. There's a lot of questions, a lot of 'what-ifs?', really uncharted territory, that we're dealing with for the first time."
Restrictions on the size of public gatherings and on travel across provincial borders will both be significant factors in getting the 2020 racing season behind the gate. "By the time it looks like we might get going in June, we'll be into stakes season, and now that will have a major effect upon all horsepeople across the Maritimes, just not PEI or Nova Scotia," said the APHRC racing director. "You have to follow your chief medical officers, but also the horsemen's associations, the commission, CPMA, racing forensics people. It's not just the racetracks that are involved — there's a number of moving parts to it that all have to be in agreement that you get going again."
At press time, Red Shores Charlottetown was limiting the jogging/training of horses to four different time slots, which must be reserved in advance by phone. "They're just trying to limit the number of people at the track and facility at one time," said Revington. "Talking to everyone, I think everyone wants to get things moving again, as long as it's safe for all the players involved."
The former Pennsylvania Standardbred Bureau director and Pompano Park director of racing raised the question of whether Canadian-owned horses were being allowed to return home from the U.S., following the sudden closure of the last American racetrack to host live harness racing, Cal Expo, on April 1. "If they happened to ship up today, would they be allowed to cross the border? […] I think we have more questions than we have answers right now, and we're waiting to see which direction this virus will head. I don't know if we've seen the top of the curve yet or not."
APHRC staff Revington and administrative assistant Debbie Walsh are now alternating days in the two-person office, to maintain social distancing. That's not an option for the racing director's wife, Karen, who works in the healthcare field. "My wife is actually still working at the hospital. She's an x-ray and breast-imaging [technician], so they're still doing a few of those, if they need core biopsies done or something like that."
Could the geographically-isolated Maritimes have offered live races to an online-only audience via ADW platforms, as Woodbine Mohawk Park and the Raceway at Western Fair did until March 19?
"We're a little more spread out than Ontario might be, with Toronto and London and bigger population bases," he said, adding that public health naturally mattered more than a rare opportunity to capitalize on the barren harness racing simulcast wagering menu. "I think that it's important that we are following the experts who are dealing with this."
Lee Drake is the manager of marketing and brands at Red Shores Racetrack and Casino. He told HRU via email that new restrictions were in place in order to comply with provincial COVID-19 protocols: "Barn tenants have been engaged by Red Shores personnel and requested to provide their essential workers in efforts to keep people in area to a minimum. Non-essential workers are not permitted in the barnyard area or ship in. Red Shores security have been stationed at barns and ship in/paddock, with strict enforcement guidelines in place for the essential list and directives from Department of Health."
He added that Old Home Week and the Gold Cup and Saucer are far enough into the summer that it's impossible to speculate on if or how they will be affected. "No, there has been no decision in regards to PEI's largest racing week, as of yet. Red Shores will continue to follow and monitor the COVID-19 directions provided by the PEI chief health officer and will adjust schedules accordingly." Those same public health measures will inform decisions about when the season can begin: "Red Shores will follow the instructions outlined by PEI chief health officer about how business is to be operational, and if there is a way to conduct racing under those recommendations, Red Shores would follow those guidelines."
Joe Kelly is Truro Raceway's long-time announcer and race secretary. "It's a different world. This is unprecedented, really, in my time," he told HRU of the Coronavirus' massive impact on the racing industry. "I guess when all the provincial governments started to announce State of Emergencies, and obviously when all the Canadian tracks that were racing shut their racing down, it's obviously an uncertain time, with no real end in sight."
He said he is worried about the prospect of under-employed or unemployed horsepeople and horse owners having to wait out an indefinite opening card. "I think we'd probably be lucky to get going in July. We only hope that the people who do have horses can hang in there, because our horse population is not the strongest in Nova Scotia. We can ill afford to lose one horse, let alone stables of horses."
Kelly is also race secretary at Northside Downs, where he said more participants are hobby horsepeople, "and when you face financial restrictions, the first thing to go is hobbies." He couldn't speak to more particulars about the North Sydney track, which, unlike Truro Raceway, does not have a large backstretch with many horses stabled on site. He did note that closing backstretch stabling would cause irreparable harm to the industry: "It would be disastrous, especially around here, because we don't have training centres or facilities where [racehorses] can go."
Kelly said that it was unlikely that Truro Raceway could have opted to follow the lead of Cal Expo, which was racing with essential staff and online wagering only until the meet's untimely end. "It's different here; the states have more power than the provinces do, and I don't think you'd ever get away with it in Canada." He said he also understood why small U.S. tracks were offering live racing as long as possible under COVID-19 health restrictions. "I watched Cal Expo even prior to this, but what's interesting is the two thoroughbred tracks, Will Roger and Fonner Park," said Kelly. "I'm fascinated by what they're betting on Fonner Park. They're just a grassroots thoroughbred track; I wouldn't even classify them as a 'B' thoroughbred track. They have $2,500 claimers racing, and people are betting $2 million."
While fluctuating on a daily basis, Coronavirus rates in the Maritime provinces remain low compared to more densely-populated areas. Could Truro Raceway have opened and followed the example set by Cal Expo? "We could [already] have been delayed until the end of April due to the horse population," said the track's race secretary. "My understanding is that Cal Expo has a lot of transient horsemen that go in there for the winter to race, from Alberta and Minnesota and different jurisdictions. My understanding is that a lot of them stay on site; they bring campers and whatnot with them, so it was more or less a self-contained unit at Cal Expo, and it was easier to put restrictions in place."
Although bettors may usually reject the small pools and grassroots racing common at the Bible Hill oval, there is still the possibility that if Truro Raceway gets its product back online, it can pick up where Cal Expo left off. "That may come into play down the road, when we start to see the curve flatten and things start to get back to normal a bit," said Kelly. "Certainly, it might be to our advantage to be that way."
At press time, Truro Raceway general manager Kelly MacEachen said that "only essential caretakers" were allowed on the backstretch and ship-in horses were not permitted on the grounds. "I don't believe that we would have been able to race with the restrictions in place right now, with social distancing and whatnot," she said. "We have close quarters in places like the paddock and the judges' stand, for example. We also have drivers who live out of province and wouldn't be allowed entrance to Nova Scotia. The health and safety of the racing community is of utmost importance at this time."