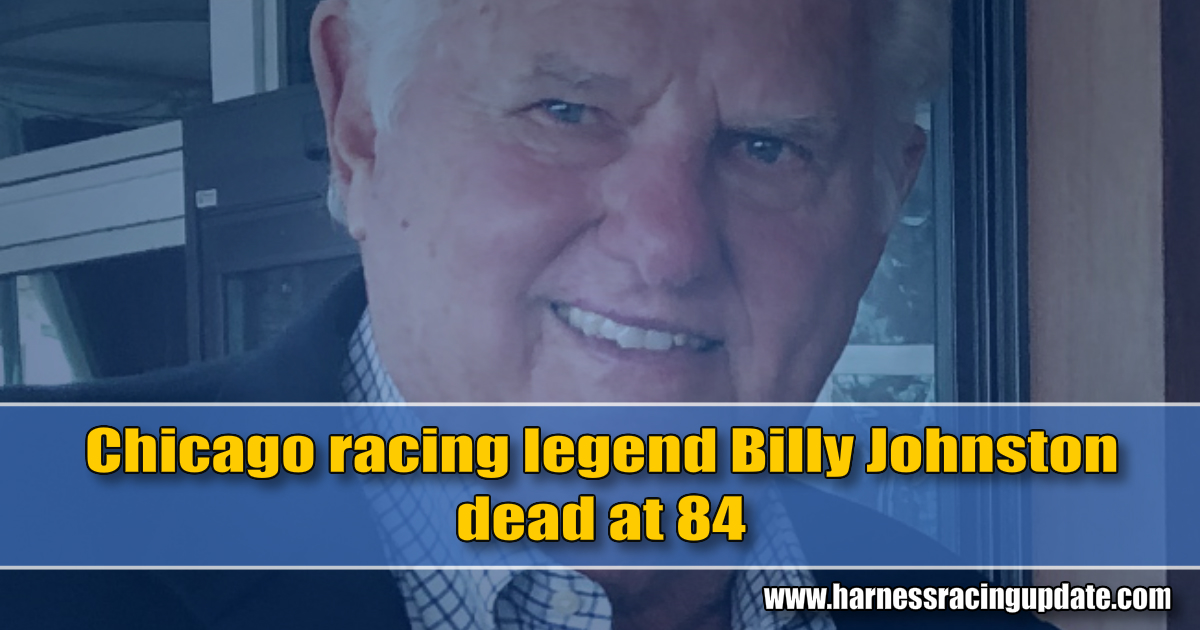 Chicago racing legend Billy Johnston dead at 84
by Neil Milbert
Billy Johnston, the most prominent and influential individual in Illinois harness racing for more than a half century, died on March 27 at age 84 at his winter home in Key Largo, FL following a four-month battle with brain cancer.
A lifelong resident of Chicago's western suburbs, he first headed the harness racing hierarchy at Sportsman's Park and then also became co-owner and chief executive of Maywood Park and Balmoral Park. In addition, his management team oversaw the State Fair meetings at DuQuoin and Springfield for many years after they inaugurated pari-mutuel wagering.
Johnston is the second member of Chicago harness racing's all-time VIP list to die in a span of less than four months. Preceding him in death on Dec. 17 was Tom Carey, president of Hawthorne Race Course for 25 years after assisting his father, Robert Carey, in running the track — located next door to the now-defunct Sportsman's — for nearly 20 years.
Tom Carey, who was 87, had suffered from Alzheimer's for two decades. He also resided in Chicago's western suburbs and at the time of his death he was living in his winter home in Boca Raton, FL.
Carey's greatest accomplishment came when he was working as his father's righthand man, finding ways and means to finance the rebuilding of Hawthorne after its clubhouse and grandstand were destroyed by fire in November, 1978.
Like Carey, Johnston followed his father into racing. William Johnston, Sr. ran the National Jockey Club thoroughbred meeting at Sportsman's from 1947-67 and introduced harness racing in 1969, three years after pari-mutuel betting on the sport was legalized in the state.
Billy was an amateur driver and trainer before becoming involved in track management in the mid-1960s. Although the United States Trotting Association (USTA) record book has him driving the winners of his 153 starters between 1958 and 1966, he undoubtedly had more starts and winners because earlier only the statistics of those with 25 or more starts were recorded.
"I drove for about a dozen years," he once told theChicago Tribune. "That was before catch-driving became a big thing. There were a lot of guys like me who drove their own horses. I won my first race at Maywood and the last one at Washington Park."
Following the retirement of William Johnston, Sr., Stormy Bidwill took over as head of the National Jockey Club thoroughbred meeting at Sportsman's, while Billy headed the Fox Valley and Chicago Downs harness meetings assisted by Race Secretary and later Director of Racing Phil Langley, son of the elder Johnston's alter ego, Pete Langley.
Both were prominent nationally. Billy Johnston served as a USTA director for 45 years and Phil Langley was the USTA president for 13 years.
"In my opinion, the success of harness racing in Illinois was due to Billy's promotional instincts and time after time coming up with new ideas," Langley said.
Chicago had its harness racing heyday in the 1970s and Sportsman's was in the forefront. The track annually showcased North America's finest horses in its American-National series and in its leg of the U.S. Pacing Championship.
The dramatic proliferation of sports telecasts, expanded seasons in other sports and introduction of the lottery and riverboat gambling in Illinois caused attendance to wane thereafter but Johnston remained committed to top quality racing. That commitment extended to DuQuoin where he inaugurated the state's richest race, the World Trotting Derby, in 1981 when the Hambletonian moved to the Meadowlands. (The $700,000 purse for the 1991 World Trotting Derby is an Illinois record.)
Johnston put together and headed the ownership group that secured a long-term lease at Maywood in 1977 and subsequently inaugurated the lucrative and prestigious Windy City Pace. This ownership group combined with the family of New York Yankees owner George Steinbrenner to buy Balmoral in 1987.
Maywood played host to the first Breeders Crown 2-year-old filly pace in 1984 and Sportsman's held the inaugural Breeders Crown aged trot in 1985. Balmoral in 1988 became the first North American track to hold the World Driving Championship and the multi-national event returned in 1996.
In 1988, Sportsman's put on 16 stakes races that had purses of $100,000 or more and in 1989 it inaugurated the Super Night championship races for Illinois-breds that quickly became the state's main event.
After Sportsman's discontinued harness racing following the 1997 meeting, Super Night and the American-Nationals moved to Balmoral and continued to be magnets for state-bred standouts and for stars from the U.S. and Canada. An Illinois harness record of $3,777,549 was bet on Super Night in 2000.
Among Johnston's other accomplishments were bringing the trifecta, superfecta and other exotic bets to the Chicago circuit and pioneering inter-track betting in 1984 and using it as a stepping stone to the legalization of off-track betting. Balmoral opened the state's first OTB parlor in 1987.
"He was a genius in this industry," said Illinois Circuit Court Judge Lorna Propes, the Illinois Racing Board chairman from 2003-06 and a board member for the 14 previous years. "Billy was always searching for ways to improve his tracks and the experience for the fans."