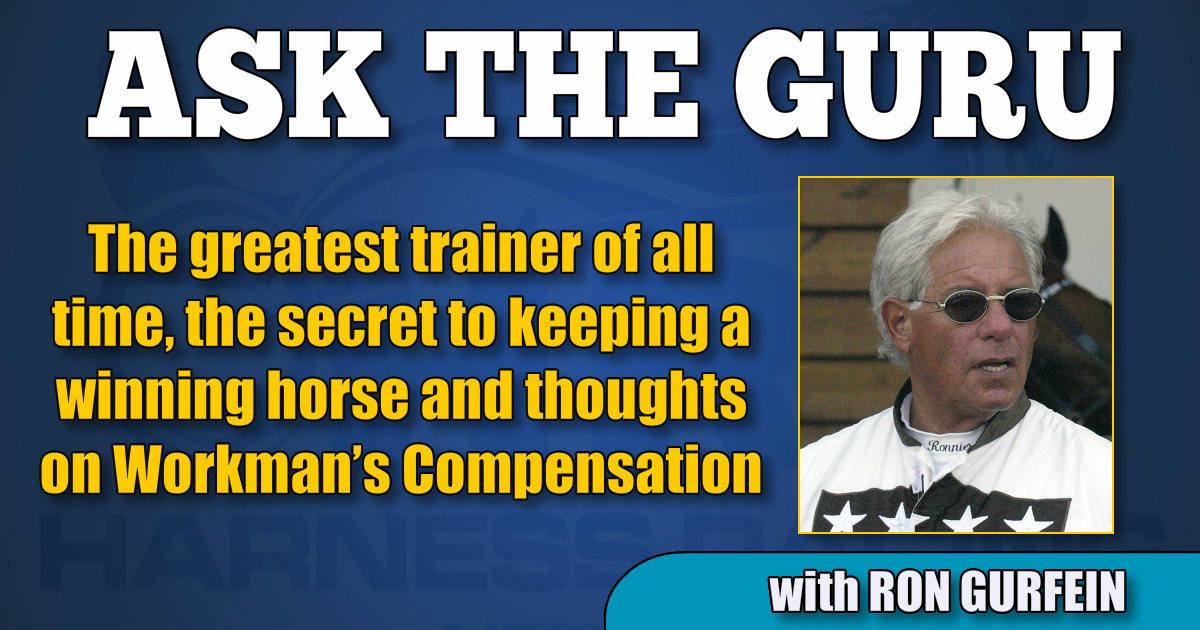 The greatest trainer of all time, the secret to keeping a winning horse and thoughts on Workman's Compensation
by Ron Gurfein
Tidbits: Whatever you push on your remote control you will eventually hear about the Coronavirus. Hopefully, this will be the LAST TIME you see it in my column. I personally am sick of it as I am certain you are. Let's just hope it leaves as quickly as it arrived.
* * *
For those of you shut ins that are stir crazy and need a new TV series to stream, I suggest the following, all I really enjoyed. Start with Berlin Station about a CIA undercover agent in Berlin, I found it very watchable although I warn you it's three seasons and I am sure they were expecting at least four and then the show was cancelled. Unless some network picks up the pieces there were many open strings left to the drama that needed to be solved. It was originally on Epix but may be streamed on Amazon Prime and YouTube TV. On USA, I loved The Sinner. The season just ended but it is exciting to watch although a bit farfetched. Lastly, I return to Berlin for a late twenties early thirty's period drama called Babylon Berlin. It's vice, murder, political intrigue and bizarre sex all rolled into one. If you are a nut like me that showers twice a day you may find it a bit off the wall for your tastes. I myself found it easy to put the once a week watching behind me. It has three seasons worth of programs and has received many awards including best drama in Germany. You may view it on Netflix.
I also have a movie to suggest. Ride Like A Girl, the true story of the first and only woman jockey to win the Melbourne Cup. Lots of fun and can be rented on Comcast.
* * *
Interesting note. A high school buddy asked me about my closest friend's passing and I didn't remember the year, which to all of you in the greatest generation it comes as no surprise. So I Googled Eric Kronfeld, who by the way came close to being my brother in law, and what did I find. Eric was the breeder of Zenyatta. We only had a few conversations in the years before he died and most were about attending reunions. He knew about my career and I knew he was the attorney for many rock bands including The Rolling Stones, but not once did he mention he owned and bred racehorses.
Now with my interest piqued I had to find out her sales price. Sadly, arguably the greatest mare of all time and the winner of over $7 million only brought $60,000. I read on to find that she had a horrid case of ring worm.
In the YouTube video of her sale she looked like a beautiful yearling. My question is why did she even go to auction when her appearance was so compromised and why did my friend sell her at such a ridiculous price?
Unfortunately, there is little chance that I will ever know the rest of the story.
* * *
Workman's Compensation is the bane of existence to the horse trainer. I read all the time about the thoroughbred trainers and the hundreds of thousands of dollars they spend every year paying the exorbitant prices for the necessary evil. This has gone on for ever and there is never any relief.
The prices are derived on an actuarial type basis and to my mind there should have been some relief in the last 60 years. There has been none. Why should the rate be 9 per cent in one state and 22 per cent in another?
The risk in not paying for Workman's Comp is insane, yet many trainers could not stay in business and cover the cost.
I have read recently that many top thoroughbred trainers have moved their operation from New York because of the ridiculous numbers. To the standardbred guy or girl, New York has the best purses. What can you do? The answer is nothing.
New Jersey and Pennsylvania are not much better. To catch a break you have to go south or west. The last time I looked there was very little racing opportunity in Kansas.
I put this in because it has bothered me for my entire career and I was sure that most of you feel the same way. I have no solution to the problem. If some of the great business minds that read my column have a cure for the dilemma please write me and I will publish it immediately.
There is another angle to this story, Many thoroughbred trainers have left New York because of a new crusade by the New York Department of Labor investigating minimum wage requirements. Famed trainer Kiaran McLaughlin has already decided to move his operation from New York to Kentucky, his home state, after being fined $306,000 by the State of New York. Chad Brown went through a similar scenario last summer at Saratoga, although I don't remember the exact figures.
I have never heard anything like that in our industry but if you are stabled in New York I would advise having you accountant look into the rules because one thing is certain, the fines always outweigh the actual price.
Billy Bigler asks: You have trained standardbreds for 60 years. In your time in the business who, in your opinion, was the greatest trainer of all time?
I grew up with the best of the best. There are real old timers that will throw names at you that most have never heard before. To me the Haughton/Dancer era stands as a benchmark of what is great and what is not. I am not smart enough to separate them as to who was the better trainer. They ran very different style businesses. Stanley had what I would call today a boutique operation and Bill had an army. One thing for sure, they could both train and drive.
I would be remiss if I didn't post some of my own favorites from that era to modern day. You cannot leave Howard Beissinger or Gene Reigle out of the mix. They were both sensational in their own right. Soon after came Robert Macintosh and Charles Sylvester, who were the first true trainers and non-drivers elected to the Hall Of Fame.
Then for more modern day, I will add Steve Elliot and Per Eriksson, neither of whom has been nominated to the Hall of Fame, but should at some point be installed.
That leaves me with my one of a kind trainer of the century or of all time as you prefer, Jimmy W Takter. The man has truly done it all, but on one night October 24, 2015 he painted a mural. On that evening at Woodbine Racetrack, Sir James won six Breeders Crowns, four on the trot and two on the pace. That after winning his fourth Hambletonian two months before.
I am not in the habit of listing numerical achievements but I will take a quick leave of absence from the usual and give you some quick numbers.
2015 — the Hambletonian and 6 Breeders Crowns $13 million
2016 — 3 Breeders Crowns $10 million
2017 — 3 Breeders Crowns $8 million
2018 — 1 Breeders Crown $8 million
2019 RETIRED with 2,000 wins and $130 million
In 17 of his last 19 years training, his UDRS was over .325.
When it comes to horses, Jimmy is a genius. His depth of knowledge of the equine athlete, and how to get peak performance from them, is without equal. His yearling selection, with the aid of his good friend Perry Soderberg, has produced the most durable cast of characters I have ever seen in the industry.
Jimmy is not easy on his horses. To survive his program they must be tough. However, he buys right and in my opinion most do survive. There are not a lot of throw always in that outfit.
I wish my friend health and happiness in his retirement and may he and Christina get all the pleasure in the world from their wonderful children and grandkids.
Jimmy Takter has set a standard. For those who wish to try and climb that mountain I wish you luck…..
Neil Goldstein asks: (another novelette I will shorten to a readable question) Basically, I love owning harness horses but I find there is no way to keep a horse and win. If I claim one and he is good, if I don't raise him to a class where he can't win he gets claimed. If I race a conditioned horse, after winning a race or two if I don't race in the claimer she is finished winning also. What is the answer?
The claiming game is instant satisfaction and if you want to make money immediately I suggest you put your love of the animal behind you and play musical horses. If you have a sharp trainer it can be fun and profitable. I personally don't like that game at all.
The road you should take is a bumpy one at best but it is the only road to take to achieve your goals. Buy a yearling. If you get lucky you have your dream. A top horse cannot be written out of stakes and if you get a good one and take care of him you can have the goose that laid the golden egg.
(In your original question, you) mention Miami Valley. I am going to guess you are in the Ohio Area. There is a thriving new stakes program in that state and many fine trainers. Add to that there are many races for state-bred colts.
It's a very slow process, but can be quite rewarding. To me it's the only way to achieve what you want from the business.
Paul Bishop asks: Is it proper for Gulfstream Park to lower the purse of the Florida Derby a Grade 1 event, from $1 million to $750,000 when the Louisiana Derby a Grade 2 race last week went for $1 million, also under the conditions with empty stands?
Not knowing the workings of racetrack finance, I called Frank "The elder" Antonacci and asked if the same situation came to the Red Mile involving the purse to the Kentucky Futurity what would he do? He answered that there really was no choice on his part. Frank said, "the money comes from the horseman's account and the purse cannot be changed." He added that Gulfstream did not have the money for the entire purse on hand in the horseman's account and thus the shortfall.
I asked with all the financial power of the Stronach Group wouldn't it have been better if they just threw in the extra $250,000 ? Frank answered that, "in times like these it would be better if they spent the money helping the backstretch employees." I certainly don't disagree with that thought, but I do not understand for that amount of money the quick decision that was made to reduce the purse of Gulfstream's signature race.
I have so many questions about the FBI indictments, but I am putting them on hold for the time being because all the hearings have been postponed without any date given. If there are new revelations I will cover them right away but let's let the entire process work its way out. Thanks so much for all the kind words. With everything at a snail's pace, it's a good time to conjure up some questions for me. As I am a poster boy for high risk, I will no longer be venturing to Sunshine Meadows. However, if you are in desperate need to learn about the babies and the 3-year-olds Donna Lee and Casie Coleman do an excellent job of posting videos of the colts training regularly on Facebook. If you are a member I will try to share them when I see them so if you are listed as my friend you will be able to view them. Have a wonderful week….and STAY SAFE……..
Have a question for The Guru?
Email him at GurfTrot@aol.com.