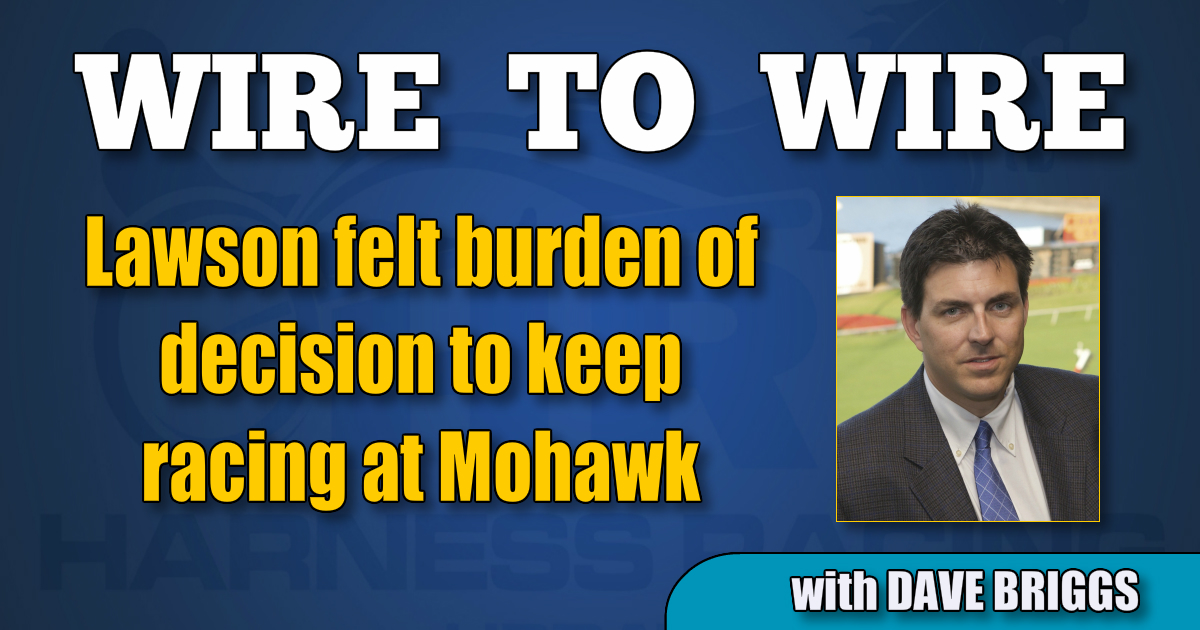 Lawson felt burden of decision to keep racing at Mohawk
"We're just all trying to do what's best for the horsepeople and the horses," said the CEO of Woodbine Entertainment Group hours before postponing live racing at Mohawk effective today.
by Dave Briggs
There was a noticeable heaviness in Jim Lawson's voice Thursday morning as he explained the decision to try to keep racing horses at Woodbine Mohawk Park as the COVID-19 pandemic worsened in North America.
The CEO of Woodbine Entertainment Group (WEG) knew not everyone agreed with that call — and even he had some self-doubt about it at the time. About eight hours later, about an hour before the Thursday card at Woodbine Mohawk Park went to post, WEG made the decision to postpone racing until further notice starting today (March 20).
"I'm dealing with 2,000 people, employees at Woodbine, and another huge number in the backstretch and, to a large extent, have been the industry spokesperson on all of this… and, quite frankly, I am feeling the pressures, socially and otherwise, to make sure we're doing the right thing and it's challenging," Lawson said. "I'm doing my very best under the circumstances, but it's weighing… there's a heavy burden on myself."
Critics with little understanding of the economics of racing will point to the absurdity of horse racing continuing on when virtually all other sports are postponed and even casinos are closed most places.
Woodbine Mohawk Park was one of the few harness tracks racing Thursday night, albeit with spectators banned, horsepeople and track personnel down to the fewest possible needed to race those horses and extra measures taken to screen people by temperature and have horses spread out as far as possible in the paddock.
"It's just such extraordinary times, we're just all trying to do what's best for the horsepeople and the horses," Lawson said. "People's safety is paramount and comes first, of course. We're not in the business of taking risks… That's why we're getting people to cooperate by taking their temperature and limiting the crowds. Only essential people can either be in our (thoroughbred) backstretch or in the Mohawk paddock."
In explaining the decision to race on, before later deciding it was best to postpone live racing at Mohawk, Lawson said the reality is basic care for the horses requires, "some level of commerce, however that's done, because some people will abandon them (otherwise). They won't care for them, so there needs to be a level of commerce. We're working with government and trying to figure out how best to do that."
For Thursday night's card, that meant racing horses with the fewest people possible so the purse money could continue to flow from owners to trainers and down to caretakers and other ancillary personnel.
"The need to look after these horses and the grooms and so forth is unique to our industry. Unless you're in it, you don't really understand it, but once you're in it, you get what we (were) trying to do and why (we were) trying to do it," Lawson said.
Bill O'Donnell, president of the Central Ontario Standardbred Association (COSA), said there's no doubt the shutdown of racing due to COVID-19 will deal a blow to the industry.
"It's a few things," O'Donnell said. "Let's start with the owners. People that own horses and are paying bills on them, their business (will be) affected and it trickles down – they won't be able to pay their trainer, the trainer won't be able to keep the grooms around. What will they do, just turn their horses out? That's the best-case scenario and cheapest way, but if this subsides and we get back racing, how long would it be to get these things back going? Would it be sitting around waiting for a first months? That's the first thing.
"The second part of it is that we've got a big stakes program in the summer time here and the horsemen have to plan. Also, the Sire Stakes in this province, the money that goes into Sires Stakes comes from handle. Our estimated Sires Stakes is $15 million and that's predicated on basically what we did last year in handle and hopefully it goes better and there will be more, but if (handle is) less than your (Sires Stakes funding will go down) with the percentage of the handle."
Now that racing is shut down, Lawson said he hopes accommodations can be made to use unused purse money as relief for horsepeople. He said he has already raised the issue with the Alcohol and Gaming Commission of Ontario (AGCO) and the Ontario Lottery and Gaming corporation (OLG).
"They are already considering it… We need to look at that, too."
Lawson said it's important to stress that, although Woodbine continued to race when other tracks closed more quickly, WEG acted decisively and was always in compliance with Ontario's state of emergency.
"We shut our grandstands and we sent our employees home. We shut our simulcast areas. We shut our bars and restaurants, WEGZ and Greenwood in particular. We've moved very quickly and decisively and we're doing the right things," Lawson said. "What makes us a different business from other businesses is, first of all, as it relates to Woodbine, we've got 1,000 horses on the backstretch that need care. Somehow that has to be managed and it's on our property and these horses have to be fed, they have to be walked, they have to get some exercise. It's particularly complicated on the thoroughbred side, because there are not enough farms to house these horses that have come up from the United States. I think the good news is, with temperature monitoring and screening and the social distancing all in place, (we were) doing the very best by the horsepeople to keep that Woodbine backstretch safe and protected with all the precautions.
"I said this on an Ontario Racing Board call this morning, I said, 'We as an industry have to be respectful and compliant with the government protocols that they are putting in place.' It's not an answer that we're different, we're not different. People have to self-isolate when they come back from the United States. We have to respect that the crowds have to be 50 people or less. We have to be managing this so we're following government guidelines as an industry."
Lawson said the long-term situation for horse racing is compounded by the unknown.
"The other difficult part is that we don't know how long this is going to be. This could be two months, four months or it could be six months. We just don't know and that makes it very difficult to plan and have a firm date in place because none of us know what we're dealing with," he said.
"It's a day-to-day thing, at best. It changes constantly and it's important that everyone just stays safe, first and foremost. (We were) just trying to make this work for everyone. I think the horsepeople are very appreciative that (we were) trying for them.
"There's a very heavy burden here to do the right thing."