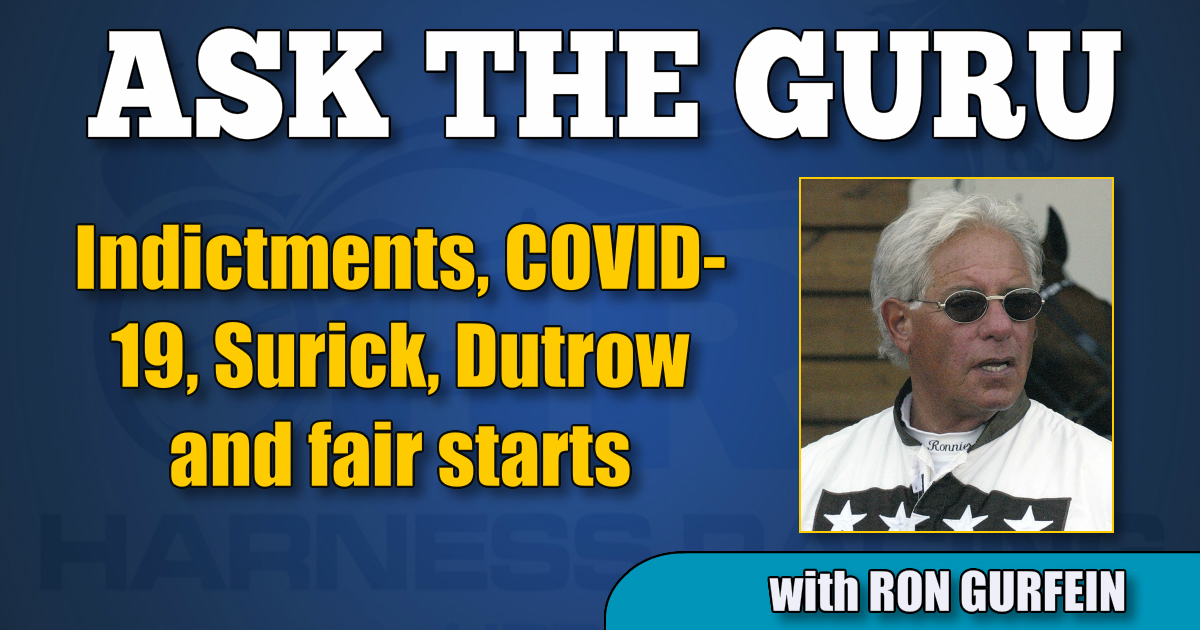 Indictments, COVID-19, Surick, Dutrow and fair starts
All this and much more in this week's installment of harness racing's favorite advice column.
by Ron Gurfein
Tidbits: I haven't ever gone this long in my life not watching a sports event or going to a restaurant, and I am sure you are sick of the news so I made this column a little longer to hopefully entertain you.
Maybe it's my age, but I am overwhelmed by the reaction to the Coronavirus on social media. People putting the severity of no Keeneland, no Kentucky Derby, no Masters, baseball, basketball etc. over being sick and possibly dying.
We really have no idea where this entire scenario is going and, unfortunately, neither does our government. That said, after a good look at what went on overseas we are far better off giving up sports for a year than being severely sick. I promise you will survive sports withdrawal. I cannot say the same for the virus.
All in all, we are in much better shape than our thoroughbred friends. Their stake season has already started and although the Kentucky Derby has been moved to Sept. 5, those that line up in that starting gate avail themselves of that ability by earning points in lesser races on the way to the big dance. Races like the Florida Derby and the Santa Anita Derby offer major opportunity for these candidates to gain a spot. However, the chances of these Grade 1 stakes actually running is doubtful at this time.
On a lighter subject, we now have a new phrase in the English language, "social distancing." Will it remain after the virus passes, your guess is as good as mine, but I must say I like the idea. When you are 20, closeness is sexy; at 80 a bit less.
* * *
In regard to the 29 horse people that have found themselves in a major s – – – t storm — and what a marvelous job the Department of Justice (DOJ) and the Federal Bureau of Investigation (FBI) did, an enlightenment is needed.
I am not going to beat a dead horse, but the columns abound with statements from every corner of the business that the commissions are not doing their job and we have to do more to police the sport. Best of all, the FBI did more last week that we did for ourselves in years. STOP IT'S NOT OUR FAULT.
Why was the FBI successful? Because they have wiretaps on their side. Read the indictments. If it wasn't for wire taps they had little or nothing. Some common place drugs, one positive test on a horse that was transported from pillar to post with no chain of responsibility.
Instead of wasting time complaining how poorly we have done, pursue the FBI to continue the investigation and in doing so incorporate a knowledgeable person to guide them to the areas of smoke and to determine what medications are prosecute-able and which are not.
Jeff Gural has done a great job keeping most of the bad eggs out, but is missing the boat on many others. Other tracks encumbered by high paid attorneys do nothing at all, and have gone as far as ignoring positive tests to maintain the status quo.
By the way, whatever happened to the positive test? When is that last time Meadowlands, Yonkers or Pocono posted a positive in the program? No one wants to rock the boat.
Well my friends, it has been rocked and rocked hard.
We must give our full support to the DOJ and the FBI and hope many of those arrested sing like canaries. I am sure there are those out there that are worried more about a 6×10 cell than the Coronavirus. The first hearings are today and the rest on the 23rd. We will have a better idea of what's to follow then.
* * *
On the subject of bad, there has been more documented sightings of my boy DEXTER (Josh Marks), who has, believe it or not, charmed someone into giving him a job in south Florida. The mystery of the beer intrusion arrest in north Florida for an illegal immigrant shows me he leads some kind of a mysteriously charmed life. One would think under normal circumstances he would be in Canada or jail. Obviously, he avoided both. Better get Ray.
* * *
Jack Lakey, Toronto, asked in HRU Feedback (2020-03-15 Feedback): You defended Nick Surick last year what say you now?
Let's get one thing perfectly straight. I am not a public defender. I am a trainer-turned-writer from a very law-conscious family. My uncle was a famous federal prosecutor as well as assistant DA in New York City. Actually, he was a prosecutor and a Federal Judge in the same Southern District where the 29 indictments were handed down. My uncle (Murray I Gurfein) taught me the importance of the rule of law and that is what I chose to write about.
Judging by the unsophisticated rhetoric in 90 per cent of the indictments I read, the cops have no clue as to what the robbers are doing. Of late, the Rick Zeron debacle is a perfect case in point. It comes down to a $10,000 fine plus time served and a ridiculous loss of income for purchasing a stomach remedy that was unlabeled and taking some doctors labels and correcting the issue. I ask you did the crime deserve the sentence?
My job is to protect the good guys. I have been a victim of this archaic system more than once and I really hate when it happens. Twice, I received positive teats and I was 100 per cent innocent. I don't want to bore you again with the details as they are availed in HRU archives, but both situations were over the top insane. I even offered to take a lie detector test which to me is something we should consider.
Back to Surick. I was not a fan and I don't even have any relationship with the man, never had a conversation with him, so let those facts put an end your thoughts on me working on his behalf. I thought the situation was off base with the facts they presented to punish him in any way until he had his day in court or the real story surfaced, which fortunately for Mr. Surick, it never did till last week.
You are not the only Canadian that jabs me about my protecting the rule of law. There are others, and you all have one thing in common — you always mention other trainers. I find that is more than overkill. Why mention Burke, Takter and Moreau? Because they are successful. In the '90s when it was Sylvester, Holloway, Eriksson, Takter and Gurfein there was never a mention of any wrong doing.
It's really out there that you think the whales have left the betting windows because of cheating. Either you are very young or very naive, because I have seen it all and there were more whales in the '60s and '70s where a cohort of any given trainer could rattle the board with a $100,000 bet. There are no big pools left to attract a new Babe, Mort Finder, or Phil Tully.
When there were whales, the style of racing was far more competitive, the shorter bikes alone created a more level playing field. But, all in all, money is the real answer. In the glory days there was a bigger pool in the daily double than there is on a whole card today.
On the other hand, I would think if you suspect someone is cheating it's an edge. I myself was never a gambler, but a few times in my career I took advantage of suspecting a guy used PEDs. Bill Robinson had a nice filly named Armbro Monarch. Doug Ackerman had a better filly named Keystone Profile. Talk about the perfect betting situation. Armbro Monarch would always win when there was no detention barn. Keystone Profile always won when there was a detention barn. It worked 100 per cent of the time. I call that investing not gambling.
Belinda Gardiner asks? What's going on with the Rick Dutrow suspension? I read somewhere there was discovered to be some irregularities in the decision.
On the seventh of June 2008, Rick Dutrow was 11/2 miles from instant fame. His horse Big Brown had won the Kentucky Derby and the Preakness, and was one race away from the Triple Crown with the mile and a half Belmont Stake that afternoon on his home turf. Unfortunately, that attempt failed.
Today, with his suspended license, Dutrow cannot even enter their backstretch.
In 2011, the brash and in your face trainer had pushed the establishment too far and surprisingly three syringes were found in the desk drawer of his Aqueduct Racetrack barn. NO MYSTERIOUS DRUGS WERE FOUND.
He was immediately suspended for 10 years and give a substantial fine.
He has done seven of the 10 years, but in 2019, a retired state steward declared that there was proof that the syringes, the only real evidence, were planted and as I write this column the Queens District Attorney has decided to reopen the case.
In an interview, a high-ranking racing official, who prefers to remain anonymous, indicated Dutrow's suspension had as much to do with his personality as his performance as a trainer.
One of my first owners, Sandy Goldfarb, was a major factor in the Rick Dutrow rise to fame on the New York racing scene. Sandy, at one point, had 40 horses in the Dutrow barn. However, when that love affair ended, I remember Sandy saying that Rick truly disappointed him in some of his maneuvers. To me, the reference was to his actions, not the use of any horse-related illegal substances.
Please don't write me any hate letters on this subject I will tell you now I don't know Mr. Dutrow nor have I ever met him. To me it's just another example of overkill by a racing commission.
Darcy Mann asks: (Once again a novelette that I will try to shrink to a usable form) I am a frequent bettor in Canada. I am a retired Toronto police officer after serving 30 years. Recently I was betting the card at The Meadows and was alive in some exotic when I noticed a lame horse in the post parade. The horse was very late to the gate and subsequently off stride. The result of the ensuing inquiry was that it was a fair start. "It was a dictionary definition of NOT A FAIR START." Why must we deal with this?
Unfortunately, I get letters like this all the time. Rarely does a judge scratch a horse in a post parade. It is deemed the job of the state veterinarian. For the state vet to be outside when it is 25 degrees provides a problem, if he or she doesn't catch the lameness in the warm ups then you are truly in the hands of the Philistines.
The main source of the problem is that all the powers that be that surround racing rules and safety i.e.: judges and veterinarians, are grossly underpaid. Add to that the judges are politically appointed and their true knowledge of the sport is severely limited. I am not saying there are no great officials. I have been fortunate to race for many of the best. Unfortunately, that is the exception to the rule.
The men and women that are in these positions do the best they can and just like you and me mistakes will be made. Remember, the worst of the worst came in the thoroughbred back yard last year when Mongolian Groom passed the muster of 30 veterinarians before the Breeders' Cup and scored down like a cripple and subsequently broke down and was euthanized. THAT'S WHAT I CALL A PROBLEM.
Thanks to all of you for the kind words. please keep the questions coming in. PLEASE STAY SAFE. Have a wonderful week.
Have a question for The Guru?
Email him at GurfTrot@aol.com.