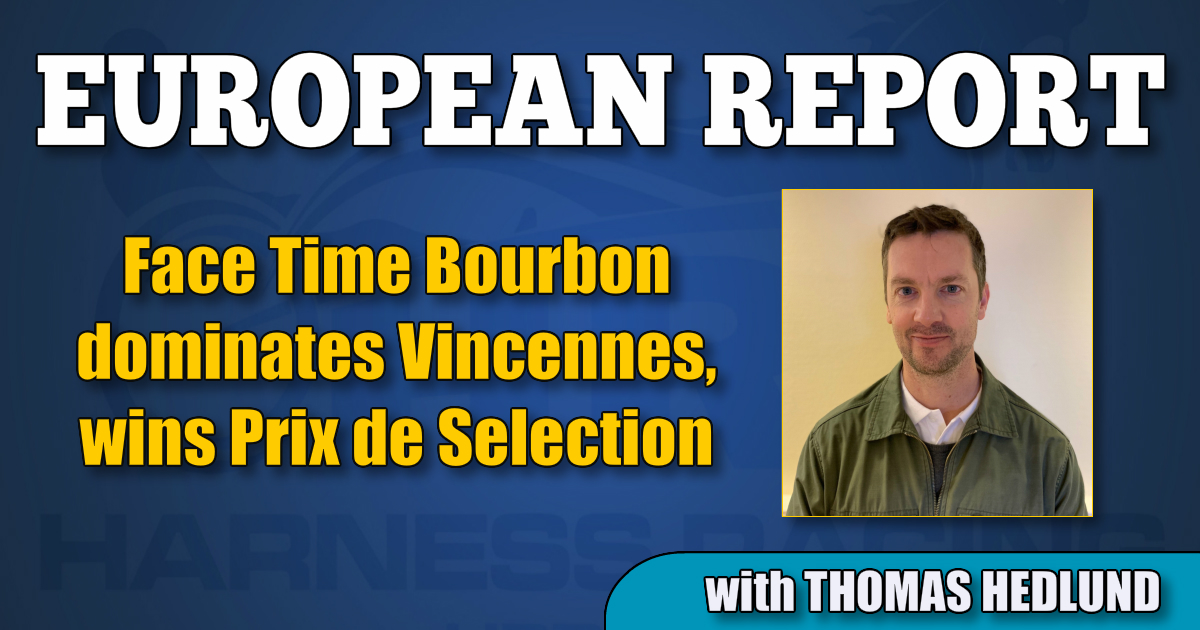 Face Time Bourbon dominates Vincennes, wins Prix de Selection
by Thomas Hedlund
Sébastien Guarato's Prix d'Amérique winner Face Time Bourbon (Ready Cash) was the heavy favorite when the $217,000 Prix de Selection was held at Vincennes on the last race card of the French winter meeting in Paris on Saturday afternoon.
The race quickly became anti-climactic when the 5-year-old champion trotter, paired with Swedish top driver Björn Goop, hit the early lead.
Still, after an easy, but quick, start, the pace was kept high during the race's first half mile. Face Time Bourbon came to the half mile in :54.2 and when the uphill started, Goop could slow down the pace before he put in the turbo gear again at the end of the last turn.
Enino du Pommereux seemed, for a short moment, to challenge the leader after a perfect pocket trip, but Goop had everything under control and Face Time Bourbon sprinted to safe win in a mile rate of 1:54 over 1.3 miles.
Enino du Pommereux finished second ahead of Frisbee d'Am.
Face Time Bourbon is the indisputable emperor of Vincennes – and European harness racing – this winter and can look back at victories in Prix d'Amérique, Criterium Continental and Prix de Selection together with a stunning runner up performance behind winner Davidson du Pont in Prix de France.
Trainer Sébastien Guarato has earlier announced that Face Time Bourbon most likely will stay in France during the spring where stud duty is waiting instead of an eventual trip to Solvalla and the Elitloppet.
Big race without spectators next weekend
Sunday March 8 is the date for one of the most prestigious mile races in Europe during the season. The $220,000 Criterium de Vitesse at Hippodrome de Cagnes-sur-Mer at the French riviera will be raced, but due to the threat of Corona virus, the race card will be held without spectators at the track, according to French media Paris-Turf.
Several big sports events around Europe have seen the same destiny the last 10 days and the area around northern Italy, which is close to the French riviera, is a severely affected district regarding the virus.