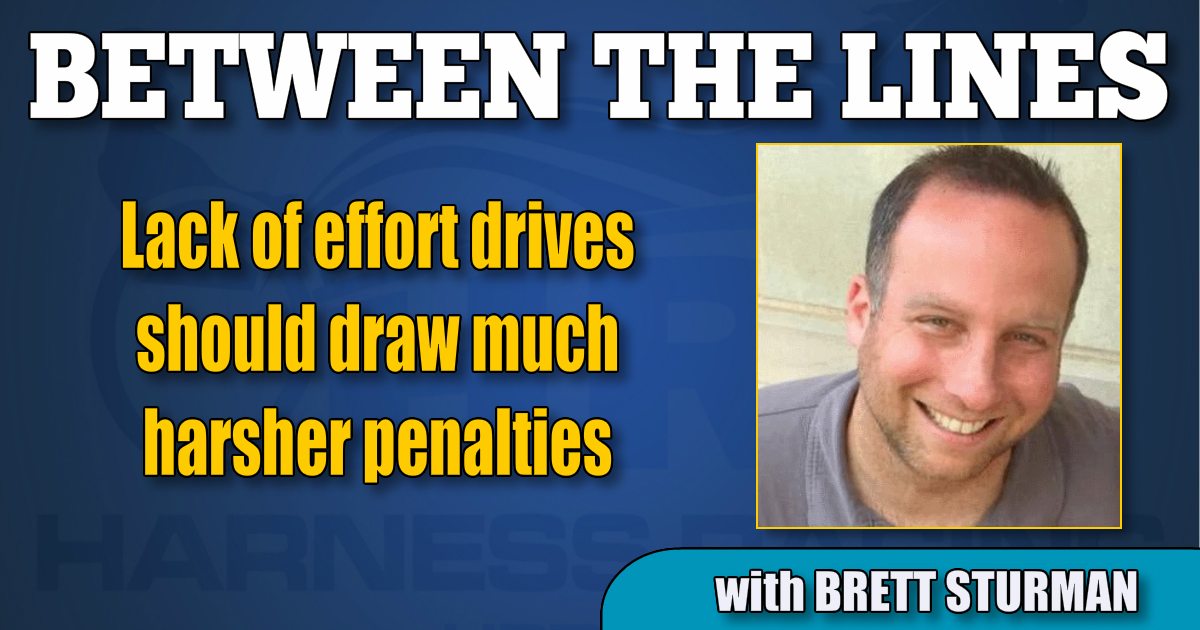 Lack of effort drives should draw much harsher penalties
Fortunately, the infraction is rare in the sport, but when the violation does happen — as it did in February at The Meadows — a much stronger message must be sent.
by Brett Sturman
Like any other sport, harness racing plays referee to its participants and assesses fines and suspensions routinely based on a myriad of different violations, most of which border on the minor side of things. But unlike most other sports, including its thoroughbred counterpart, the mainstream perception of harness racing is that sometimes it is a sport that's less than on the up-and-up.
Because of this, and because of its reliance on taxpayer funds to sustain itself in many jurisdictions, racing cannot be hesitant to condemn detriments to the sport in the harshest of terms. At the top of this list, I would consider any infraction that destroys the integrity of a race outcome.
From last week's Fines and Suspensions list published from the USTA, there was a major ruling against trainer and driver Cory Kreiser resulting from his drive on a horse named App Hanover from Feb. 10 at The Meadows. The infraction was categorized as Unsatisfactory drive – Lack of effort.
In the race in question, here's what happened: Kreiser worked his way to the front with 5-2 chance App Hanover from post 2 after an early three-way skirmish and cut the mile in the off-going from there. Kreiser is seen kicking out the plugs on the backstretch and then carries his lead turning for home as a couple horses challenge to his outside. Throughout the stretch drive, App Hanover maintained his lead with Kreiser sitting motionless and if anything, it at least appears Kreiser tries to slow the progress of App Hanover. Only in the closing stages once App Hanover is finally passed and, on the wire, does Kreiser then elect to hopelessly flick the whip.
Admittedly, the description of what I saw is coming from someone who's never driven in a single harness race before, so maybe I have it all wrong. But it was deemed serious enough to be categorized as an extremely rare unsatisfactory drive due to lack of effort. Keep in mind that there are often unsatisfactory drive violations but those are almost always attributed to the misdemeanor version of careless driving.
How rare is a lack of effort violation in the U.S.? In searching the USTA historical ruling's through Pathway, the Kreiser violation is the only one this entire century from The Meadows. The only other incident I recall that at least visually looked as bad was from a different driver at Dover nine years ago. And amazingly, that occurrence was the only one in the entire century from Dover. So, based from the elevation of the incident to an infraction that is evidently once a generation, individuals in higher positions than me took exception to the drive.
As the ruling states, Kreiser was fined $5,000 and suspended for 120 days because he "did not put forth his best effort to win by failing to drive his horse to the finish." Which, if what the ruling says is true, is a polite way of saying that the outcome of the race was illegally altered.
On the surface, a suspension of 120 days may seem like a lot by current local standards, but if it happened elsewhere the punishment would have been far worse. In harness racing in New Zealand and Australia for example, that same drive may have resulted in a suspension of a year, if not more. Drivers are routinely set down for weeks for commonplace things such as poor strategic decisions where if it occurred in North America, no one would bat an eye.
Whether right or wrong, we've come to accept certain non-trying efforts as part of the game. Deserving heavy favorites who duck at the start or who elect to sit fourth on the rail instead of pulling only to then close in 25 seconds and miss by a length comes with the territory of betting the races. But what you can't do is somehow not win when it appears completely inevitable that you're about to do so.
Regrettably, such actions give credence to those who say that harness racing is crooked. If what is described in the USTA ruling is factually accurate, then what other reaction could one possibly have?
To compound matters, the incident came in Pennsylvania, right at a time where there are discussions of redirecting the funds currently afforded to the state's racing industry. If racing in the state were self-sustaining, the infraction would be bad enough but at least the sport could police itself without having to care about outsiders. But what happens when horseplayers cease to bet on a product because of dwindling confidence; how much longer then will lawmakers still support harness racing?
With ongoing perception issues, there's simply no room in harness racing for cheaters. To send a clear message that racing does not tolerate conduct detrimental to the sport, any instance in general that could be categorized as a driver not winning with an opportunity to do so should be met with an automatic one-year suspension for a first-time offender. If it happens again, the result should be a lifetime ban.
Other sports have issued lifetime bans related to point-shaving and gambling; most notably of course is Pete Rose who after over 30 years remains banned from baseball. And in his case, he at least bet for his team unlike most racing infractions that are the result of someone trying not to win.
To help combat integrity concerns and in the process gain confidence from existing and potentially new horseplayers, harness racing needs to run a clean product. That may mean stiffer penalties to rule breakers, but it'll ultimately be a necessity for racing to continue on.