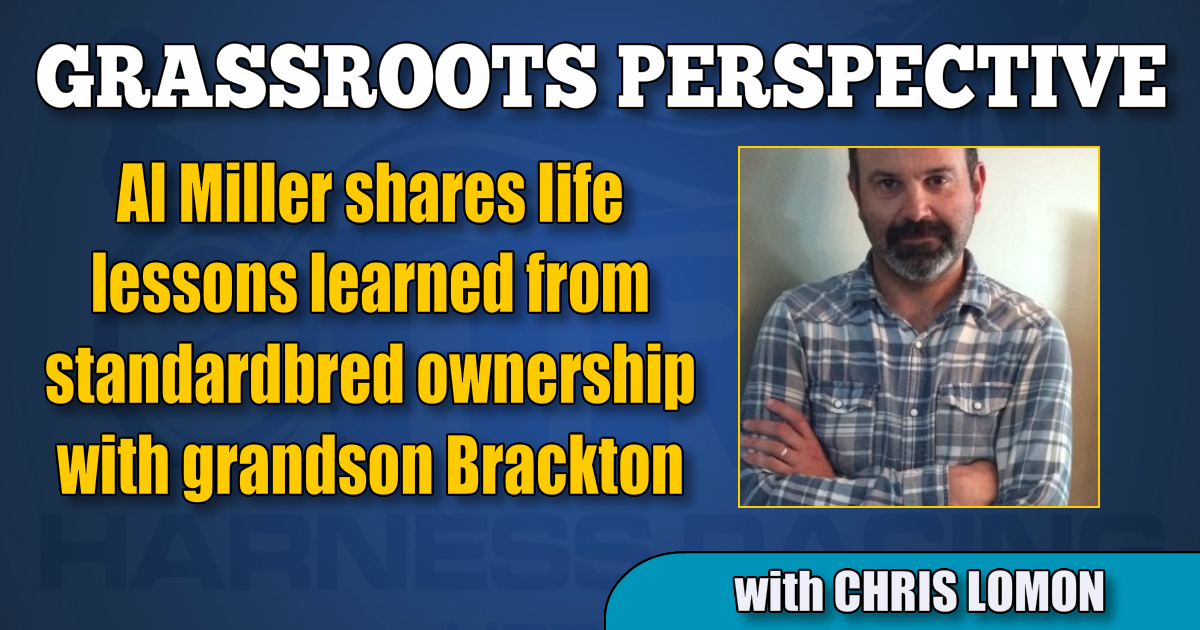 Al Miller shares life lessons learned from standardbred ownership with grandson Brackton
One of those lessons Miller learned from his father, who told him, "If you can't be the winner, at least stand by the side and cheer as the winner goes by."
by Chris Lomon
Whenever Al Miller offers up life lesson advice to his grandson, Brackton, it's a good bet they'll be plenty of horse racing analogies within the conversation.
What could an upcoming freshman year at Davenport University have in common with standardbred ownership?
Plenty, according to the Indiana horseman who has been part of the sport for nearly 50 years.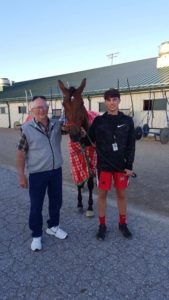 "I like to say to Brackton, 'Owning a horse is just like every day life… the highs are very high and the lows are very low.' He's going to (Grand Rapids) Michigan for his first year of college, and I'm sure that just like everyone else, he'll find out that those words are true."
Al Miller has known that ever since he owned his first racehorse in the early 1970s.
Born to Amish parents, Miller eventually moved to Indiana, bringing with him a longstanding appreciation and fondness for all things equine.
He owned his first standardbred when he was a teenager.
"We kind of, what they called, 'jumped the fence,' and took our buggy horses and made racehorses out of them," said Miller. "I've been owning horses since I was about 18 or 19."
While the number of horses he's owned has varied from year-to-year, Miller, who has also driven and trained standardbreds, currently has a one-horse stable.
Middleofamemory, a 3-year-old Indiana-bred daughter of Riggins, had three starts in 2019, all coming at Hoosier Park.
The bay, bred by Chapel Ridge Farm, in Grabill, IN, finished seventh in each race, all contested in October.
"I'm down to just one or two horses a year," said Miller. "One of them forgot he was a racehorse, so he's pulling a buggy now."
The veteran horseman is hoping Middleofamemory isn't buggy-bound.
"We got her ready last year a 2-year-old, raced her three times, and she acted like she wasn't mature enough. So, we turned her out for a while, and now we're getting her ready. Hopefully, she does better this year. If not, I whispered in her ear, 'You know, the buggies are pretty close.'"
Whether she establishes herself or not, Miller isn't ready to hang up his tack when it comes to horse ownership.
Not when he has his lifelong passion to share with others.
"When Brackton was 13, he was racing what are considered standardbred-cross ponies… they can't be over 52 inches tall. You can race them when you're younger. We got one and he did really well with it. But I told him, 'Brackton, you gotta get a standardbred. These ponies, it costs the same to shoe them, the harness costs the same – everything costs the same.' But the purses are only around $50. I told him that if he likes doing this, we have to make a change."
And that's what precisely what they did.
Just over two year ago, Miller bought Shes Too Gucci, an unraced 2-year-old filly. He took Brackton to Dojea Stables to take a look at the trotting daughter of Guccio.
For the first few months, Miller jogged the bay, getting a helping hand from with Brackton when he had time off from his studies and high school basketball games.
"Even though he was young, you could tell he liked the horses. That hasn't changed since then. Together, we've found it's a lot of fun owning horses. When you're in school, it's hard to do anything outside of focusing on your education. But this, it's just nice to have something to do together."
Even if winning with an odd-on favourite is no slam-dunk.
"I told Brackton it's just like basketball, when the game or the race is over you have to turn the page because you can't dwell on it. He does that and so do I. When you're younger you do tend to dwell on it, but you have to move on."
Miller can use Whole Lotta Speed as a perfect example of what he preaches.
Sent off as the 1-9 choice in an Indiana Sires Stakes event, in what appeared to be a sure win – both before and after the gate swung open – soon turned to disappointment.
"She was in, I believe it was a $100,000 sires stakes final," said Miller. "We put a brand new pair of knee boots on her because you really want to be ready for a race like that. Well, the suspender broke, and it wrapped around her legs. The driver had to pull her to the outside and my wife turned to me and said, 'Man, I was already smelling those roses.' She didn't even finish the race because the suspenders wouldn't unwrap. They just slowed her down. We look back now and laugh.
"Then there's other times when you win a race at 50-1 and you can't believe it. It's just like life. But we've been blessed. I've had lots of good memories over the years."
Not that it's always been easy.
Miller has seen the sport go through several twists and turns over his six decades in it.
"The biggest things for me is keeping the horses sound with the speeds that they are going, and to keep them classified. You need to keep them classified to make money. With the little guy, it's tough to just survive at one racetrack because if you run out of conditions, you'll have to ship them east or somewhere where there's a little variety in terms of the conditions. I used to have horses up to six-, seven-, and eight-years-old, but it seems likes with our sires stakes, once they're out of there, if they're good they can go on, but if not, it gets tough to keep them classified."
Approaching 70, Miller still finds plenty to keep him coming back every year.
"The outside of a horse is really good for the inside of a man," he offered, quoting the famous line of Winston Churchill. "I love horses, and the passion is still there. Once the fire in my belly leaves, then I think it's time to head to the seashore and watch the time roll by."
Until then, you'll find grandfather and grandson standing side-by-side along the rail at Hoosier Park.
"I think everybody here in Indiana wishes everybody the best. It might not be quite as good as it used to be, but I still think it's great. If someone is down and out, people are willing to help. I think it's still a family-type atmosphere amongst the horsepeople."
And a sport that has a seemingly endless amount of lessons to draw upon.
"My dad always told me, 'If you can't be the winner, at least stand by the side and cheer as the winner goes by.' I still try and instill that in my family. You might not win that race, but you never know… it might be you the next time."