by Thomas Hedlund
Courant Stable invests a lot in harness racing business and the red and yellow coloured stable has had great success on both sides of the ocean in recent years. Trotters such as Greenshoe, Gimpanzee, Green Manalishi belonged in the top among the 3-year-olds in America last season and even in Europe their horses race with success.
And thankfully for the sport, Courant Stable continues to invest in the game. This week they bought one of the most interesting mares in Europe at the moment.
Undefeated Hillary B.R. (Muscle Hill), who raced for Gundersen stable in Norway, had to quit her racing career due to a tendon injury last year and the owners Arne Sandbaek Jr. and Erland Åslund have decided to sell Hillary B.R. to Courant Stable.
Sabine Kagebrandt is CEO of Courant Stable.
"We've been looking for a well-bred Muscle Hill mare to use with Greenshoe and Hillary B.R. has everything we're searching for. Unfortunately, she was injured when she was going to begin the fight against older trotters, but instead we now hope that she can produce offspring that are characterized by her. Hillary B.R. is one of the best mares we've seen at the tracks, so we are of course both happy and proud that we can use her for breeding", said Sabine Kagebrandt.
Hillary B.R. did 15 starts in her career which resulted in 15 wins and a lifetime earnings of $417,500.
Last battle in Paris
The third and last of the big battles in Paris this winter is scheduled today (Sunday, Feb. 23) at Vincennes racetrack and the $378,500 Prix de Paris is not a race for timid horses. The race is held over 4,150 meters, approximately 2.6 miles, which means two laps on the black track of Paris.
Jean-Michel Bazire tries to catch another big trophy this winter since he has three horses in the race. This time his choice is Belina Josselyn, who made an early break in Prix de France two weeks ago, while Alexandre Abrivard will steer Prix de France winner Davidson du Pont.
Prix de Paris 2020
4,150 meters
Horse – Driver
Short In Cash – Björn Goop
Epic Julry – Jean-Paul Gauvin
Usain Henna – Matthieu Mottier
Calaska de Guez – Nicolas Bazire (Jean-Michel Bazire)
Tessy d'Ete – Francois Lagadeuc
Chica de Joudes – Alain Laurent
Earl Simon – Franck Ouvrie
Tony Gio – Eric Raffin
Delia du Pommereux – Franck Nivard
Erminig d'Oliverie – Adrien Lamy
Davidson du Pont – Alexandre Abrivard (Jean-Michel Bazire)
Valko Jenilat – Paul-Philippe Ploquin
Belina Josselyn – Jean-Michel Bazire
Wild Honey has a baby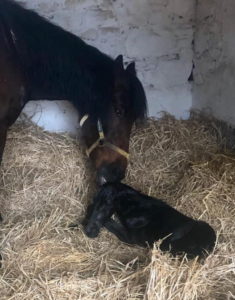 American top trotter Wild Honey (Cantab Hall—U Wanna Lindy) was bought by Stall Zet (Brixton Medical) in 2015 and the Cantab Hall mare had a great career in Europe for trainer Daniel Redén until her retirement in 2018.
Lindy Racing Stable bred Wild Honey was trained by Jimmy Takter in America and was successful in several big races in her native country. Altogether, Wild Honey earned $1,406,593 on the track and this weekend she foaled a colt by Stall Zet's top trotter Propulsion (Muscle Hill—Danae).
"This is very interesting for us and obviously a pleasure to have a foal when I've trained both the stallion and the mare," said Stall Zet's trainer Daniel Redén.
The colt by Propulsion is Wild Honey's first offspring as broodmare.