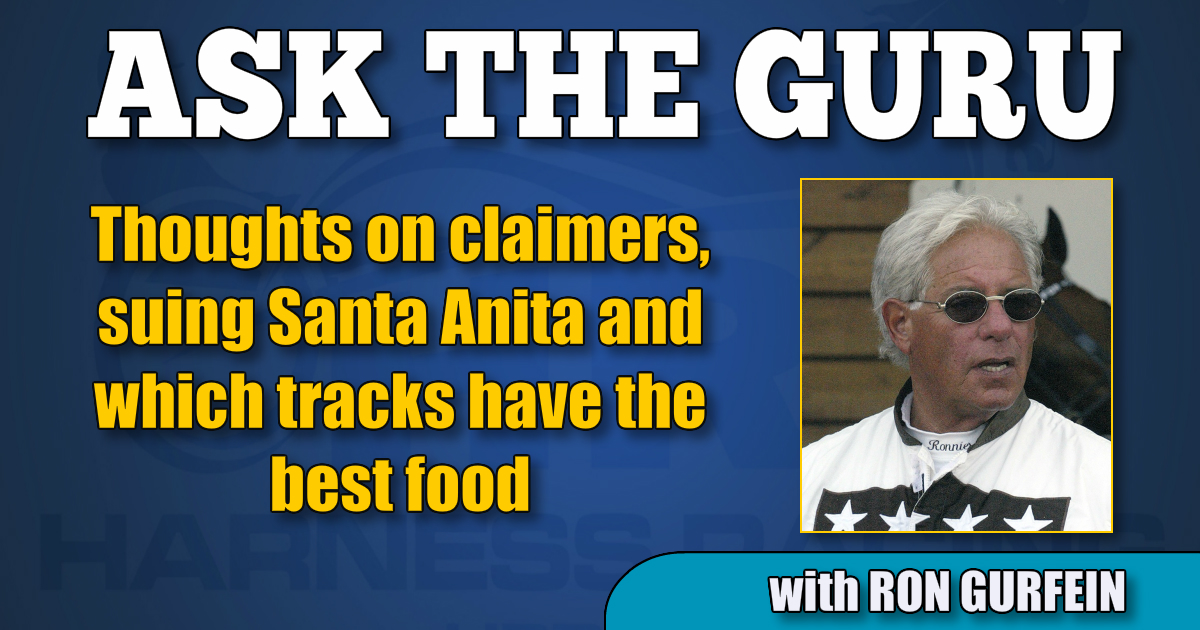 Thoughts on claimers, suing Santa Anita and which tracks have the best food
Plus, condolences to the Harris family, a response to Marty Adler, great news about the Lexington restaurant scene and the interesting case of Rick Dutrow.
by Ron Gurfein
Tidbits: I want to offer my most heartfelt condolences to my friend Andrew Harris and his family on the loss of his very young wife Amanda to that dreaded disease. It is beyond my comprehension why these horrific things happen. Andrew, your kindness and talent will make the road ahead a lot less bumpy.
* * *
Innocent or guilty, it matters NOT. If they want to get you they surely will. In today's world racing, commissions in certain areas have carte blanche.
Last year I wrote a piece on the Lou Pena suspension, explaining that the ridiculous guidelines of perusing his veterinarians calendar of injection would make anyone guilty. They got away with the ruse and did so again on appeal. I am not praising Mr. Pena one bit and I am sure he was using some form of PEDs, but you can't put a man in jail on hearsay.
Well, it appears that our thoroughbred counterparts have gone one better. Rick Dutrow, the running horse version of our Lou Pena, got 10 years and a $50,000 fine when an investigator "found" syringes and drugs in a desk drawer in his barn at Aqueduct Racetrack in New York, subsequent to his receiving a positive test.
Recently, in a letter from a retired state steward to the commission, it was stated that he believed that the evidence was planted.
This letter has been turned over to the Queens district attorney and there is an ongoing investigation into the validity of the claim as I write this article. Stay tuned.
* * *
Big news to Lexingtonians who are real foodies. Frank and Dino's, the fabulous Italian restaurant in the heart of Boca Raton, FL is moving to Short Street in Lexington, KY.
On and off for the past 50 years I have been a Lexington resident. Never in that half century has there ever been a fine Italian restaurant. In honesty, there has never even been a good one. Carlo Vaccarezza is moving to Lexington. The horse trainer/restaurateur is moving his prized operation to Kentucky. It will make Floridians sad, but will be a shining light to Lexingtonians.
As an almost local, I have written about the Lexington culinary arts for a long time. I have liked many eateries in the past five decades, none more than the Peppercorn Duck Club in the Hyatt Hotel that was very short lived. Deauville, Dudley's, and the new Jeff Ruby's have been my downtown local favorites of late, but if Carlo brings the same quality fare to Lexington that he has prepared in Florida for the past 10 years he will, without a doubt, be the premier restaurant in the town.
* * *
A shout out with best wishes for a speedy recovery to my dear friend Meegan Sattelberg, queen of the Fred Grant barn, who underwent a successful knee replacement surgery Tuesday morning. The word is the patient is walking already.
* * *
To Marty Adler who decided to assassinate my character in Feedback Sunday (2020-02-16 Feedback), you don't know me at all. I don't get paid enough to be selling my soul to fat cats as you call them in the industry. I love this sport and have had amazing success for a kid from the big city. I write from my heart and anyone who really knows me understands this. I also select my topics in a fashion that will appeal to my readers.
I am certain my following would much prefer to hear about a million dollar yearling than a $5,000 claimer.
As for the Pennsylvania situation, I said not to worry but I also said we must be proactive and not sit on our hands.
I am sure I cannot change the direction our sport is headed, but I sure as hell can do my best to keep it above water.
I am not overreacting. Please note that for every Marty Adler admonishment (they always appear in Feedback as they never private message me) you see in HRU I get 100 emails thanking me for supporting the sport we love so much.
"Of all the gin joints in all the towns in all the world, she walks into mine" Rick Blaine (Humphrey Bogart) quote about Ilsa Lund (Ingrid Bergman) in Casablanca. Please don't ask me why I printed this. I love the line and the film.
Richard Evans asks: Murray Brown posted a statement on Facebook asking why people entered horses in claiming races and then cried about their horses being claimed. What were your experiences racing claiming horses?
Claiming races are a necessity to the sport since it is not as easy to go down in class today as it was when we raced ABC's. You need to make purse money to survive and avoiding putting a price on your horse will be more costly in the long run.
I have seen many trainers that never put a horse in a claiming race because they like the income from the training bill. This is counterproductive and a slap at the owner. All horses with the exception of a valuable filly or mare should be in claimer when they no longer can win a conditioned event.
My personal experience is that I have never entered a horse for a price that I didn't hope was in someone else's barn the following week.
However, there were two exceptions, both from times gone by. They were both $10,000 to $12,500 claimers and won at least half their starts. The first was Jerry's Pluff, one of the first horses I ever owned. He raced at Yonkers and Roosevelt mostly driven by "The Red Man" (Carmine Abbatiello). The second was Meadow Fox who unfortunately I didn't own but trained for The Goldfarb brothers and Jeffrey Greenberg and won about 10 races for them. The eventual disposition of the two of them is far beyond this old writer's memory but I really can't say I remember either one being claimed.
Joe Santoro asks: What is your opinion as to the validity of George Sharp's suit against Santa Anita and the Stronach Group and his "humiliation" due to the scratch of his horse?
For those of you not familiar with the case, Mr. Sharp had a horse, League of Shadows, in the California Cup Sprint scratched at post time and felt it unfair as his veterinarian and others deemed the horse fine. To boot he found himself humiliated by the event.
This is a disruption caused solely by the PETA media hype. To me that is a frivolous lawsuit at best.
The plaintiff's reasoning is that because of all the equine fatalities the management of Santa Anita is forced to make arbitrary scratches to show the public that they are serious about addressing the problem. I personally feel sorry for anyone that would believe The Stronach Group would stoop so low.
I am nearing the end of this segment and I am thinking to myself that maybe I should have passed on this question. Sorry, my readers.
I must point out that in no way would a state veterinarian ever partake in such a fool hardy scheme.
Charles Foster asks: What track restaurant has the best food? What restaurants near a track has great food? What track restaurant has the best hot dogs?
Unfortunately since the demise of Roosevelt Raceway and it's famed Cloud Casino or maybe Blue Bonnets Raceway in Montreal, there really are no top restaurants.
To be perfectly fair, I haven't sat down to dinner in a racetrack with the exception of the Red Mile, Keeneland, and Gulfstream Park in maybe 20 years or more.
The Red Mile, since the culinary department has been taken over by Fran Stalcup has had some wonderful selections in their enormous buffet offering. If you attend the fall meet in Lexington you must try their fare.
One of my all-time favorite restaurants near a track and that of many foodies like myself is still going strong right around the corner from the Meadowlands going north on route 17.
IL VILLAGGIO, put simply, has fabulous food. Any pasta in Ralph's marinara sauce is to die for. To give you some idea how much my family loved this place, when my kids were in New York City with a million great restaurants available, they would often have me pick them up and bring them to New Jersey for dinner at Il Villaggio. The quality of the food and the preparation is beyond wonderful.
I still like Tombolinos just outside the north gate of Yonkers. Giannis, not far from Pompano, remains a great dinner spot.
As for the best hot dogs, I love them but never seem to eat them at the track. However, the Dog House near the Meadowlands also on route 17 has a great selection and, to me, they are as good as you could ever want. Don't judge the place from appearance wait till you taste the food.
Thanks to all of you for your kind words. Please keep the questions coming in and have a wonderful week.
Have a question for The Guru?
Email him at GurfTrot@aol.com.