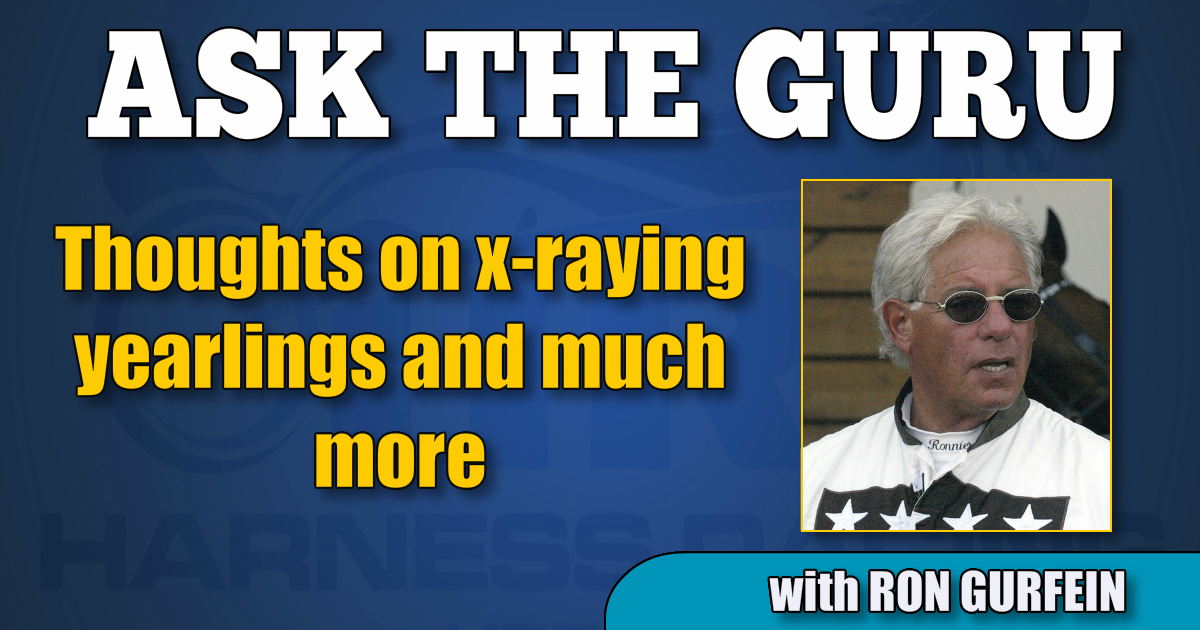 Thoughts on x-raying yearlings, the prodigious Marcus Melander and the Big M championship meet
That and feedback on my criticism of USHWA and
by Ron Gurfein
Tidbits: My sincerest condolences go out to Brian Sears, his sister Jennifer, and mother Kim on the loss of their beloved father and husband Jay Sears. A wonderful man and a very proud dad, he spent his entire life doing what he loved. Jay's contribution to South Florida racing and breeding was immense as well as his caring for the well-being of his fellow horseman. R.I.P. my friend.
* * *
If you need to add fresh stock to your shedrow don't miss the Winter Mixed Sale Monday at the Meadowlands. Lots of chancy young horses including potential stakes-winning 3-year-olds by Muscle Hill and Captaintreacherous. In the older category, there are some serious free-for-all possibilities including a very refreshed Lindy The Great coming off a six-win, quarter-million dollar season. There are also two 4-year-olds that I have watched since they were 2 and I feel with the ability they showed training and in a few races there may be a big upside somewhere. They are two Captains, Trevor and Ahab and if it was 1970 I would buy them both.
* * *
I was greeted on The Deck on a dreary and wet Saturday by a livid Marvin Katz who felt that in explaining the problems with the USHWA selections I was too strong using the word "corrupt." I am bowing to my friend's judgement. I do want to point out that it was never my intention to accuse Marvin or partner Al Libfeld of any wrong doing on their part, merely my feelings about the working of the system.
I ran into Marvin and his wife and friends again Tuesday night and reiterated that I meant nothing personal. However, I explained that there was definitely an ongoing conspiracy theory as proven by some of the ridiculous emails I have received on the subject.
Do I condone conspiracy theories? Absolutely NOT. But they are out there and it goes with the territory of success.
***
I have been attacked lately on Facebook. If you have a problem with my writing, email HRU or myself. Please don't post it on social media. There is a distinct lack of intellect on Facebook, thus you give a platform for some dolts to go on the offensive with nothing to offer but idle banter. The average HRU subscriber is in a different IQ range and less likely to get involved in a nonsense thread.
Michael Donato asks: Marcus Melander had an amazing year and was named Trainer of the Year. Realizing how young he is, do you think it is a fluke or can he keep it going?
It's no fluke. "Baby Trainer" has great owners, trains on a fabulous surface and has numbers. Can he duplicate this year? It will be difficult, but not impossible. Although I love the surface of his track (the Stanley Dancer Farm in New Egypt, NJ) I question training big horses on that half mile. I trained on it for a few years and was successful with two little horses, Delicious and Lucy's Pearl, but had a big one that was compromised by the turns. To me, training 100 horses over it may prove a test for the young man. I have seen his operation and he is a hard worker and dedicated to his stock. After elimination of obstacles (i.e. the half mile), he can only get better.
I have pointed out in the past he has made mistakes, but he is very smart and will learn from these errors in judgment and be better year after year.
It is interesting to note that he was named Trainer of the Year exactly two decades after yours truly. When you look at the numbers, it is quite a major difference. About the only similarity was that we both had two good horses in the Hambletonian. After that, it was all better for Marcus.
In 1999, I was first and fourth with Self Possessed and Raphaello Ambrosio in the Hambletonian and third in the Oaks with Bit O Candy. Self Possessed was second, in a controversial finish to the World Trotting Derby and won the Kentucky Futurity. Bit O Candy won the filly World Trotting Derby and they both won their divisions of the American National. Cherished Victory had a very good 2-year-old campaign, but that was it for me in 1999. My summary was 170 starts 39 wins $2,064,639.
My numbers are embarrassing in comparison. Marcus trained Greenshoe, Gimpanzee, Green Manalishi S, plus the top 2-year-olds Hypnotic AM, Capricornus, Back Of The Neck, and Rome Pays Off. His amazing summary was 332 starts 86 wins and $5,361,856. Maybe I should give my award back.
For sure the name Marcus Melander will be around for a very long time. Note: he had his first Hambletonian horse in his 20s. I had mine in my mid 50s.
Arnold Beyer asks: What do you think about having consignors of yearlings having X-rays and scoping photos available at the sales?
I think you picked the wrong person to ask that question. I am sure there are some that would love the idea. I on the other hand am a total anti-veterinarian, when it comes to purchasing horses. I was partners with the famed New Bolton Center surgeon Dr Michael Ross on dozens of horses, most of which made good money, and after looking at each purchase (after the fact, I would never let him look before) he would say "Ronnie, how the hell did you ever buy him?"
I believe that vets are way too fussy. I realize it's their job, but not for my money. There is an instinct to buying horses and you must believe in yourself. If you love a horse and he has deformities you can live with, buy him. Talent and pedigree can conquer all.
Your timing asking this question comes almost the same week that an article was published in theThoroughbred Daily Newswith an interview of Mark Taylor of Taylor Made in Kentucky where he feels the industry needs to re-examine the role x-rays and the repository play in the sales process. He said "From my perspective as someone who sells more yearlings than anyone else on the planet other than Keeneland and Fasig Tipton, we watch what these horses do" ( Speaking of the ones that fall through the cracks because of poor x-rays).
"The correlation between the x-ray report and the way they run is very unpredictable."
He feels that ending the repository system for certain books at certain sales would be of great help to the small breeder.
We are not faced with many books at many sales and I find it hard to fathom how they can say where the rule begins i.e.: hip number 500 no more x-rays, but that is their problem. His idea makes me believe that I am on the same page and that is of no value overall.
Horsemen should get over some of the ridiculous fallacies in looking at a yearling before worrying about x-rays. Don't worry about toeing in or out, a video will tell you 90 per cent of the time if a colt is going to go to his knees. Don't do the four finger test, it is meaningless. Continentalvictory was three with a squeeze, but five when she was three as colts jaws keeps growing.
When you pick a good one, remember the silhouette and when you pick a bad one don't forget the silhouette.
Tom Santoro asks: Do you think the Meadowlands could conduct a special August meet leading up to the Hambletonian like they do in Saratoga, Keeneland and Del Mar? Could they invite the best drivers? How about some cameo appearances of Lachance, Campbell and Magee?
Tom, they do have a special meet, except it is in July. From the beginning of July to the first week in August ending with the Hambletonian they have the following stakes: the Kindergarten, NJSS, Meadowlands Pace, Graduate P&T, Mistletoe Shalee, Golden Girls, WR Haughton, Stanley Dancer, Delvin Miller, Hambletonian Maturity, Shady Daisy, Lady Liberty, Sam McKee, Peter Haughton, Jim Doherty, Merrie Anabelle, Hambletonian Oaks, Hambletonian, John Cashman, John Steele, Cane Pace and more.
There is no need to invite the best drivers because they are there to begin with. As for Mike, John and Dave, I would think they are happy in retirement. You can't come off the bench in this sport after years of retirement and be competitive at the highest level. Add to that, driving horses is dangerous and in your 60s and 70s your reaction time is severely altered. Let those great men enjoy their retirement in peace.
Ramon Degennaro asks: How do racing authorities determine beaten lengths?
With a constantly running camera. At the finish line there is a photo finish camera that takes a constant photo of every horse that crosses the line. If you watch the races on television from any track when two horses are close at the wire they show a photo for win, place or show, whichever the case may be. Every horse has a finishing time that can determine beaten lengths. For example, they cannot chart beaten lengths or finish when the winner crosses the line because the order following can change before the race is over. There could be interference, a horse could fall, that is why every horse must go under the wire to be charted, otherwise Did Not Finish.
Thanks to all of you for your kind words. Please keep the questions coming and I am enjoying the comments too. Have a wonderful week.
Have a question for The Guru?
Email him at GurfTrot@aol.com.