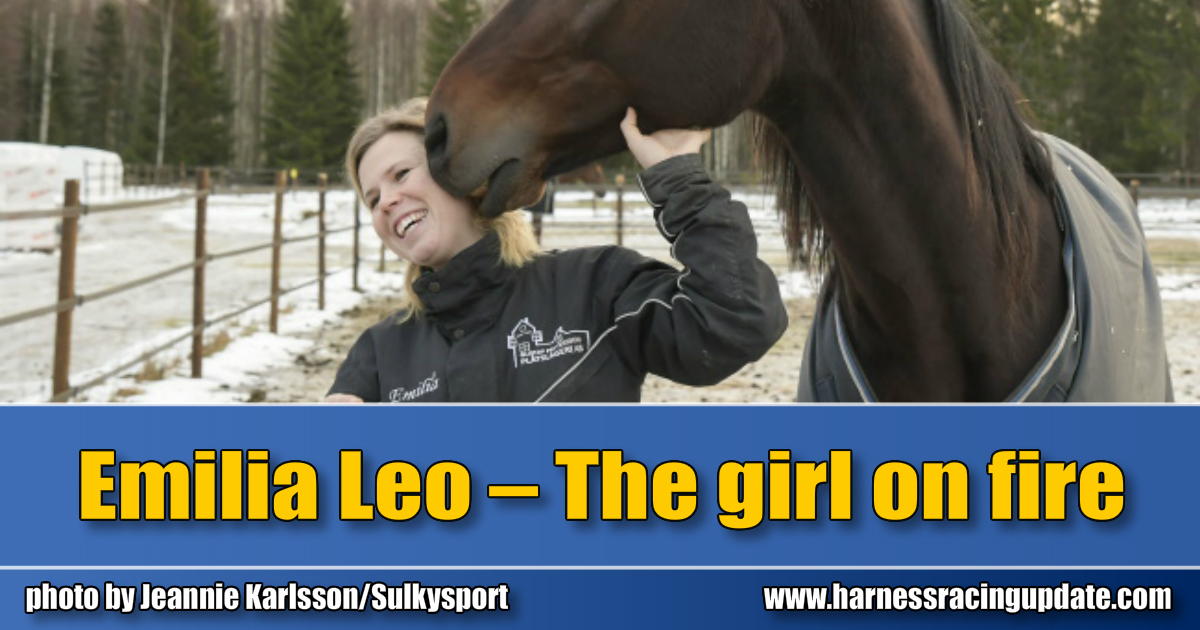 Emilia Leo – The girl on fire
by Thomas Hedlund
Swedish driver and jockey Emilia Leo visited the winner's circle 118 times in 2019, a remarkable total in Europe where the 27-year-old superstar is gaining much-deserved attention across the business.
"You have your hopes and dreams about reaching this level some day and after the 2018 season, everything happened so fast," said Leo, who got her breakthrough as driver during the summer of 2018.
It was that year she presented trotters, trained by herself, in perfect shape in the V75, the best spotlight to use if an active horseperson wants to market themselves to a broader audience. Leo won 84 races in 2018 in 546 attempts while driving as an apprentice.
After New Year's Day 2020, Leo changed her status to amateur, which, in her case, means that she can continue to drive other trainer's horses, even in bigger staked races.
The year 2019 was sensational for Leo. More and more she was entrusted behind horses for some of the bigger trainers in Sweden and during the weekend of Elitloppet, she had a drive in one of the most prestigious races at Solvalla, the $125,000 Sweden Cup.
"I still try to think about how fun it is to drive races and I honestly don't feel any pressure when I enter the tracks. In a situation where I just drive for other trainers, I would maybe have felt differently but as it is for now, I have my own horses that I work with and I get my steady income by that. So the driving part is just a bonus, it is the fun part of the job and I love it. The fact that I can release some of the pressure in competition makes me a better driver," said Leo.
Winning 118 races — half of them came in racing under saddle events — is an impressive outcome for any driver in Sweden and Leo is not fond of the gender discussion in the harness racing business.
"I made a statement a few years ago where I criticized the difference between a 'bad' drive by me compared to a young, male driver who made exactly the same mistake in a race. It was so much easier to blame the bad result on me, a girl, when a young and over excited guy was just considered as eager and hungry. For me, there's no difference by gender in this sport. Everyone has the same opportunity to be successful, but historically it's been harder for female drivers to really go all the way to the top. What happened to me was that success opened doors. When I started to win, more trainers wanted my services and that in turn opened bigger doors, for bigger races…and so on."
Leo's 701 starts in 2019 resulted in earnings of $962,877. Among nearly 120 victories, she has one favorite that stands out. In September, she drove Shocking Superman for trainer Oscar Berglund in the $42,150 Silverörnen, a gold division race in V75 on a Saturday, and it became a superior victory in a mile rate of 1:53.4 over 1.3 miles.
"But it's really hard to pick out different victories from a specific year. Every time I sit behind a horse, it means something different due to who you're driving for. I can feel the same satisfaction in a race where the purse is $2,000 if I know that the people around the horse are happy with my job. The best thing for me last year was the fact that I got the chance to drive and ride horses throughout the whole season, some the same horses that the trainers wanted me to drive, and these collaborations means a lot to me today", she said.
For the moment, Leo is not contracted by any of the biggest stables in Sweden.
"And I don't know if I miss that part so much. I have great contact with the trainers I drive for and many of the best amateurs want me to drive for them and that's the best thing I know."
It's hard to avoid the girl-boy-subject when Emilia Leo is on the line. Even if she has her definite opinion that it is no different to be a woman in the game in 2020, she has noticed she has been a part of the switching of trends for female drivers in Sweden.
"There are some female drivers that have come to me where they've told me their stories, about how the business now is more open to let them get drives in races besides the ones for ladies or amateurs, so I hope that I, together with other women, have been an icebreaker for the sport," said Leo.
The success for the woman from Dalarna in Sweden continues in 2020 and she has already shown her abilities in the bike in the V75, where she won a race as late as on Jan. 10 at Bergsåker racetrack.
Even Vincennes in Paris has seen a glimpse of her during this winter meeting. In 1995, Swedish female driver Helen A Johansson made history by winning the Grand Prix d'Amérique paired with super mare Ina Scot. It was a feat hard to describe then, but when Emilia Leo enters the tracks 25 years later, there is hope that more women can conquer the sport in the near future.
More about Emilia Leo
Age: 27
Residence: Borlänge, Dalarna, Sweden
Favorite foods: Grilled
Favorite drink: Coca Cola, unfortunately
Car: Volvo
What I watch on TV: Harness racing and series
Best horse I've driven: Shocking Superman