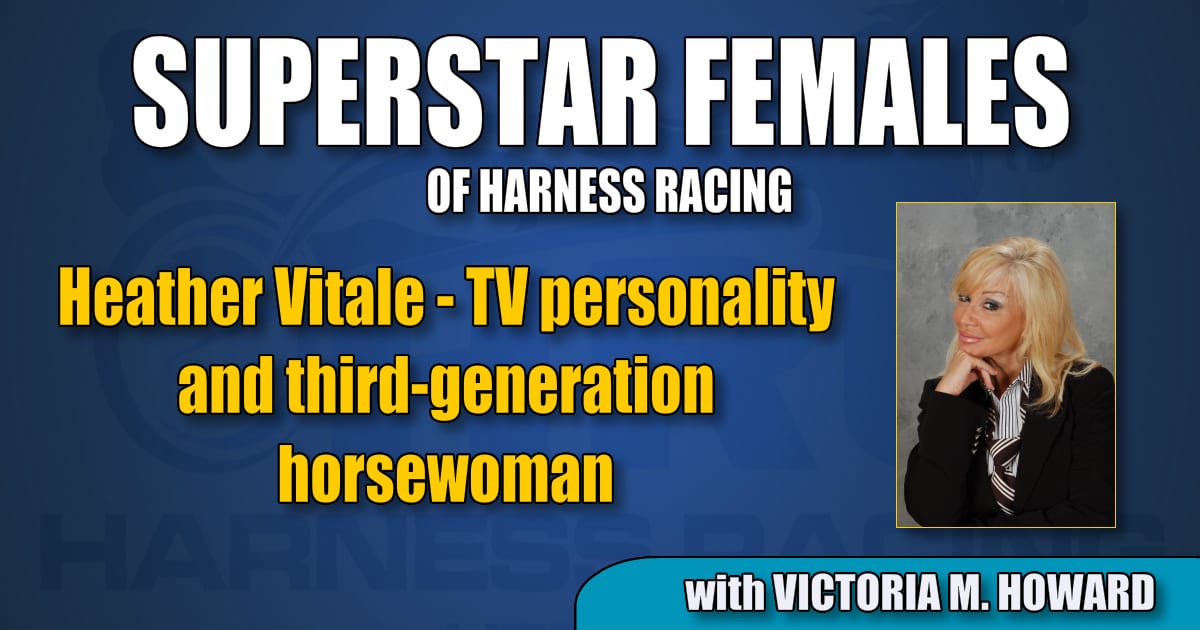 Heather Vitale — TV personality and third-generation horsewoman
by Victoria M. Howard
In the 1950s, Elmer and Helen Looney took all their savings (a total of $350) to purchase a harness horse. That, as it would turn out, would be the beginning of a legacy and have a huge impact on the sport of harness racing.
Decades later, their daughter Jo Ann would become the first woman to win a race at The Meadowlands. Jo Ann's daughter Heather Vitale, has become an ambassador and one of the most loved and celebrated figures in the sport.
Born in Dover, DE, Heather and her family moved to New Jersey when she was a small child. When she was in high school and through several years in college, Heather lived with her father, Ralph Vitale, on Siesta Key in Sarasota, FL.
"I was on the five-year plan", Heather said, laughing. "I attended several colleges and graduated from Monmouth University in New Jersey with a major in public relations and minor in journalism.
"The funny thing is that I was never really into horses until the age of 12. That's when I started taking care of my first horse named Spots N Dots. Then I was totally hooked."
Although Heather loved Spots N Dots, her all time favorite is a mare named Star Of The Future who she owned with her mother and grandmother in the early 2000s.
"Star Of The Future was not a stakes caliber horse, but she took a mark of 1:53.3 at Dover Downs, and that was a huge mile back then, at least it was huge for me," said Heather.
"That mare was everything to me. She even helped me though a rough relationship break-up. Star Of The Fortune was there with me every day through my first pregnancy and was the only horse I was training at the time.
"I remember I was brushing her mane on September 11, 2001, when I found out what happened. I ran to the television to witness that horrific day we all will remember. Star Of The Future was a huge part of my life, even though she really didn't like me too much. She was like a teenager who wanted to be left alone — but I loved her."
Today, Heather is still a huge horse lover but doesn't own one of her own due to her busy schedule of raising two boys and being heavily involved in the business.
"When I own a horse I want to be in the barn every day. I'm definitely a 'hands-on-owner.' Raising my sons and juggling a very busy career producing Post Time (a half-hour television show that airs on a CBS affiliate on the Delmarva peninsula), leaves me little time for owning a horse."
For the past 20 years, Heather has been employed by the Delaware Standardbred Owners Association; worked for the Pennsylvania Harness Horseman's Association; was host and creative director for PA Harness Week (which airs on NBC Sports Philadelphia), and also worked for HRU doing the Twos in Training Series, and covering the Lexington Sale.
She has also been part of the on-camera team during the CBS Sports broadcasts of The Meadowlands Pace and The Little Brown Jug.
"I also do a lot of social media work covering different races in North America — from Breeders Crown to opening weekend of Shenandoah Downs, to The International Trot — as well as races overseas. I've been blessed to have traveled to Ireland, New Zealand, and Australia, and this January I will be going to France."
Although she may not have time to own a horse, Heather lives vicariously through her mother, Jo Ann, and her stepfather Jim King Jr.'s, powerhouse stable.
"Luckily, I live on the same farm as my mom which is home to all of their horses. They train there, too, and we all celebrate the victories together as a family."
This has been quite a year for the Looney-King Stable; training superstar horses such as Shartin N, a 6-year-old mare that has won 15 of 19 starts this season, and Lyons Sentinel, a freshman Captaintreacherous filly who is quickly getting known as a name to be reckoned with.
It's no wonder when I asked Heather who her favorite female in the sport was she answered, "Definitely my mom. I really gave her a hard time when I was younger. I really hated that she was not like 'other moms.' My friend's mothers were home with them at night while I was traveling to The Meadowlands with my mom. She was trying her hardest to balance her goal and dream to make it in the sport as a driver and be a good mom.
"Now as an adult and mother myself, I admire my mother more than ever. If I hadn't seen her chase her dreams with such a passion, I would not be the ambitious woman I am today."
Heather is the mother to Wyatt, (18) and Trey (12).
"My boys are so different. Wyatt adores horses and feeds them in our barn every night. He can't wait to get up at 5 a.m. on Saturdays to work in the stable, and has tagged along to more racetracks that I can count. On the other hand, Trey's interests are different. He's versed in everything from antiques to Koalas and loves animation. His goal is to one day become the President of Cartoon Network. He already has a list of improvements he would make to enhance the channel," Heather said, laughing.
Being a role model to women in harness racing, the beautiful bubbly blonde is ecstatic that today females are getting as many equal opportunities and breaks as the men.
"I see more and more women on camera and social media coverage for the sport than ever. I love it. If you're qualified for the position — then you're qualified. I hope in this day and age employers aren't concerned with the gender of the person for their broadcast team, but instead, for their experience and what they bring to the sport.
"Ironically, my mother, Jo Ann, was the first female commentator for The Meadowlands — so I'm grateful to her for passing those genes down to me."
I asked Heather if she had any advice for women who would like to pursue a career like hers.
"One of my favorite quotes is from comedian Milton Berle. 'If opportunity doesn't knock — build a door.' You don't have to wait for a job to come to you. Hustle and promote yourself. Also, be true to your personality and don't try to be someone else. You're not on this Earth to fade into the background, you're here to shine!"