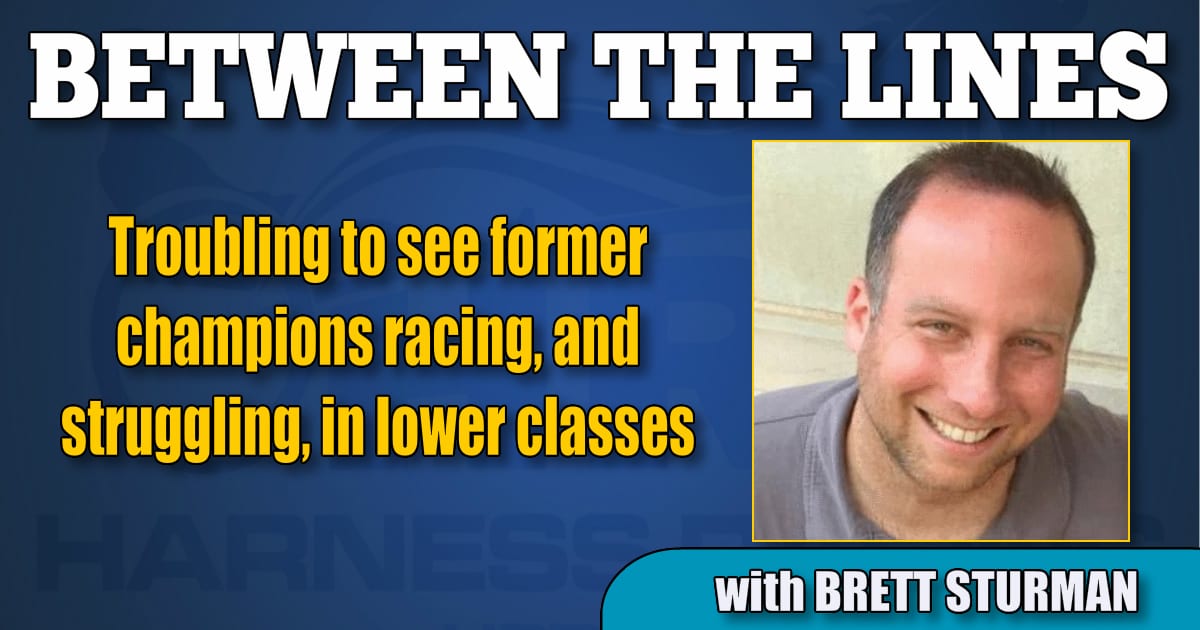 Troubling to see former champions racing, and struggling, in lower classes
by Brett Sturman
This week, there was controversy in the thoroughbred industry around a 7-year-old gelding named Stormy Liberal. As chronicled by HRU contributor Bill Finley in the TDN, there erupted a dispute between owners of the horse and the trainer as to if the horse should race in 2020. Stormy Liberal won the Breeders' Cup Turf Sprint in 2017 and in 2018 but went 0 for 7 in 2019 including being a non-factor in this year's Breeders' Cup. At the center of the debate was the horse's soundness.
So, what does any of this have to do with harness racing? This isn't necessarily a good thing or a bad thing, but there couldn't be any larger of a contrast between the industries when it comes to how former highly accomplished horses are expected to be cared for later in their careers.
It's generally seen as immoral and degrading in the thoroughbred industry when champion horses are later found in – and struggling in – cheaper conditions. There's a notion that horses in these situations have done enough earlier in their career that they don't deserve to be diminished. This prevailing wisdom does not exist as strongly in harness racing. Every day across certain racetracks you can find horses that were stakes winners at 2 and 3, and now at age 10 or 11 or even older are still at it, rounding out their careers in low conditioned and cheaper claiming races. For the most part, this isn't an issue. Many horses enjoy being in training and if a horse is sound, why not continue to race them?
Circumstances do arise though from time to time that makes you question if it's really necessary for other horses to still race. Debatably, such was the case this past Thursday from Dover Downs. In two separate races, 4-times millionaire Wiggle It Jiggleit and to a lesser extent millionaire Wakizashi Hanover took to the track some ways removed from their best days.
Following a 3-year layoff, Wiggle It Jiggleit returned to the races in September. After his second start back on 9/30, he then had another two-month gap in between races to when he raced a week ago on 12/12. Coming from strictly a layman's perspective, Wiggle It Jiggleit rarely looked right – even by his standards – in that $25,000 open. Fumbly-gaited throughout parts of the mile, he took a bad step going up the backstretch and almost fell, in the process scattering a few behind him. Right back in this past Thursday, he at least looked better visually though he faded in the final quarter of the mile after setting seemingly unnecessary fast fractions.
Part-owner and trainer George Teague was quoted last week for DRF Harness prior to the 12/12 Dover race as saying "from a soundness perspective, he's never been better." Now that might completely be, but piecing together a three-year layoff followed by a two-month layoff followed by almost falling two races back, it doesn't seem inspiring. As I said, Wiggle It Jiggleit improved this week, but it's not what a horse of his caliber is accustomed to. His win in the Little Brown Jug – this generation's version of the Life Sign edition of the race – is one of the greatest races in the sport's history and I'd much rather remember him in those terms rather than see him subjected much further if it turns out he can't still compete at levels suitable for him. Even if he were to keep racing and pick up a couple wins here and there, what's ultimately to be accomplished?
Similarly, Wakizashi Hanover returned to the races Thursday since his first start in June at Truro Raceway in Nova Scotia. Aside from that race he won at Truro that earned him $573 dollars, his last start prior to that came at Dover in December of last year. Brent MacGrath of Somebeachsomewhere fame trained Wakizashi Hanover over the summer during the time he raced at Truro, and he was quoted in HRU at that time as stating, "We have to look out for and protect him a bit. That leg (issue) is there and is going to be there. The harder you race him, the less liable he'll be to stay sound on it, so we have to protect him a little bit. We know that he has the class, and we know he has the desire, the ability. So we'll just race him within himself and let him enjoy it."
To his credit and those around him, Wakizashi Hanover returned to the track a narrow winner. With that said, these are examples of former high performing stars that have consistently had gaps in between their races. Again, it's one thing for older sound horses to continue to race into advanced ages such was the case last year with 14-year-old Foiled Again or even this year with the classy 14-year-old Lucky Man, but what should determine when the best horses can go out and retire with grace?
The coincidence in both these horses in similar comeback positions on the same Dover race card is that these were the one-two finishers in the Pepsi North America Cup four years ago when Wakizashi Hanover was able to capitalize off a pocket trip and beat Wiggle It Jiggleit for the upset. That's another race I remember well and, like most others, I have high regard to this day for both horses. The question applies far beyond just these two examples in that how long should comeback attempts be with respect to being fair to the horse and not putting their health at risk, nor diminish their career work.
Back to the Stormy Liberal controversy from earlier in the week, ultimately the decision was made to retire him and let him live out his life at Old Friends with other retired racehorses. Even though it's more custom in harness racing to race horses longer, there shouldn't be the need for controversy to retire a horse as it becomes apparent to do so.