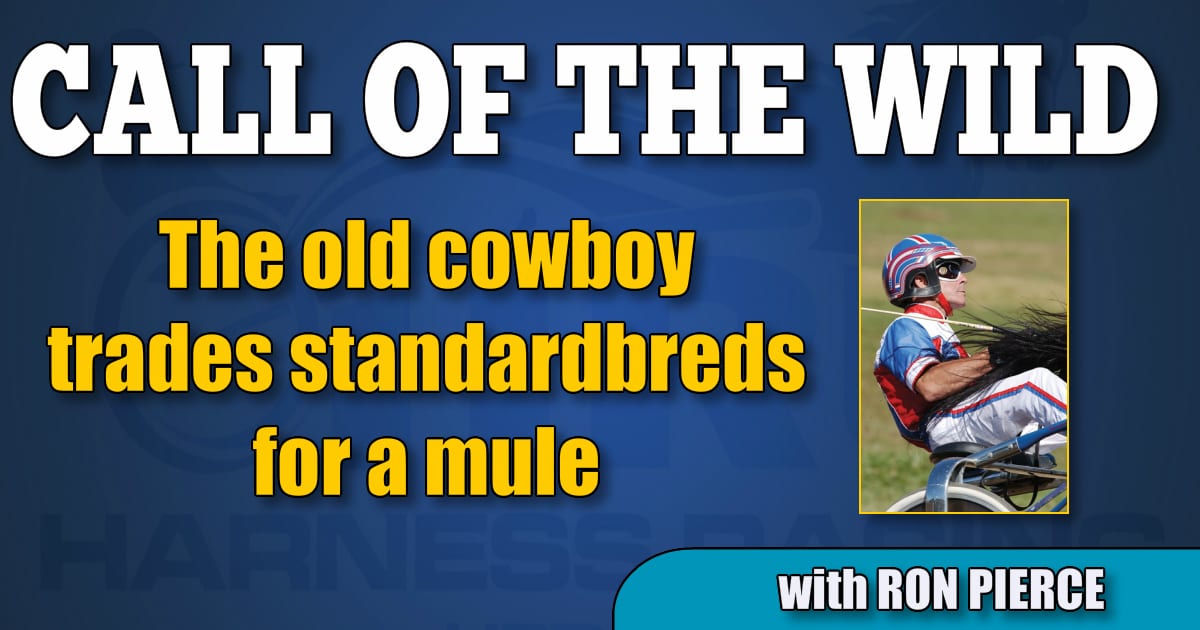 The old cowboy trades standardbreds for a mule
by Dave Briggs
Ron Pierce isn't sure, yet, if he's going to make it to Arizona this winter, but the old cowboy is already dreaming of prospecting in the desert with his trusty steed, Monk.
"I could take my mule down there and have a blast," Pierce said this week when reached at his home in Montana. "I would just metal detect and maybe dry wash for gold."
The retired Hall of Fame driver said Monk the mule — full name Monkey — came into his life earlier this year.
"He was pretty green, even though he was seven years old. I wasn't so sure what to think when I first started messing with him, because I was kind of green that way, too," Pierce said, laughing. "I haven't even had a pet horse that I could ride for a long time. Anyway, with the help of some good friends and cowboys out here… that mule and I, we've come to an agreement and understanding that he will be a good boy.
"The people that owned him called him Monkey and I figured out why they called him Monkey real quick, because he could move like a monkey. Him and I went for some wild rides. One time he took me for a ride and I couldn't get him pulled up and my eyes started watering up from the wind with my glasses on. Wow, could he go.
"I would think for just that eighth-of-a-mile or under eighth-of-a-mile when he took off, I think he was the fastest horse I've ever been on in my life. I was thinking when he was going 100, 'I don't think Sweet Lou could go this fast.'"
Asked whether he might find a place to race Monk one day, Pierce said that's the last thing on his mind.
"I've been working so much with him just to get him to try to go slow, the last thing I want is for him to get hot. I'm sure if I was to give him the right holler, he would get very hot," Pierce said. "I got him to use to ride around on the mountains here. I've got a pack for him and everything. He's a pretty cool dude and I really like him a lot."
Monk even navigated deep snow in the Blackleaf Wildlife Management Area on the eastern front of the Rocky Mountains.
"It was the first time the mules had ever been in snow and we had to go through some drifts four or five feet deep, but they plowed through it all right," Pierce said.
As for his hunting exploits, Pierce said he's been as active as ever.
"I killed an antelope a couple of weeks ago," he said. "It's really delicious. I think it's a cross between a young elk and a deer. I think the antelope is better eating than the deer. I think it might be better than the elk, too… I like a burger, mostly, but you can do roasts, too, if that's what you want."
Pierce said he shot the antelope on the first day of hunting season.
"I was sitting there and I looked up and there was about 20 of them coming right at me, but I had to make sure not to hit the one behind her. I had to shoot a female, because I couldn't get a male this year. I just looked through my scope and picked a big, fat doe. I picked the biggest and fattest one I could find."
Pierce said he loves life in Montana, but misses New Jersey and racing — on some nights.
"I miss my boys and I miss some friends. And I miss the racing, of course, but not the overnights and not those wet, muddy nights that we'd be going out and freezing to death all night," he said.
That said, the career winner of $215 million in purses said he wouldn't trade where he lives for the world.
"It's very, very mellow, no stress, no hurrying. It's a very, very laidback lifestyle here," he said.
He does offer a cautionary note for other top drivers, though.
"I (drove) for so long, I didn't appreciate just what I had there. I didn't appreciate the money I could make. Now, I've been travelling around and I realize these professions out here, these doctors and lawyers and farmers… the farmers and the ranchers all struggle. They go from day to day. Even those professional people, who went to school for eight years, and are supposed to be real smart… even they can't get close to that money that the drivers were making.
"All the guys at the top, making that kind of money that I was making all those years, I hope they appreciate what they have because they are blessed, believe me."
Whether or not Pierce gets to Arizona this winter will depend on his health. He is still dealing with racing-related injuries.
"That's why I have to stick around Montana. I see a specialist… I've had to get my shoulders injected. My left shoulder, they are going to have to replace the shoulder joint. I'm going to see him in December some time and then my right shoulder… He says we probably won't have to replace it, it'll probably just be arthroscopically. He thinks he can fix it that way.
"These injuries happened when I was racing. My left shoulder was always good and then I had a line break on me when I was going to the gate and, man, I landed so hard on my left shoulder. It's been bugging me ever since. It's just shot now. It would be nice if they didn't have to replace it and just fix it arthroscopically."
At 63, Pierce is just as much a cowboy and outdoorsman as he ever was, but even he realizes he's not immortal and can't do everything he once did. Thinking about Arizona a little more, he said perhaps it would be best to leave Monk in Montana.
"I'd probably take my quad instead of my mule," he said. "I can't be recovering and messing with any mule."