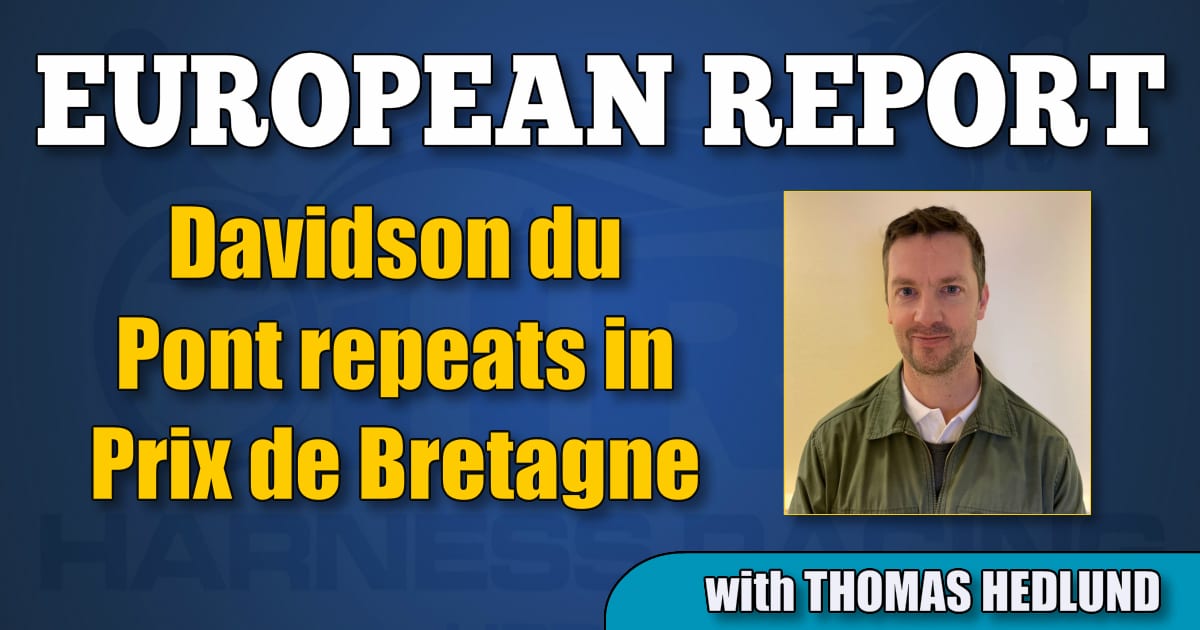 Davidson du Pont repeats in Prix de Bretagne
by Thomas Hedlund
The first of four preparation races ahead of Prix d'Amérique was held at Vincennes racetrack in Paris on Sunday afternoon and just as in 2018, Jean-Michel Bazire trained Davidson du Pont (Pacha du Pont) won the $121,000 Prix de Bretagne, paired with Franck Ouvrie.
Ouvrie gave Davidson du Pont a perfect trip after a quick start and the relaxing journey on the inside gave the 6-year-old Bazire horse plenty of power to use in the end of the 1.6 mile-long race.
Swedish trotter Who's Who controlled the field of 18 horses most of the race, but driver Örjan Kihlström had to give the lead to first-over trotter Chica de Joudes when the Vincennes uphill backstretch started. Alain Laurent-trained Chica de Joudes was in some meaning the horse in the race. The 7-year-old mare put high pressure on the leader after a half mile and had to do all heavy work on the outside before she reached the front with a kilometer to go.
At the home stretch, Chica de Joudes couldn't defend herself when fast moving Davidson du Pont found clear space to use his great speed. The mile rate over 1.6 miles was 1:57 for the winner.
Bazire also qualified Looking Superb for the Prix d'Amérique. The Norwegian-bred trotter took the bronze medal and has now the chance to improve his surprising result from this year's Prix d'Amérique, where Looking Superb finished second to winner Belina Josselyn.
And talking about Belina Josselyn, in her third start after racing interruption, she mostly ran a race for herself in the back of the field and at this moment it's very hard to evaluate her condition. But Bazire is one of the best in the world to prepare horses for big races, so we can count on Belina in the Prix d'Amérique.
And as it seems, the racing fans will also have a certain Bold Eagle to cheer for at Vincennes in January. Co-owner Thomas Bernereau told French media Equidia, that Bold Eagle will enter the next "B-race", the $121,000 Prix du Bourbonnais on Dec. 8, and after that, the son of Ready Cash will try the $121,000 Prix de Bourgogne at the end of December.
Bold Eagle won Prix d'Amérique 2016 and 2017.
On Saturday's race card at Vincennes, the $121,000 Criterium des Pouliches for 3-year-old mares is on tap and the 1.6 miles long race will be a fight between trotters like Gunilla d'Atout, Girls Talk and Green Grass.