by Victoria M. Howard
Some of the most important people in horse racing are the ones behind the scenes. I'm talking about the caretakers, the unsung heroes of the sport.
The trainer tends to get all the credit and recognition for the performance of the horse, but the person who has the one-on-one interaction on a daily (and nightly) basis is the groom.
One caretaker who many say has golden hands is Fiona Reynolds.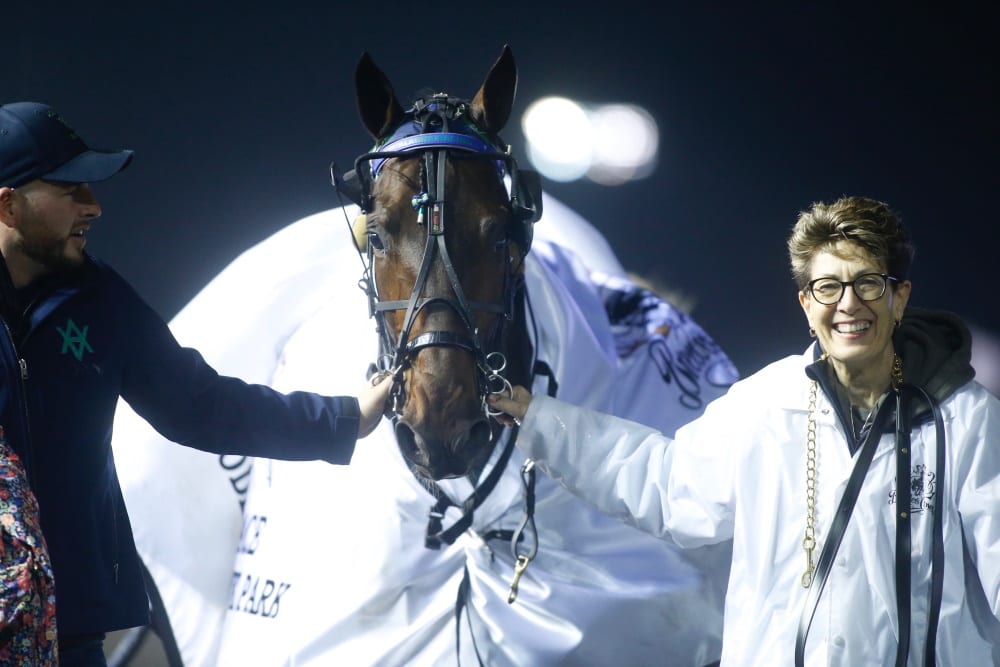 When Reynolds was 17 she moved her saddle horse to a barn whose owners had standardbreds. That's all it took.
Although Reynolds hadn't been brought up around these incredible athletes, once bit by the horse bug she and her boyfriend at the time, Jim Pudge McDonald, developed a small stable of horses and raced at her home track of Avalon Raceway in Goulds, Newfoundland.
"In 1980, Jim and I went to Pompano Park Racetrack in Florida where I got a job working for trainer Archie McNeil. Three years later, I relocated back to Ontario and started grooming for John Burns."
Today, Reynolds keeps herself busy helping out between top trainers Tony Alagna, Dr. Ian Moore and Mike Vanderkemp.
"It's interesting to me how many different ways there are to reach the ultimate goal of a trainer, which is of course is winning. Each has his personal method and each is successful," Reynolds said. "I am the type of person that asks a lot of questions, so because of that I've learned a lot."
She doesn't have a preference in caring for a mare, stallion or gelding.
"I honestly don't prefer one to another. I just meet that animal where their headspace is. I treat the horses as equals for they are not machines, but living creatures with a soul. Although they all have different personalities, I have found each horse to be kind and really just wanting to please and be loved."
Her all-time favorite?
"That's a tough question," Reynolds said.
"I'm going to say it's a horse named Pequoig Warrior. He was a trotter from my teenage years who absolutely hated humans, but we loved each other.
And then there was Soky's Atom who took me on the Grand Circuit journey as a 2- and 3-year-old.
"But whatever horse I'm managing at the moment, I treat as if he/she were mine and love them all. I absolutely loved the horse Stay Hungry. I am thrilled that Tony Alagna and his mother Donna Lee trusts me tending to their top stock on race nights in the major races.
"Throughout the years I have been blessed to have paddocked some of the best horses, such as Stay Hungry, Ramona Hill and American History."
Talk about Ramona Hill and American History. What a thrill these two superstars gave Reynolds Breeders Crown weekend at Mohawk when Reynolds groomed both horses on consecutive nights.
First, there was the filly Ramona Hill who busted out of the 10-hole at 14-1 odds to be victorious in the $786,000 2-year-old filly trot.
The following night, Reynolds took 4-year-old American History to the paddock and scored a double for Alagna when the colt won the $657,895 Breeders Crown Open Pace. (Alagna also took a third Breeders Crown trophy with 2-year-old pacing filly Reflect With Me.)
Call it lady luck or does this woman have golden hands?
"One of the things I admire most about Fiona is the way she treats every horse she takes care of. Even though it's not full time, she cares for them like they are hers. She is attentive and caring to everyone — whether it's a maiden or Grand Circuit caliber."
"Fiona has always been my go-to girl when I need paddock help," Lee added. "She's a complete professional and loves her job. Fiona has a gift with difficult horses and a calming effect on fussy mares — including me."
It says something about your character when your boss compliments and praises you as the Alagna Stable has done; but caring for these animals is not Reynolds' primary job — it's her second.
Her first job is a long care nurse, tending to those who need her. Perhaps being such a caring, compassionate person rubs off when she cares for her four-legged friends.
"I couldn't imagine my life without working with these amazing animals. They are my therapy and time with them feeds my soul. A few years ago I went to see a psychic medium that told me I would leave this world 'on a white horse.' Although that sounds lovely, I'm not ready to leave here yet, so for the time I try to stay clear of tending to any greys, roans or white horses," Reynolds said, laughing.