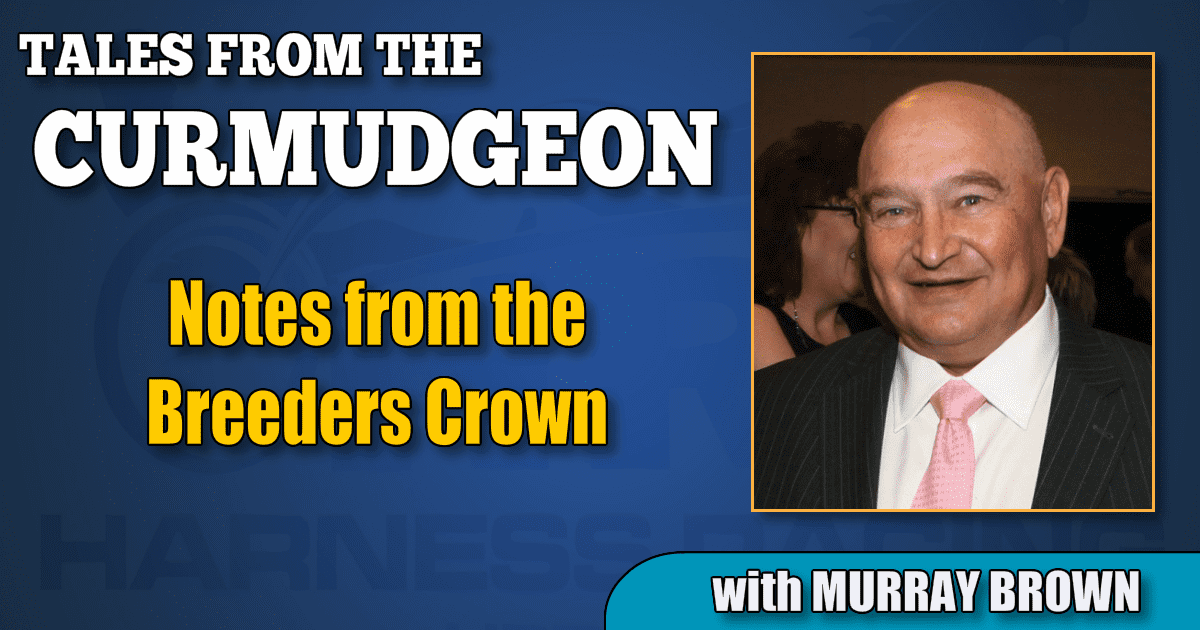 Notes from the Breeders Crown
by Murray Brown
There was more driver talk around this year's Breeders Crown events than any other that I can remember.
The star of the show was Aussie Andrew McCarthy, who is sometimes overlooked when speaking of the great drivers in our sport.
He led all drivers with four Breeders Crown wins.
What I especially like about Andy is his versatility in the sulky.
He is generally looked upon as being a finesse driver. To some degree that description applies.
However, he is very able to adjust his driving style to the horse he is sitting behind. He can be aggressive if the circumstances require it — witness his drive from the ten hole with Ramona Hill in the 2-year-old filly trotting division or his second-place finish with Tall Drink Hanover in the 3-year-old filly pace.
Andy is sometimes considered by some to be the second fiddle behind his Down Under compatriot Kiwi Dexter Dunn.
As for me, I'd give anyone first choice of the two and wouldn't be at all disappointed with the one remaining.
The youngest driver competing was Joe Bongiorno. He had one drive. It was both a winning and masterful one with American History in the older pacer division.
As Joe said when being interviewed after the race, special recognition should be given to the faith shown in him by trainer Tony Alagna and the owners of the horse. American History had raced extremely well previously with Joe driving before the Breeders Crown. They chose to go with the "horse" that brought them there, although there were some better known names available.
I have to feel sorry for the great Hall of Fame driver David Miller. First he loses the Hambletonian on a disqualification. On Friday, he lost the Breeders Crown 2-year-old colt pace with Papi Rob Hanover on a DQ to Tall Dark Stranger.
Certainly Yannick Gingras should have made the objection. There was contact.
Although I have been a fan of Tall Dark Stranger since his first baby race, I don't believe he would have won, with or without the contact. The judges did what the rulebook said they were required to do. They made the right decision.
I feel certain that this will be only one of many monumental battles these wonderful colts will engage in.
In fact, David Miller isn't the person for whom I feel worst. His trainer Brett Pelling has done a masterful a job of bringing Papi Rob Hanover to this point. His owner Dave McDuffee is one of the finest gentlemen that I've had the privilege of knowing in my 60-plus year involvement in the sport. If there is a nicer and better person in all of harness racing, I've yet to meet him.
Hall of Famer Brian Sears had a very successful Breeders Crown with victories by the great French champion Bold Eagle and the Trond Smedshammer trained, Wanda Poliseni owned, Winndevie. Unfortunately the drive that he might be most remembered by is the one he didn't win with the great Greenshoe.
I don't often use the word "great" when describing horses. I believe based on pure talent Greenshoe is worthy of that description.
Greenshoe is not a kid's horse. He needs to be handled carefully. Some have said that Brian has maybe sometimes handled him too carefully.
Brian Sears is without a doubt one of the five greatest drivers to ever sit in a sulky. He has been behind Greenshoe in every one of his starts. If he doesn't know what needs to be done with him, then nobody does. It's certainly not my place to criticize the drive. But I do ask myself, 'What if?'
Tony Alagna led all trainers with three Breeders Crown victories followed by Nancy Johansson with two.
In terms of money winning drivers, Andrew McCarthy led all with earnings of $1,220,198.
In terms of money winning trainers, Tony Alagna led everybody with earnings of $1,053,697 for his stable
Only three sires had more than one Crown winner Bettors Delight, Muscle Hill and Sweet Lou and each had two.
Responding to Dr. Vernon's letter on pylons
In a letter to the editor in Sunday's HRU (2019-10-27 Feedback), Dr. Paul Vernon comes out against a horse being penalized for going inside the pylons because it is covering the same amount of ground and thus is gaining no advantage.
Dr. Vernon, how about the horse that has not enough room to get through and goes inside a pylon or two and gets free to get by a leading horse by means of the slight room created by going inside the pylon? In such a case a horse would certainly gain a very distinct advantage.
Interview beaten favorites
Here's a topic that has been kicked around for almost as long as I've been involved in the sport.
When a driver wins a big race he, sometimes with the trainer and/or owner, are interviewed afterwards. That is as it should be.
How about interviewing the driver of the odds on favorite that has lost the race?
I realize it might be difficult in several ways for the driver in question to do. But, at least in my opinion, it would be beneficial to the fans, the lifeblood of our sport.
Instead of, as someone who should know better, said recently on Facebook, "the driver stiffed the horse" or committed or any other acts of chicanery, the people might find out exactly why the horse did not perform as expected, even if it were something as simple as the fact that the driver felt he made an error. We are all human. We all make mistakes. Sometimes it's the fault of the horse. Maybe it just didn't have it that race. Maybe it its was something else.
The public should have the opportunity to know why the 1-9 horse or any other beaten favorite finished up the track.
Salute to Roger Huston
It would be a gross understatement to say that Roger Huston calling it a career at The Meadows caught the industry by surprise.
Surprise is not close to being a word that greeted this news. Shocking, more adequately describes it, but even that does not really do the job.
The Meadows without Roger is like the old song says: Love without marriage; A horse without a carriage(or sulky); Bread without butter; Peanut butter without jelly; A needle without thread; Rock without roll, Etc., etc., etc.
In simplistic terms, it will never be the same.
Roger has been synonymous with and has worked his butt off at The Meadows for the last 44 years.
Without knowing for certain, I would venture to say that no person in the history of the racetrack has been there for a longer period of time, nor with the exception of its founder Delvin Miller himself, has anybody contributed more to its well-being.
He was also a noted amateur driver and a key component in the establishment of the Billings Series.
He is a member of five different Halls of Fame.
Thankfully, Roger is not leaving harness racing entirely.
He will continue doing Little Brown Jug week at Delaware, calling races and representing the United States in Ireland during the Vincent Delaney memorial weekend, being the Master of Ceremonies at both the Dan Patch Awards dinner and at the Goshen Hall of Fame installation as well as numerous Harness Racing associated ventures.
In addition, he will also be assuming a new found position with the Ohio Harness Horsemen's Association.
The Meadows' great loss will, in the long run, likely turn out to be harness racing's great gain.
Roger Huston is one of our treasures.
Thankfully, he will still be with us — hopefully for many years to come.
Best wishes for a long and successful career in our sport Roger, or as you are fond of saying, "Be there."
Have a question for The Curmudgeon?
Reach him by email at: hofmurray@aol.com