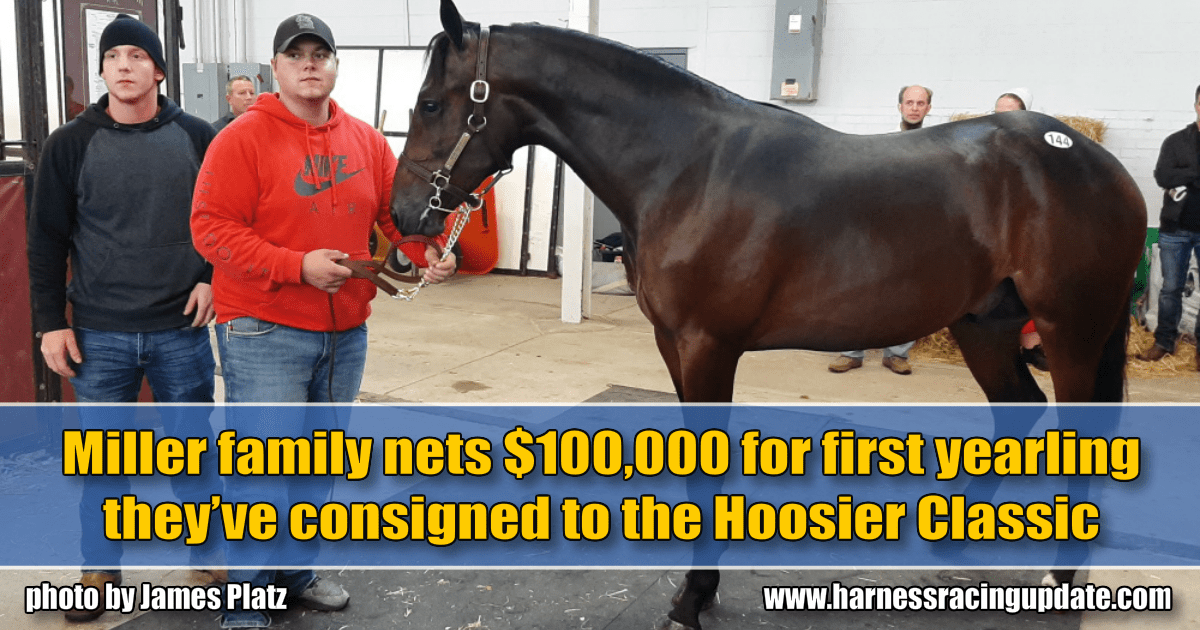 Miller family nets $100,000 for first yearling they've consigned to the Hoosier Classic
Day 1 of the two-day sale at the Indiana State Fairgrounds was close to on par with the first session in 2018.
by James Platz
The first session of the Hoosier Classic Yearling Sale took place Friday (Oct. 25) at the Indiana State Fairgrounds with business levels close to on par with the 2018 edition. Eric Miller, his brother, Zach, and father, Doyle, will remember Friday for the incredible experience of selling one of two six-figure yearlings during the first of two days. It was the first time they have consigned a baby.
"It was unbelievable. For four or five years it's been a dream to have a yearling at the sale," said Eric, 27. "We didn't know what to expect. We were anxious as people came to look at her. Not in my wildest dreams did I expect this horse to bring $100,000. This is three years in the making. We are excited and blessed."
Cataloged as Hip 144 under the David Wayne Yoder consignment, Sick For It is a Rockin Image colt, the first foal from Shes Glorious, herself a winner of nearly $140,000 on the racetrack. Shes Glorious is a sister to Rock To Glory, who is closing in on $900,000 in career earnings, $300,000 winner Bound For Glory, and Glorious Princess, dam of 2018 Indiana Pacer of the Year Always A Prince p, 2, Q1:56f, 3, 1:48.3s, 4, 1:47.3 -'19 ($635,461). Dana Parham of Boca Raton, FL was the winning bidder.
Miller said that his father and brother had talked about expanding their broodmare band, which currently totals two. Now they have the capital to do just that.
Bolstered by Sick For It and trotter Bridge To Success, Hoosier Classic sold 186 yearlings for a gross of $3.59 million, averaging $19,317. Last year's first session saw 184 babies pass through the ring to bring $3.73 million while averaging $20,299. The top end of the sale was particularly strong, with 13 yearlings garnering bids of $50,000 or more, and six fetching more than $75,000 each. By comparison, last year over the course of the two-day sale, Hoosier Classic Sale Company sold 19 horses for $50,000 or greater, with six bringing at least $75,000.
"We've already matched last year's total for top-end yearlings, and we expect to go right by those marks. The top end is very solid," said sale manager Steve Cross. "I'm pleased with the first day, and I think (Saturday) could be just as good."
It came as no surprise that Rockin Image yearlings sold briskly Friday. Earlier this month his offspring dominated the Indiana Sires Stakes Super Finals. A group of 45 babies was offered, selling for a gross of $1.1 million and averaging $24,467. Besides the session co-topper, colt Attitudes Rocking was the next highest priced yearling from the sire, bringing $80,000. Cataloged as Hip 34 for Paul R. Lengacher, the bay is a half-brother to 2018 Indiana Sires Stakes champion Egomania p, 2, 1:51.4s, 3, 1:49.4s -'19 ($285,625) and Mindtrip p, 2, Q1:54.1, 3, 1:52, 1:49.3s -'19 ($283,639). Alvin Miller signed the ticket as agent.
The first crop of JK Endofanera was also well received by buyers. During the course of the session, 28 yearlings were sold for a gross of $659,000 and average of $23,536. The top seller from the group was Railin Jennings, a colt consigned by Wilt Standardbreds. Cataloged as Hip 121, the pacer is the first foal from Rocknroll Hanover mare Cinnamon Girl, whose family includes O'Brien Award winner Glowing Report p, 2, 1:53.1s, 3, 1:50.1, 1:49.2 -'06 ($2,078,249). Al Kowalewski and Robert McCormick were listed as buyers.
On the trotting side, Bride To Success, a full brother to multiple Indiana Sires Stakes final winner and Harrah's Hoosier Park track record holder Bridge To Jesses, also brought $100,000. The Jailhouse Jesse-Bridge To Nowhere colt was part of the Wilt Standardbreds consignment, and Bo DeLong, one of the ownership group behind Bridge To Jesses, signed the ticket. Wilt Standardbreds finished the day selling six yearlings for $269,000, good for an average of $44,833.
While he did not have the session topper, Swan For All led all trotting sires in average Friday. With 14 yearlings passing through the ring, Indiana's top trotting sire averaged $28,250 and the group grossed $395,500. His top representative, filly Swift Swanda, closed out the day bringing $80,000. Out of the In Law Stables consignment, the brown filly is the second living foal from Cheetah Hall, with a third dam that produced the great CR Kay Suzie. The partnership of Al Kowalewski and Anthony Lombardi purchased the filly.
The second session of the Hoosier Classic sale begins at 10 a.m. this morning. Live streaming is available on the sale company's website, hoosierclassicyearlingsale.com.