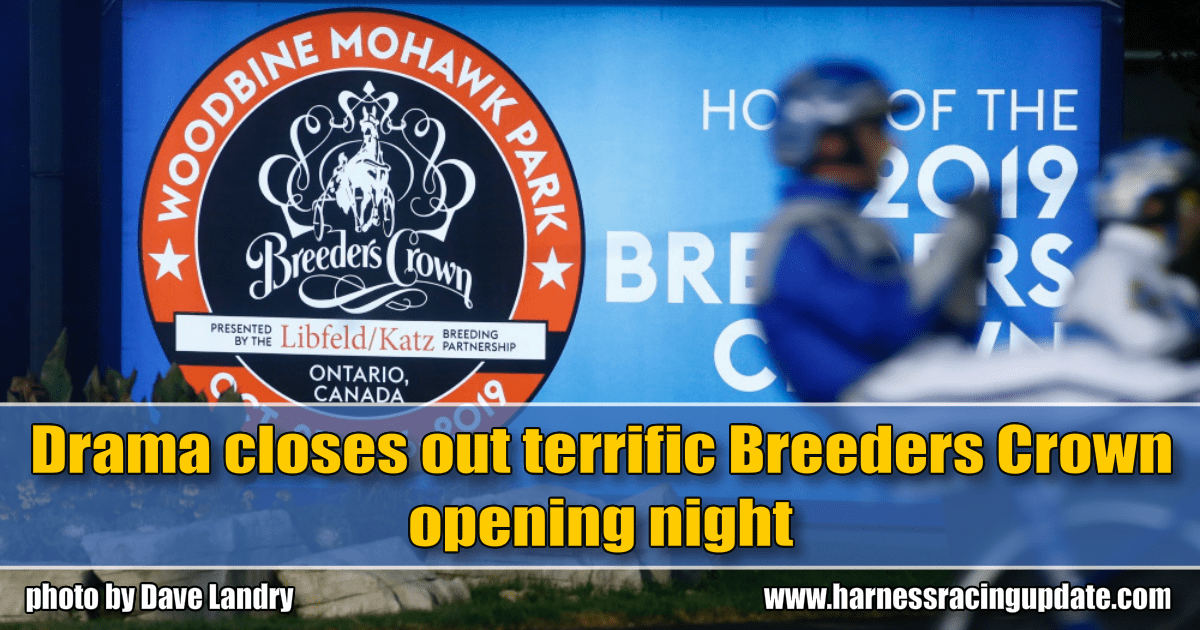 Drama closes out terrific Breeders Crown opening night
The first of two Breeders Crown cards at Woodbine Mohawk Park was one for the record books after concluding with first interference disqualification from win in Crown history.
by Jerry Connors
You probably thought Friday night wasn't going to get any more exciting than that great stretch drive in the 2-year-old colt pace, right?
That drama only took 20 seconds. The next 15 minutes hit every note on the human and equine scale, and in the end leftward deep stretch movement by Papi Rob Hanover, causing encroachment, resulted in his being placed from first to second behind the other great star in the duel, Tall Dark Stranger.
Gingras was unequivocal in his post-race commentary: "He had gotten past me by a head, but it was clear in my mind that my colt was coming back to win, and he lost his momentum."
Tall Dark Stranger set the only fractions that didn't result in any Breeders Crown records, and Papi Rob Hanover had to come first-over, but both colts proved they had tons of ability in this race. We might have wished "it all came down to the Breeders Crown," but now we'll have to see if they meet again this year, and we might get a more definitive "read" on their respective abilities.
Tall Dark Stranger is an Ontario-sired son of the evergreen Bettor's Delight, getting a victory for the "home side" in front of a great crowd who showed their love of racing, and their appreciation for the show that Woodbine Mohawk Park put on.
Records show two other disqualifications from the win in the Breeders Crown: the 3-year-old filly That Fabulous Face at Colonial in 1998, and Corleone Kosmos in 2007 at Mohawk. Both of these disqualifications were for lapped-on breaks, so this would be the first interference disqualification from win in Crown annals.
Can it really be 35 years that we saw Jeff Mallet turn his head deep in the stretch at The Meadows and see that Nihilator wasn't going to get to him – and they won the race that REALLY established the Breeders Crown in the minds of harness racing?
They may be talking about Friday's 2-year-old colt pace for just as long.
Up until that, the final of four Breeders Crowns on the night — all for freshmen — this was how this story was going to lead:
Down Under wonders, drivers Andrew McCarthy and Dexter Dunn, getting into the Breeders Crown annals with their victories, with the Aussie McCarthy winning twice and the Kiwi Dunn adding a third win.
Amigo Volo was second in his PA Sire Stakes Championship behind Real Cool Sam, who just had too much to do coming uncovered from eighth. Second-place in the Crown was Rome Pays Off, who won the PASS consolation; third was Chestnut Hill, third in the PASS final; fourth was Real Cool Sam, who did very well to get as much as he got.
The way Dexter Dunn was looking over his shoulder in the stretch (after equaling the fastest divisional Breeders Crown quarter and putting up new standards at the half and three quarters), you knew his horse was a bit winded in the 45-degree (F) temperature, and there would be no record for the mile tonight. But heretofore this 2-year-old trotting male group had been responsible for nine world record efforts this campaign! (The first eight were set by geldings):
Real Cool Sam equaled the 1:53.1 world record on a mile track in the Peter Haughton Final.
Amigo Volo broke the 5/8-mile track world record with a 1:54.4 mile at Philly.
Real Cool Sam then equaled Amigo Volo's world record at The Meadows.
Then at Philly Real Cool Sam lowered their world record to 1:53.4 in the PASS championship.
Amigo Volo lowered the mile track record to 1:52.3 the first week of Lexington.
He then equaled his own world record the second week at Lexington.
And then Real Cool Sam lowered the mile track world record to 1:52.1.
Real Cool Sam's 1:52.1 came in a dead-heat with Big Oil, which was the fastest dead-heat on the trot ever.
Since Big Oil (the only colt in this list) was in the WR dead heat, he is a world champion as well.
Some other notes of interest:
For the record, the David J. Miller who co-owns Amigo Volo is not the driver, whose middle initial is "S."
A vote for understatement of the night: "Ramona Hill got away a little better this week, eh?"
Not that the pair of McCarthy/Alagna/Grant fillies didn't race well on their own, but both were behind record fractions: Hypnotic Am's 1:23.4 was the fastest three-quarters ever in a 2-year-old trotting filly Crown, and Lyon's Sentinel put up middle splits of :53.3 and 1:22.1, both 2-year-old pacing filly records. (Her individual second quarter was :26, clearing Priceless on the brush.)
Both of the trio's winning fillies are Pennsylvania-sired, but neither raced in the state's Sire Stakes races; both of the horses finishing second to them were the state Sire Stakes Champions.
If there had been a Daily Double on these races, based on the win odds, the Double would have paid $777.60. Maybe upsets should have been expected – in the seven freshman elims last week, only one favorite won, and the average win payoff was $11.64 (because five second choices got the job done). Madame Sherry was the longshot of the four Crown finals at 133-1, and she finished fourth after being last at the three-quarters. (And with the placing of favorite Papi Rob Hanover in the colt pace, the chalk went 0-for-4 in the Crowns on Friday.)
Brittany Farms is the co-owner of pacing filly winner Reflect With Me, which helped boost the honored stable further ahead in Breeders Crown wins (17) and money (approaching $8 million).
Lyons Sentinel is now 12 8-4-0, and she has been beaten a total of 5½ feet in the 63,360 feet (a dozen miles) in her career (a nose, a head, and two necks).
All of the Canadian records for tracks 7/8-mile or 1-mile were set on the WEG circuit – and according to Standardbred Canada, only two of them are left that were set at Woodbine rather than Mohawk. Any guesses on which two they may be? The answers will appear later.
Time doesn't mean that much in harness racing any more, huh? With Shartin N and Greenshoe so close in the Top Ten polls, do you think their times, should they win tonight, will have any influence on who would eventually be voted #1?
Something to be considered, not right now, but at some point: Do you realize that if you won a Breeders Crown elimination at Woodbine/Mohawk Park, you had ABSOLUTELY ZERO chance of starting from the track's best post in the Crown final?
The best post there is post six, by quite a bit, with post five second by quite a bit, and then not much among the 1-2-3-4.
The purpose of having elimination winners get to draw a post between one and five is of course to avoid having them win and then having them face an open draw and be stuck with post 10, which wins at a 6.0 per cent rate, or approximately half of the 12.1 per cent that is the average of posts one through five. Post nine (which by the way wins slightly more often than post eight) has only two-thirds of the success of the average of one through five (8.1 per cent vs. 12.1 per cent). And this system does prevent that obstacle from entering the picture.
But, strictly by the numbers, post seven (10.6 per cent) is only slightly worse than post three (11.2 per cent). (And honestly, I wrote that sentence two hours before the colt pace final. Look at the numbers of the first two finishers there.)
When the "reward elim winners" system was started, it used to be the winners picked their post. I wonder if anybody would have picked post six (17.6 per cent) if given the choice.
The whole "handicap by post" system started back in the days when half-mile tracks were the dominant force, and the success rate of post positions went down the further you got away from the inside rail. But midtrack is now the best spot at 5/8-mile tracks, and at Woodbine Mohawk Park, too.
We'll be back tomorrow with summary items from the Breeders Crowns for 3-year-olds and older horses.
It'll be hard to top Friday night, though.