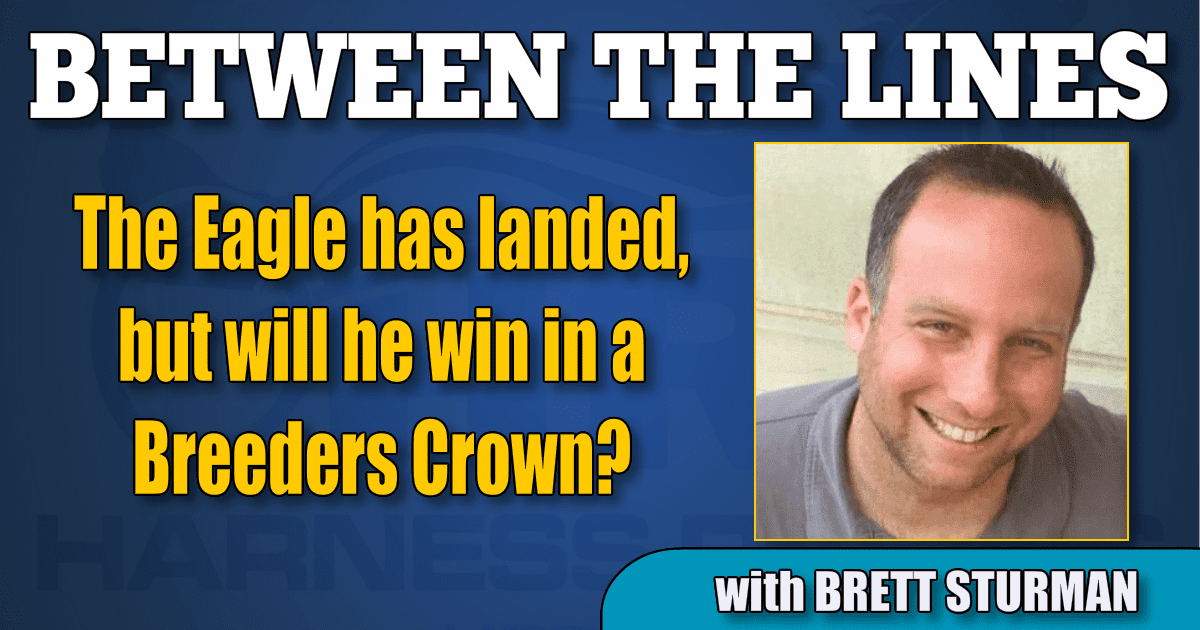 The Eagle has landed, but will he win the Breeders Crown?
That and other questions answered about all 12 Breeders Crown finals tonight and Saturday at Woodbine Mohawk Park.
by Brett Sturman
Of all the horses competing across the 12 Breeders Crown races taking place at Woodbine Mohawk Park over Friday and Saturday, the one to draw the most eyes will be Bold Eagle in the Open Trot. From 65 prior starts, the Breeders Crown will be the first race outside of Europe for the star French trotter and it'll be difficult to predict what type of race we'll see from him.
Rewinding, Bold Eagle was first offered an invite to the Breeders Crown three years ago following his win in the 2016 Prix d'Amerique, the first of two consecutive times he would win the prestigious race. At that time, Bold Eagle was coming into the peak of his deserved international sensationalism. After losing in two of his first four races to begin his career in 2013, Bold Eagle put together a streak where he won 35 out of his next 38 races inclusive of seven different Group 1 victories during that timeframe. Had Bold Eagle come to North America in 2016 or even in the immediate year or two following, his presence in the Crown Open Trot would have mirrored the hype and subsequent smashing performance that the Italian trotter Varenne put on display at the Meadowlands in 2001. But times are somewhat different now.
At age 8, while still an immensely talented trotter, Bold Eagle at the very least appears more mortal now than he did in past years. He enters the Crown off two losses and three out of his last four, while sporting a 2019 record of 9 2-2-2. Fortunately for the French champion, he's still in a favorable position. In 2014, the Swedish-bred Commander Crowe won the Breeders Crown Open Trot under similar circumstances against a comparable field and he did it at age 11.
Beginning with the inside post 1 along with the services of driver Brian Sears, the main threat to Bold Eagle will come in the form of Six Pack. Six Pack enters the Breeders Crown off an unbelievable win last out in the Allerage at the Red Mile in 1:49.2 in which he demolished many of the same horses he'll see again Saturday. In establishing that 1:49.2 clocking, he became the first ever trotter to post sub-1:50 marks in different seasons (last year he won in 1:49:1). It does seem like he always draws bad in these big races as he once again gets another one with post 10, but this is a very fast horse and can win this. Atlanta is entered right back after she gave way in the Yonkers International. Burke is on record as saying he selected this race for Atlanta because of the combination of a higher purse than the Mare Trot and not having to race against Manchego. I'm not sure this spot will be any easier and she'll need to be at her absolute best to beat the big two. Guardian Angel As lands his best starting post in a while and is a 1:50.4 winner over the track this year; it was only a month ago he was favored in a race over Atlanta and will now be a longshot.
Open Trot Picks: Six Pack, Bold Eagle, Guardian Angel As
Friday's Breeders Crown races
Race 6 — 2YOFT:
Sister Sledge was Yannick Gingras' choice over the other elimination winner that he drove, Ms Savannah Belle. Both won in similar fashion off pocket trips and it's not unsurprising that Gingras ultimately opts to the filly trained by Burke. Sister Sledge handed Hypnotic Am her first career defeat in that elimination last week and it didn't look like Hypnotic Am was at her very best as there were a few other fillies closing in late as well, so there are reasons to play against as the likely favorite. Shishito had some late trot to offer up the inside in her elimination and is a possible longshot play. Ramona Hill didn't fire her best as the big fave in her elimination and now is suddenly an outsider from post 10.
Picks: Sister Sledge, Shishito, Hypnotic Am.
Race 7 — 2YOFP:
Priceless couldn't have been any more impressive last week, rocketing away through the stretch at will. She may have won a tick or two faster with any urging and a tremendous showdown looms now with Lyons Sentinel who jogged as well in her elimination. New Year was brave to wear down Alicorn in first-over fashion; both will need to go quicker now. Marloe Hanover gave game chase in her elimination and could sneak into the exotics at a big price.
Picks: Priceless, Lyons Sentinel, New Year.
Race 8 — 2YOCT:
Amigo Volo made a break in his elimination, but recovered to make the final; those back-to-back 1:52 miles at Lexington still stand out. Real Cool Sam puts his perfect 9-for-9 record on the line. The Haughton and PASS winner makes his first start in three weeks. Capricornus is another that opted for a bye into the final and seems better than most horses that competed last week in a somewhat soft elimination.
Picks: Amigo Volo, Real Cool Sam, Capricornus.
Race 9 — 2YOCP:
Papi Rob Hanover was put on the front last week in a change of tactics from his two prior races and was able to finally get the best of Tall Dark Stranger. Papi Rob Hanover lands the post edge on his two main rivals and I'd look for similar tactics from Miller; the one to track down. Tall Dark Stranger couldn't reach from the pocket last week and didn't seem as strong as he did in weeks prior, but he can obviously bounce back, though. Capt Midnight could only manage third behind the top pair in the Metro. Cattlewash has some surprising late pace to offer in his elimination and may have gotten second if he had more room; possible longshot.
Picks: Papi Rob Hanover, Cattlewash, Tall Dark Stranger.
Saturday's Breeders Crown races
Race 2 — Mare Pace:
I had the right idea last out playing against Shartin N at the Red Mile but unfortunately picked the wrong mare to beat her. With that race under her belt as a tightener, she once again looks tough to beat at another short price. Youaremycandygirl prepped last out in a race won by Dorsoduro Hanover who will be in the Open Pace; she was solid in October. As we've seen, Caviart Ally is a possibility.
Picks: Shartin N, Youaremycandygirl, Caviart Ally.
Race 3 — Mare Trot:
Manchego is in rarified form right now and would need to regress to be beaten. Darling Mearas gets Tetrick as Dunn goes to Manchego, and she had all sorts of trot last week when she was angled out of the pocket to get the win. Ice Attraction can track from the inside post and sneak in for a share. Custom Cantab should have been able to hold a bit better last out considering the :57 half. Hannelore Hanover hasn't been consistent of late but this wouldn't be the first time she turns it around with a big mile. Plunge Blue Chip is always a threat albeit at a short price.
Picks: Manchego, Hannelore Hanover, Darling Mearas.
Race 4 — 3YOFT:
You could make the case that When Dovescry hasn't been at her best, but she'll still inherit favoritism in here as Millies Possession unfortunately sustained an injury and is scratched from the final. When Dovescry was drifting after she vacated the pocket to go after the leader and could be vulnerable. Only Take Cash had no shot last out based on where she had to come from but did well for herself to close. She's capable of speed and is likely to be involved early. Asiago rates a contender with these on paper. The Ice Dutchess won her elimination but surely would have been caught by Evident Beauty had that one not destructed in the stretch.
Picks: Only Take Cash, When Dovescry, Asiago.
Race 5 — 3YOFP:
Warrawee Ubeaut is back in top form and never faced an anxious moment in her elimination last week as the 25-cents on the dollar favorite. Treacherous Reign opted to freshen up for this race following her race in the Glenn Garnsey three weeks ago and has gotten the better of the top contenders on occasion previously. Tall Drink Hanover found her best gear in the summer but couldn't do anything with Ubeaut last week from the pocket. As has been the case through much of the year, this race looks to be controlled by the same familiar fillies.
Picks: Warrawee Ubeaut, Treacherous Reign, Tall Drink Hanover.
Race 6 — Open Pace:
What a career it's been for McWicked and now he returns to the track in which he's done some of his best work throughout his $5 million earning career. He was as game as ever in winning the Dan Rooney last out at Yonkers and was dominant prior to that on the big track at the Red Mile. Jimmy Freight beat McWicked three back but that came on the five-eighths mile track; another tough-knocking horse that will be in position to win if good enough. American History hasn't had a realistic shot in his last pair but was heavily bet against these two back; could be sitting on a good effort at a price. Courtly Choice hasn't done anything since shocking here in the Canadian Pacing Derby; could threaten as a longshot if the race sets up for him.
Picks: McWicked, Courtly Choice, American History.
Race 7 — 3YOCT:
I don't think Greenshoe will lose, but Don't Let'em has certainly figured things out of late and could make a race of it. Green Manalishi was surprisingly empty from the pocket last week and backed away late in the stretch as Chin Chin Hall came through with a strong late rally for second. Gimpanzee had no shot last week and did all he could to close in :26; him and Forbidden Trade will both be somewhat overlooked.
Picks: Greenshoe, Gimpanzee, Don't Let'em,
Race 8 — 3YOCP:
Dancin Lou proved last week that his win in the Tattersalls was no fluke. He looked totally buried around the final turn but once room opened up in the inside him and Dunn shot through in an instant to win impressively going away. In that same race, Captain Crunch loomed but eventually flattened a touch. Bettor's Wish was game last week in taking the fight to Southwind Ozzi and wearing down that rival first-over, who to his credit kept fighting to the wire as well.
Picks: Bettor's Wish, Dancin Lou, Southwind Ozzi.