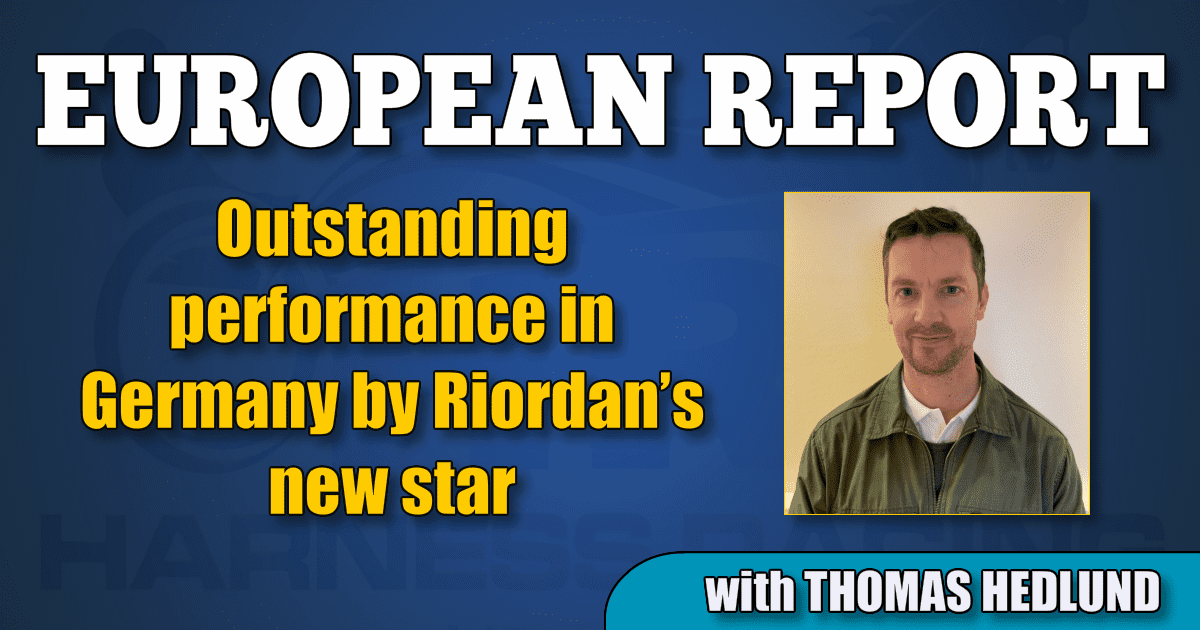 Outstanding performance in Germany by Riordan's new star
by Thomas Hedlund
Swedish trainer Jerry Riordan had never before won a Group 1 race in Germany, but on Sunday afternoon, the talkative and charismatic trainer established another great victory in a European stake race.
Riordan had two weapons in $165,500 Grosser Preis von Deutschland in Hamburg on Sunday afternoon and when driver Rikard N Skoglund served Varenne son Zarenne Fas a perfect trip in the 1.3-mile race, Riordan could see his 4-year-old playing the game in superior style.
Zarenne Fas was second over and Rikard N Skoglund left that position and attacked three wide in the last turn. Then Zarenne Fas answered by easily sweeping past his opponents and left the field of 13 horses by more than 10 lengths in the home stretch.
The mile rate was 1:56.1 and behind the winner, Maxus (Muscle Hill) finished second ahead of Riordan's second horse in the race, Zabul Fi (Ganymede).
"This is probably the first win in Germany for me overall, so I thought it would be good to win the biggest race as well," Riordan said after the race.
This season has been a successful one for Riordan. Ringostarr Treb (Classic Photo) has won $305,000 Hugo Åbergs Memorial and $183,000 Sundsvall Open Trot, while 3-year-old Bold Eagle son Aetos Kronos was outstanding in two $203,000 E3 races this summer. Aetos Kronos also won a final of $203,000 Breeders Course at Solvalla during Elitloppet Day in May.
Riordan can look back at 321 starts, 46 victories and purse earnings of $1,325,538 in 2019.
More stars in the Z-crop in Italy
Zarenne Fas won in Germany, Zacon Gio won the International Trot at Yonkers and Italy seems to bring up several great trotters born in 2015.
On Sunday night, Alessandro Gocciadoro hit the lead and took a safe wire-to-wire triumph with Zaniah Bi (Equinox Bi) in $169,000 Gran Premio Memorial Giuseppe Biasuzzi in Treviso, Italy.
French trained Fric du Chene was runner up behind the superior winner and Zefiro d'Ete got bronze medal. Zaniah Bi trotted 1:54.4 over the mile.
Cleangame in Toulouse
Jean-Michel Bazire trained Cleangame (Ouragan de Celland) went to Toulouse and contested the $165,000 Grand Prix du Sud-Ouest on Sunday afternoon and Bazire wasn't a bit worried when he put his 7-year-old gelding in position first over throughout the 1.7-mile long race.
Bazire is just a phenomenon in the bike and he always seems to know exactly what it takes out his horses to win big races. Cleangame is definitely one of the best gelded trotters in the world and most certainly the best in that category in France, since Bazire's star Aubrion du Gers tragically died in a training accident this summer.
This time, Bazire controlled the field and let his horse leave the challengers mid-stretch. The mile rate for Cleangame was 1:59.4 and this was his ninth victory in 2019.