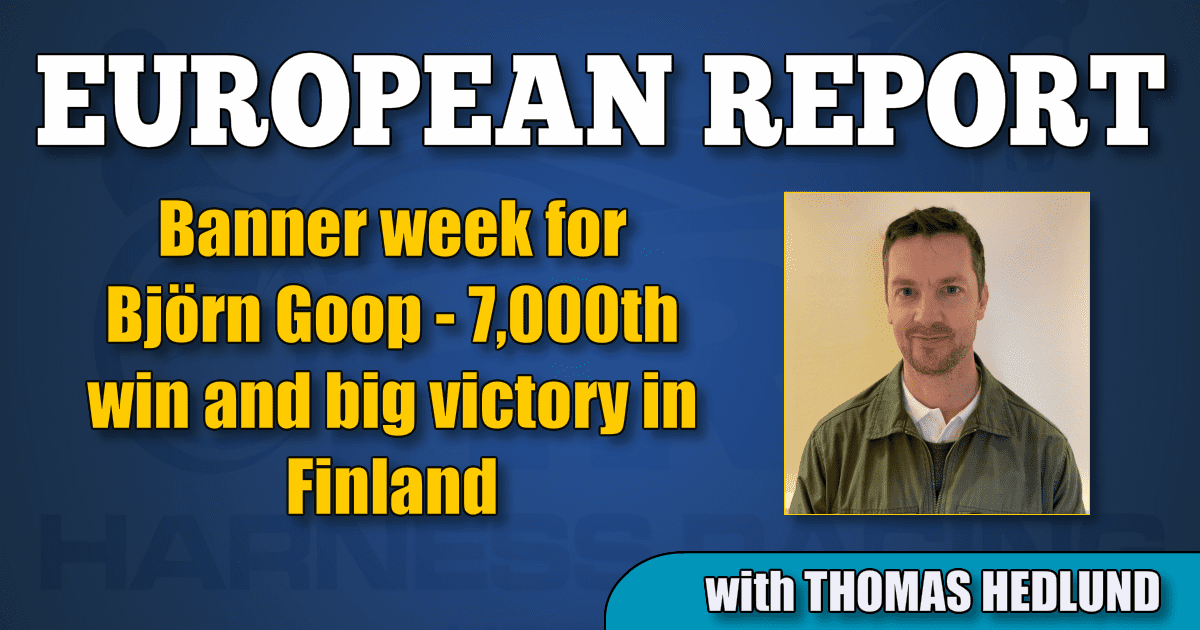 Banner week for Björn Goop – 7,000th win and big victory in Finland
by Thomas Hedlund
Swedish top driver and trainer Björn Goop celebrated his 7,000th victory in the bike when he won with Reverend Wine (Pastor Stephen) at Solvalla on Wednesday night (Oct. 9).
Goop passed his father Olle regarding most driving victories during 2018.
As a trainer, Björn Goop noted his 1,999th win on Friday night (Oct. 11) at Romme racetrack and among his biggest triumph as both trainer and driver he often mentions the Derby win with Conny Nobell (Pearsall Hanover) in 2005.
"I've driven many great horses and of course I have to count two victories in Elitloppet with Timoko and the Prix d'Amérique triumph with Readly Express as the most prestigious," Goop said after his 7,000th win at Solvalla.
Goop went east to Finland instead of racing in Sweden on Saturday afternoon when $441,000 Grand Prix de l'U.E.T. for 4-year-olds was on the race card at Vermo racetrack in Helsinki. French dominant Face Time Bourbon (Ready Cash), trained by Sébastien Guarato, was Goop's weapon in the race and after a perfect trip in second over, the duo made an impressive move with a half mile to go in the 1.3 miles long race.
Face Time Bourbon disarmed leader Lewis Ale and kept his chasers behind him on his way home to a safe 1:53.4 mile rate win.
"This is a very quick horse and we got a nice trip, so I was satisfied during the race. I strongly suggest that the team around this horse aim for the Prix d'Amérique next year," said Goop, who earlier had won with Ecurie D. (Infinitif) in the $132,000 European championship for 3-year-olds. Even this victory was taken in impressive style.
Ecurie D, trained by Frode Hamre, made an early break behind the gate and was seen several lengths behind the field of six horses after the first quarter. With 5/8ths to go, Goop had found third over and the serious attack was made 500 meters from the wire. Ecurie D. followed leader Golden Dream M.E. throughout the last turn and Goop made his move mid-stretch. Ecurie D. fought to victory in mile rate 1:58.1 over 1.3 miles.
In the $110,000 European Championship for 5-year-olds, first choice Villiam (Muscle Hill) had to do the heavy job outside leader Stonecapes Quelia (Otello Pierji) and the power was out when the field turned into the last turn. Stonecapes Quelia, driven by Hannu Torvinen, left his opponents with 200 meters to go and sprinted home in nice style in a mile rate 1:55.3.
Milliondollarrhyme best in Sweden
The $101,000 Swedish championship (SM) for Swedish bred trotters over 1.6 miles were held at Åby racetrack on Saturday afternoon and a well-deserved winner was crowned.
Fredrik B Larsson trained Milliondollarrhyme (Ready Cash) has developed through the classes during 2019 and was one of the big surprises in the Elitloppet at Solvalla in May. The 5-year-old Ready Cash son finished fifth in the big mile race in Stockholm and trainer and driver Fredrik B Larsson has let his horse approach the very best trotters in Europe. When the SM was scheduled, he was one of the most interesting horses. But a post position in the second tier and a trip far back seemed to spoil all his chances to be a champion in Sweden.
Milliondollarrhyme's best attribute is his speed and after a last turn three wide, the Ready Cash son danced in the home stretch and took a four-length victory in moderate mile rate of 1:57.3.
"I'm shaking right now and that's not what I used to do after a race. We will aim for another try in Elitlloppet. It might be one more start this season, but then we'll make the horse ready for Elitloppet," said Larsson.
In the $101,000 Swedish Championship for mares, Peter Untersteiner's Global Upper Style (S.J.'s Caviar) upset in a 85-1 victory for driver Ulf Ohlsson. The duo used the open stretch to capture leader Cash Crowe shortly ahead of the wire while first choice Mellby Free went off stride outside the leader in the last turn.
The mile rate for Global Upper Style was 1:56.2 over 1.3 miles.
Million dollar purchase stays in USA
Brixton Medical AB and trainer Daniel Redén bought yearling Damien (Muscle Hill–Danae) at the Lexington Selected Yearling Sale last week and the million-dollar buy will stay in America.
Redén decided to keep Damien in training in USA and Marcus Melander will take care of the full brother of Propulsion, a trotter that has been successful in Europe the last four seasons with lifetime earnings of more than $3 million.
Speaking of Propulsion, the champion trotter won the Masters final in Paris in September and whether he should continue on the trail of racing or not was not yet decided at that point, but earlier this week, Redén announced that he will give Propulsion the chance to capture more trophies in 2020, where the Elitloppet will be the biggest objective.