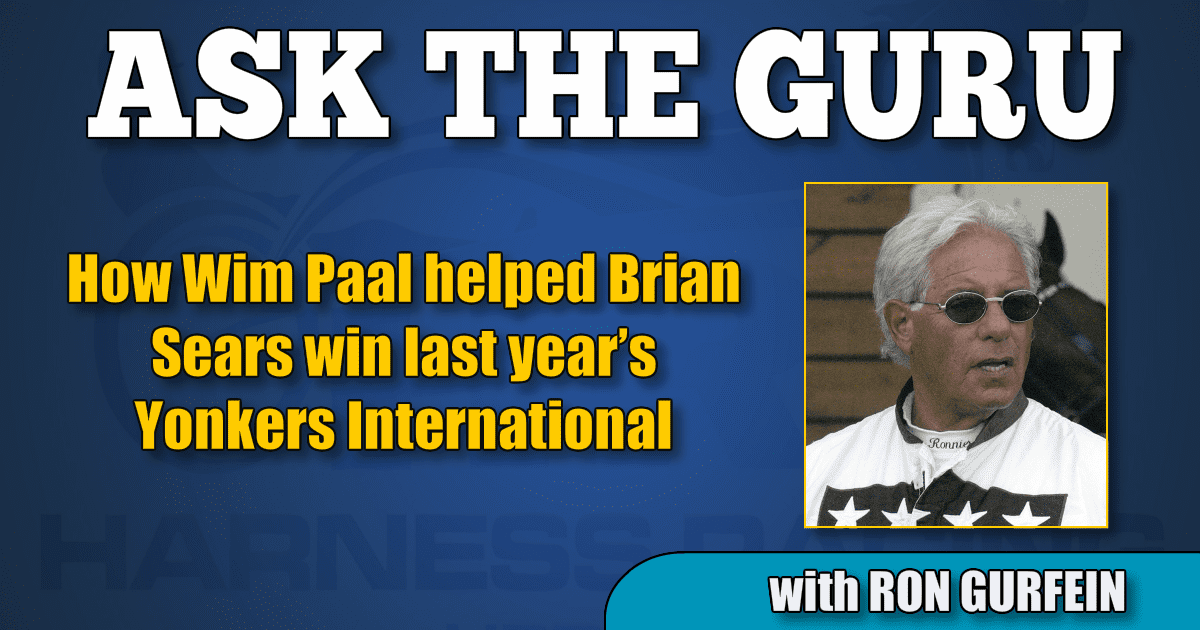 The secret weapon that helped Brian Sears win the International Trot
Plus, my picks for Lindy out of the Lexington sale and do insiders have an advantage?
by Ron Gurfein
Tidbits: Almost everyone deserted beautiful downtown Lexington within hours after Greenshoe showed his heels to 11 other starters in the Kentucky Futurity that unfortunately was contested in the pouring rain on a surface that was far from ideal.
The result was predictable and awesome for the great colt.
I found myself alone and hungry so I went to Jeff Ruby's, a new restaurant downtown that has become one of my favorite places in the city. With my entourage high in the sky heading to Connecticut, I sat at the bar. Enjoying my Tanqueray martini I felt a hand on my shoulder, "Mr., is the seat next to you open?" I turned toward the voice and was looking at Brian Sears, who immediately declared that he enjoyed Lexington and was still there simply because he was in no rush to leave. With him was his beautiful girlfriend Jenn Bongiorno and her brother Joe and his lovely fiancée Melissa, who, by the way, drove one of Jenn's trotters in the Billings amateur race recently at Yonkers.
We spoke a lot about Greenshoe and his amazing talent and we both agreed that when he accelerates he has pacing horse speed. I get too many emails beating me up for being obnoxious with my adoration for Greenshoe, so I will not go further with our conversation on that subject, but during dinner he told me a great story that I will share with you.
I spent a lot of time in my career racing in Europe and in my travels became very friendly with Wim Paal and his girlfriend Alessandra Baldi. They actually spent a lot of time racing in the U.S. one summer. Interestingly, Alessandra is the sister of Lorenzo Baldi who drove Trustworthy to victory for me in the 1995 edition of the Orsi Mangelli at the San Siro Track in Milan, Italy.
Brian told me that Wim had actually helped him win the International at Yonkers with Cruzado Dela Noche, a longshot, when Wim was driving Ringostarr Treb for the pride of Providence, Rhode Island trainer extraordinaire Jerry Riordan, who was the favorite.
Paal who knew Brian's horse well, offered some valuable information, that he was a one-run horse and that you should save him as long as possible for him to be the most competitive. Brian took the advice and with a giant rush to the wire was the winner in the $1 million event. As the race developed, Brian saved his horse and came second over in the mile-and-a-quarter race. After the leader, Hambletonian winner Marion Marauder, gave way to Lionel, Sears used the big brush Paal had told him about to go three deep and draw off by a head at 30-1.
Unfortunately, Wim Paal's evening ended too early as Ringostarr made an untimely break in the first turn.
The magic of Lexington was truly overwhelming in 2019. The power of the sale, and the fabulous performances on the Red Mile track combined with the dazzling night life and spectacular weather provided a buzz that was evident throughout the entire two-week event. I would say the average visitor or horseman walked away with an elevated feeling that they haven't had in quite a while.
You likely have read the stories and results way before my column hits your inbox, so I will not bore you with facts and figures. However, I must be a little repetitive by pointing out some major achievements of note that need congratulations.
On the human side, Dexter Dunn set the sport on its ear with two weeks of sheer driving superiority. Ake Svanstedt put on a training and driving show.
On the equine side, there were too many grand efforts to mention them all, but the crushing performances by Greenshoe, Six Pack and McWicked, as well as the gutsy miles put in by Bettor's Wish and Manchego (also a world record) are certainly worth my mention.
I apologize if I offended someone by leaving them out because every day had so many big efforts, but I selected what I deemed to be the greatest.
I have received a bunch of mail lately, probably because of the national political scene, that it would be good for our sport to have whistleblowers. To this writer, if it works in government why can't it work for us? Therefore any whistleblowers with valuable information that can help in cleaning up our mess email me at gurftrot@aol.com. I promise not to divulge your identity unless you want me to.
Rob Robinson asks: I understand that you have been advising Lindy farms in regard to yearling purchases. I would be interested if you would tell me if you had any success in buying in Lexington and which horses they purchased on your suggestion?
I thought about throwing this question in the round file (the garbage) because, as many of you are aware, selecting colts is not an easy game. But when I pondered it fully I thought, 'What the hell. It won't be the first time I was laughed at and it certainly won't be the last,' and, to top that, I really like what we bought.
The first two nights were nothing short of impossible unless you had a no-limit bankroll. There were a lot of colts with great pedigrees, conformation and ability and they all brought top dollar. Oddly, the better looking individuals were selling at a premium until the last horse was sold late Saturday night.
FYI Lindy Farm bought two horses on my suggestion. The first on Wednesday night was hip number 375 a Captaintreacherous colt from Pink Terror, her first foal, consigned by Hunterton Farms for Tony Alagna and Stephanie and Myron Bell's Riverview Farm for $150,000. The second didn't come till a few horses from the end of the sale, hip number 782 a Swan For All filly, the first foal of Cree a Muscle Hill mare consigned by Peninsula farm for $95,000. Knowing Frank "the elder" Antonacci and his son, Frank M. Antonacci, I didn't list the names as they surely will be changed.
Joel Kravet asks: (I really like this guy. He writes interesting stuff, but every question is like a novel. Joel, please don't get depressed if I make it readable): What do you think is the effect of all the new high-priced stallions? The syndicate owners will enjoy the insider advantages, but outsiders, if they can get in, will be paying very high prices for the breedings. I think this will cause the major stakes to have fewer nominations and therefore lower purses because the average buyer will realize the uphill battle racing Chevys vs. Caddies.
Just for fun, when I grew up there was no chance a Caddie could outsprint a Chevy, but I get your point.
We live in a capitalist society, and all your complaints are basically business as usual. What you are actually saying is that progress is not good. It is true that under these circumstances the insiders have an advantage, but to my knowledge what happens is perfectly normal. With all the $100,000-plus colts sold two years ago, it looks to me that in the 3-year-old pacing division the $20,000 Bettors Wish has a commanding lead. This happens all the time. We are selling a dream. There is not much rhyme or reason in the yearling business, and there are few horses at auction in the major sales that on paper are too non-descript to think about not staking. Plus, it is far from an exact science. I see colts sell for $300,000 that I thought were horrid and have seen colts I thought worth $100,000 bring $30,000. You can't buy the sport, many have tried and all have failed.
As far as the high-priced stallions diminishing the amount of stakes payments, I understand your point but there has been such a monumental infusion of capital into the game that I feel the opposite will result. True, some little guys will opt out but that's the nature of the game.
One more thing to consider: With all the new high-priced stallions, it appears that the average buyer gets a chance to play that game. There are so many top-bred colts that some fall through the cracks. There is only so much money to go around and when you have Walner, Greenshoe, Six Pack, along with Muscle Hill, Cantab Hall, Chapter Seven and Father Patrick, it won't be hard to find a $50,000 top trotting colt.
Thanks again to all who visited with me or came over to say hello in Lexington. I appreciate all you kind words. Don't miss the Yonkers International Saturday AFTERNOON post time 1 p.m. The big trot is scheduled for 3 p.m. Have a wonderful week.
Have a question for The Guru?
Email him at GurfTrot@aol.com.