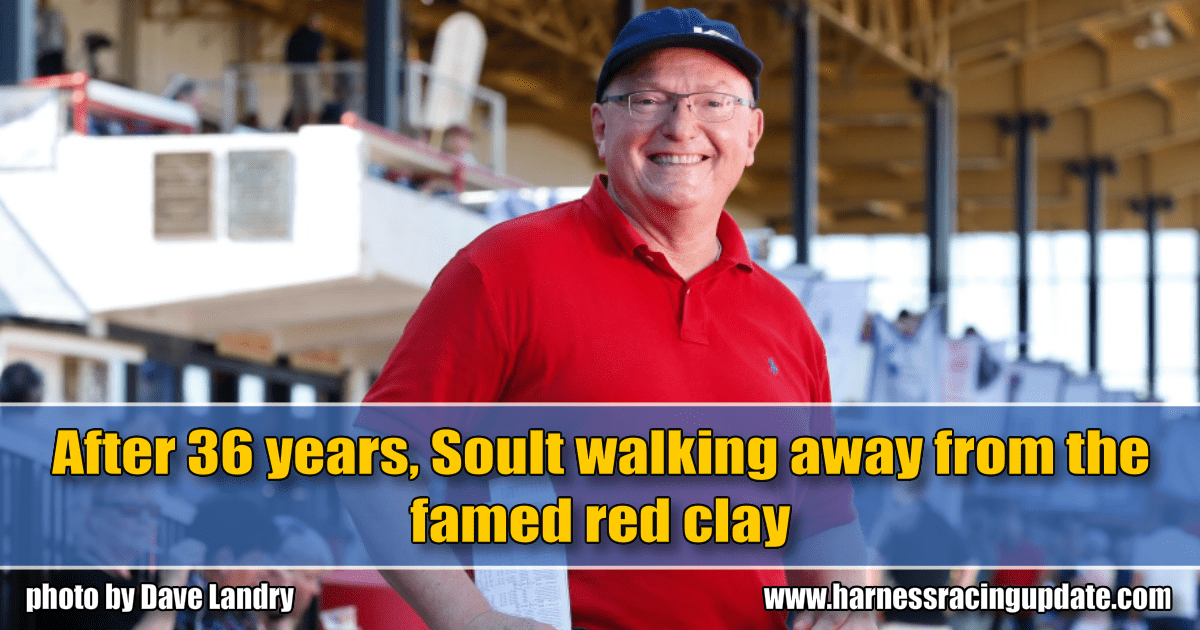 After 36 years, Soult walking away from the famed red clay
by Dave Briggs
Sometime before this afternoon slips away, Nigel Soult will step off the red clay, swing closed the small wrought-iron gate in the red brick wall that circles the famed Red Mile racetrack and walk away from the Stable of Memories for the final time as track photographer.
After 36 years photographing many of the greatest horses and people on hallowed harness racing ground, one might think Soult would be emotional walking away, but he said it is simply time.
"I want everybody to know that I've appreciated what The Red Mile did for me, giving me this job. It's a complex job and it's just time to move on," Soult said between races from his tiny cubby hole near the finish line that has long served as his office.
"Basically, I'm cutting back on how much I'm doing. I've got other things I do, a good amount of school business that I do, (taking) school pictures."
As for why retire from the Red Mile gig now, Soult said he would like to have his summers free to spend with his wife, Ann.
"Thirty years I've been married to my wife and we've never had a summer where we can go do something," he said.
Soult is quick to admit he's not a horseperson, but he's had a really good time learning about horses.
His favorite photo is one of Windsongs Legacy and Trond Smedshammer winning the trotting Triple Crown with a victory in the 2004 Kentucky Futurity.
"That was my favorite shot. He just posed for that, with the whip up. It was actually used to replace the horse in The Red Mile logo." Soult said. "The old logo, the circle with the horse in the middle, that was his image that I used for that because the older one actually did not have a good stride on the horse."
Soult admits changes in the business have also made it difficult to be a track photographer.
"About 10 or 15 years ago, I would make the same amount of money as I do now selling pictures for half the price," he said. "You can kind of see (race photography), it's waning. There might be some creative ways to make money in this business now, but maybe I'm just too old and set in my ways that I'm not sure I want to get into too much of this new fangled, what do you call it? Social media?"
Soult laughs as he said this. He has kept up well with the digital revolution in photography, but posting photos on Facebook, Instagram, Twitter and the like requires too sharp a learning curve at his age. Though, he does intend to maintain a web presence given that many of his photos have deep historical significance.
"I've calculated that I've done around 20,000 to 22,000 races here," he said. "And that little gate, I've walked through that gate that many times, so it is a part of me that I'm going to cherish."