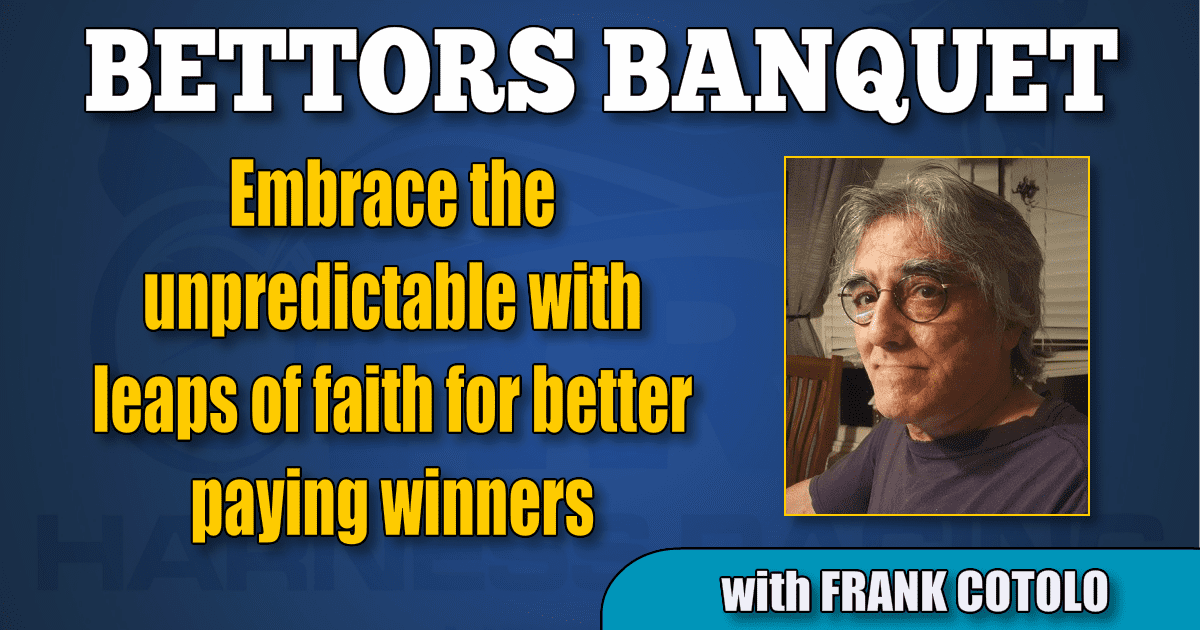 Embrace the unpredictable with leaps of faith for better paying winners
by Frank Cotolo
If you have been following Bettors Banquet (BB), you already know more than the average handicapper and bettor. This is good, and it gets better. We are not done altering old school methods that cost you money and emotional stress.
The stakes season is coming to a climax with the end of the Grand Circuit at Red Mile and the emerging Breeders Crown elims and finals. BB is using some of the remaining stakes events to persist strengthening new and veteran players with bold, professional attitudes about making money, aggressively supporting methods of math and rational behavior as the basis of productivity.
This week, we look at contests from The Red Mile. The most coveted stakes will benefit best the horsepeople and owners, not the bettors, because the competition is tight as a tourniquet, difficult to accurately write personal odds line (POL).
The Glen Garnsey, the Tattersalls and both Allerage affairs are problematic puzzles, even with dominating horses involved. As we explained in a previous BB, races with the best horses are apt to offer great prices on the lesser-regarded horses, but still, they are good enough to deliver upsets if given the right conditions.
Statistically (using the results of thousands of past races), the right (best) conditions for upsets, most times, are unpredictable.
The best conditions for upsets cannot be measured in the percentages we use to assign odds because no one knows if or when a horse will break or duel too hard or get caught too wide without cover or simply burn out setting fractions that result in coming up short — if even by a step or a neck or a head or a hair.
In harness history, some great horses suffered upsets from unpredictable incidents. There was Somebeachsomewhere going three wide in a :51.4 duel, giving Art Official the cover he needed to win by a head; and Beat The Wheel defeated Pine Chip in record time, by sitting in the catbird seat; CR Kay Suzie broke in an elim and did not make the Hambletonian final; Father Patrick jumped at the start of the Hambletonian final and galloped the rest of the mile. As well, some unpredictable incidents remain mysteries. A horse could be distracted, suddenly feel ill, and bleed, etcetera.
Without the best conditions, the most-likely horse, which is usually the powerful public choice most of the time, wins. The public is sharp and smart and must be as respected as it must be challenged.
Such incidents, of course, happen a lot in overnight racing but are easier to measure with POLs because they are, by and by, so much more unevenly matched.
But, in high-stake-star-laden fields, there are such standouts that the public is rarely fooled, leaving the majority sharing pittance for their bets.
That being presented, how do we, with any accuracy, evaluate, for example, any stakes field including Shartin N? More so, why try? No matter the odds you assign, they are too low to accept or deny. A bettor needs the best conditions to beat her, and maybe in her case this season, an act of God.
For all due purposes, the freshman stakes, strewn out over the two weeks of Grand Circuit action, have always been effectual races in which to invest; easier to measure and more likely to present the best conditions for upsets.
In general, the freshman classes are miscalculated by the majority of bettors, mostly due to strict handicapping texts that warn of inconsistency due to gait, lack of maturity or both. Such old school tenets never address how the very elements that make betting freshmen races too risky can work in the bettors' favor, especially with an aggressive bet.
For instance, we were taught (and some still teach) that young pacers and trotters had unreliable form; so betting on them was unreliable. But unreliable applies to them all; unreliable is unpredictable and that may work for you as well as against you. Maybe even more for you.
Freshman colts and pacers improve more than the older ilk. Each one is apt to respond differently after bad efforts. Go back to 2010 and watch Manofmanymissions win at 13-1 in the Breeders Crown, his odds that high because bettors penalized him for breaking too often. Duh! Suppose he does not break? After all, usually, when he did not break, he won. The old school handicappers dismissed him; others who took "a leap of faith" and bet him to win were rewarded.
The leap-of-faith factor, coupled with accepting unreliability in 2-year-old races can equal high-priced winners in races where their short histories show little but something in their favor. When it comes to freshman races (high stakes or low), you should not do as most teachers advise. Do not evaluate them the same way you would any other aged field. Have faith; accept unreliability.
… to be continued.