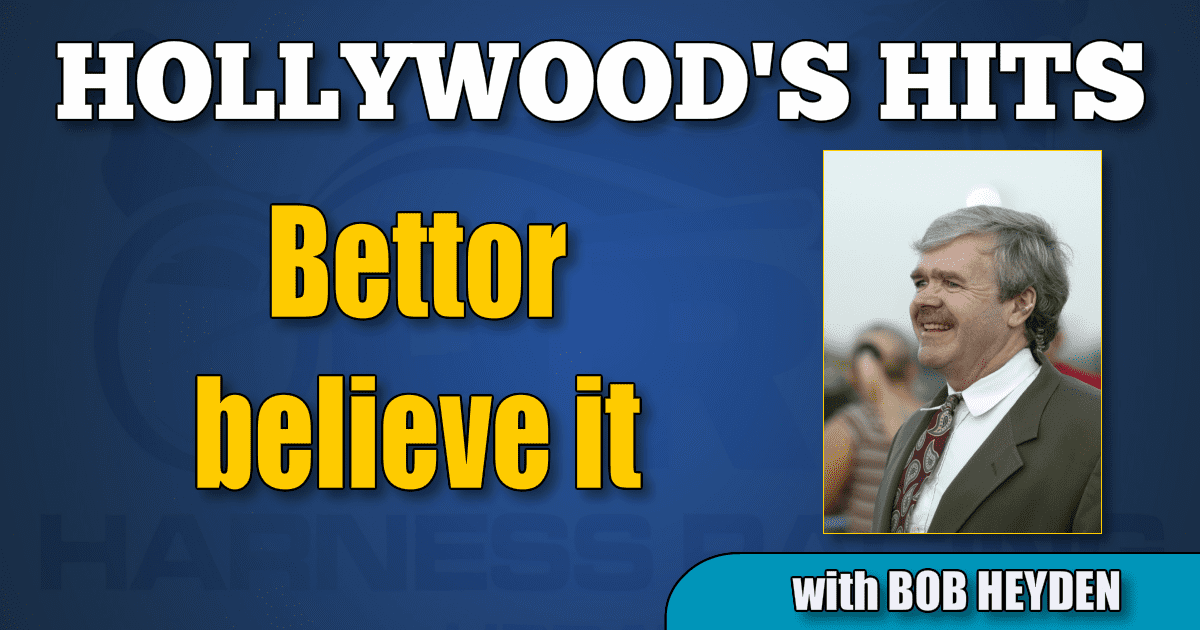 by Bob Heyden
The leading money-winning horse in North America is Bettors Wish with a 12 8-4-0 $984,544 slate for 2019. It is unusual that the four SECONDS are clearly the most interesting lines on his bio:
North America Cup — second
Meadowlands Pace — second
Cane Pace — second
Messenger — second
Speed brothers (and sisters)
There have been 10 sub-1:47 miles in harness racing history (one time trail 1:46.1 Cambest 1993), with Shartin N's 1:46.4 on Hambletonian Day the lone female to join in.
Seven of the nine others were done by stallions, with the lone two geldings both at 1:46.4 — Holborn Hanover and Dr J Hanover.
Nine of 10 have been done on a mile track. Dr J Hanover's 1:46.4 was on the seven-eighths mile track at Woodbine Mohawk Park.
Fun fact
Five North American breds have made over $4 million on these shores only. (Leaving out a few such as Moni Maker and Mack Lobell-who enjoyed considerable success outside the U.S.)
Of the five, Brian Sears has been the regular driver on three: Mister Big, Bee A Magician and McWicked.
Gallo Blue Chip and all-time leader Foiled Again are the other two.
Did you know?
Jim King, Jr., the trainer of Shartin N, was the driver who finished second the last time the sport had a pacing event valued at better than $1.5 million? It came in the 1986 Woodrow Wilson when he was second with Ali Khan (from the fist crop of Genghis Khan) to Cullin Hanover in the sixth richest race ever held, ($1,561,500).
Speaking on Shartin N. Her bankroll was $826,427 entering September, meaning that she is on her way to posting yet another $1 million season, her second straight. They are (or will be) the only two million-dollar seasons by pacing mares in harness racing history.
Nickel N Dimin
In 2016, Downbytheseaside held on by a nose to win the Messenger and pay $2.10. This year, Bettors Wish also was sent off at 5 cents on the dollar and was second best. As far as we can tell, the last time a Triple Crown event had a loser who was sent off the minimum 5 cents and got beat was in 1998, when Muscles Yankee did the same in the Kentucky Futurity going for the Triple Crown (He made the final after finishing fifth in his heat. He was third in the final at 4-5).
WIJI
Wiggle It Jiggleit is on the comeback trail. Remember how dominant he was? In 2015 and 2016, he set the pacing record for total earnings in back-to-back years with $3,901,057, after posting a record of 26 22-3-0 $2,181,995 in 2015 and a record of 24 15-7-2 $1,719,062 in 2016.
Bonus breeders
Early September saw Hanover Shoe Farms at $746,435,027 in all-time breeding earnings. In the wins department, #2 Winbak Farms was closing in on a big milestone. Currently, they are less than 40 wins away from 10,000.
Merriman marching
Aaron Merriman is closing in fast on the #6 spot all time in victories with 11,590 to Dave Magee's 11,869.
Tetrick titanic
Tim Tetrick is closing in fast on the #3 spot all-time in earnings. He has more than $212 million lifetime compared to Ron Pierce, who earned $215,346,577 in his career.
Ever heard of this before?
A horse makes over $2.6 million lifetime, but never wins more than four races in any one season?
That's the story of Resolve, who made $2,621,086 lifetime.
His career record is as such:
2: 12 2-3-1
3: 14 4-4-2
4: 13 4-4-4
5: (F) 2 0-2-0
5: (D) 11 4-2-1
6: (F) 2 0-1-0
6: (D) 11 4-1-0
Lookalike superstars
It's not as good as Somebeachsomewhere and Muscle Hill having the exact same career mark 20-for-21, losing once each by a neck, with both losses occurring at the Meadowlands, but it isn't bad:
Check out the career records for Captaintreacherous and Father Patrick:
Captain 33 23-5-2 $3,148,657
Father Patrick 33 23-6-0 $2,558,133