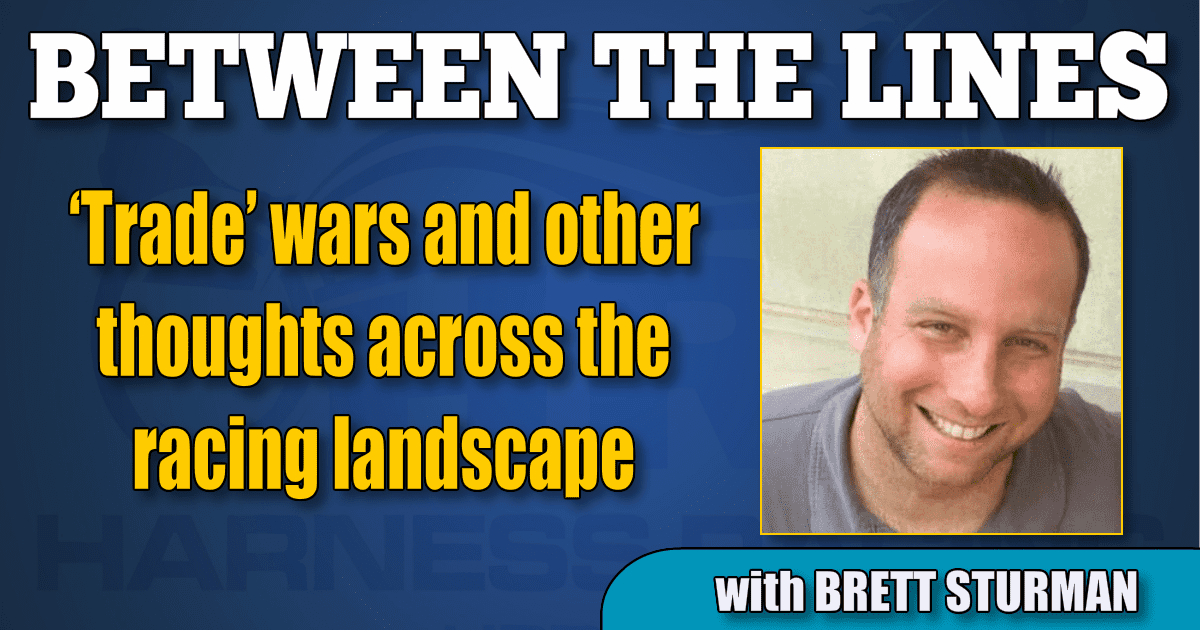 'Trade' wars and other thoughts across the racing landscape
by Brett Sturman
In some circles there's those who feel Forbidden Trade was overlooked prior to his Hambletonian win, and even more so feel that the horse is still being slighted when it comes to comparisons with Greenshoe, for example, and where they rank in current polling.
With the most noise coming from those north of the border, perhaps it raises the question as to if a bias exists in the way horses that race predominantly in the U.S. are viewed compared to those that race most frequently in Canada. Recent history of comparable horses would suggest it's not that Canadian or Ontario-based horses are discredited, but rather there's a lag in the time it takes others to catch on to the talent of some of these horses.
For example, take the Mach Three 3-year-old Century Farroh. It's likely that up until recently not many people who don't take note of Ontario Sires Stakes at Woodbine even heard of him. But just now – finally – after beating Meadowlands Pace winner Best In Show and divisional champion Captain Crunch, he is gaining traction in the eyes of voters in the Hambletonian Society/Breeders Crown weekly poll. In the best example, it took until awfully late into the 3-year-old season of Somebeachsomewhere before he finally vaulted to the top of the poll, where that top spot had been held stubbornly at that time by Deweycheatumnhowe.
As for Forbidden Trade, jeers of his standing in that same poll were at least quelled temporarily as he proved no match for Gimpanzee in the $500,000 Yonkers Trot last Saturday. Gimpanzee had the tactical advantage in that race, but Forbidden Trade was well enough positioned and couldn't make the slightest impression on Gimpanzee when it was time to take his run. For his loss, Forbidden Trade dropped one spot in the poll while Gimpanzee made his entrance back into it, but he was in good company as nearly all top horses took their lumps last week.
At #2 in the poll, Lather Up went down in defeat at Woodbine in the Canadian Pacing Derby to the hometown crowd favorite Courtly Choice to the nearly inexplicable tune at odds of 34-1. As per usual, Lather Up looked done as he navigated issues around the final turn, but regathered himself, as he normally does, to pull away from those closest pursuers once in the straightaway. But this time, Courtly Choice flew from off cover to get by late with a half-length to spare in the end.
Those two horses highlight Saturday's $440,000 Jim Ewart Memorial at Scioto Downs, a week after fellow Ohio track took to the spotlight with their night of rich Ohio-sired finals. In the Ewart, Courtly Choice (5-1) has the post edge on Lather Up (9-5), although both start from outside posts. Both are capable of early speed and are nearly guaranteed to both be showing it. As a possible upsetter, This Is The Plan has been ultra-consistent all year as a top player in this division and he lost momentum in the final turn last week when Gingras was climbing all over the helmet of Teague with Lather Up. A clean setup and he can get there.
Scioto's co-feature on Saturday is the $220,000 Charlie Hill Memorial and nearly identical to the pacing side, the top two contenders in the race is a rematch from the top two finishers at Woodbine last week. In the $600,000 Maple Leaf Trot, Guardian Angel As never looked back once Tetrick put him on the front and Atlanta more resembled her usual self with a game performance coming out of post 10. As with the Ewart, the top two horses draw 7 and 8 this week with Atlanta getting the post edge; both horses will be obvious short prices.
The most surprising horse to lose last week was the sports #3 rated horse Bettor's Wish. Seemingly invincible in the $580,000 Messenger Final at Yonkers, he lost at odds of 1-9 in the final stride to the Chris Oakes-trained American Mercury who, ironically, with no passing lane, somehow found room to squeeze up the inside for the well-earned victory.
Despite the loss, Bettor's Wish retained his status at #3 because next closest horse Captain Crunch also lost in the Simcoe to Century Farroh in the race described above. There won't be any rest for Captain Crunch either, as he ships from Woodbine into Pennsylvania for a giant showdown at The Meadows with Adios winner Southwind Ozzi in the $253,000 PASS Final Saturday afternoon.
As part of a quartet of sophomore PASS finals that go for purses over $1 million in total, Treacherous Reign and Warrawee Ubeaut renew their rivalry in the 3-year-old pacing fillies race. She hasn't been as dominant as she was last year, but Warrawee Ubeaut seems back to her best self after that recent 1:49.2 win and gets the slight nod.
For the PASS final for 3-year-old trotters, Marseille is one that I'll play against. I respect the horse, but he hasn't been able to hang on lately and that's even with Ake Svanstedt setting him up front with very generous pace scenarios. It's been a nightmare in two races for Osterc since that Hambletonian elimination when he almost took them all the way at 30-1 in 1:50.3, but he gets reunited with Gingras now and he'll be on or close to the point. Goes Down Smooth lands the outside for Burke and Kakaley but romped by seven last out in PASS action.
In the PASS final for filly trotters, Millies Possession seems about a good 15 lengths better than anyone else with the exception of one other filly. Her only loss all year was to the excellent When Dovescry in the Hambletonian Oaks and even in that race she was determined. On her very best, Asiago has shown she can get close to that rival, though she comes off a tough loss to figure at Red Mile. She rates an outside chance on paper.