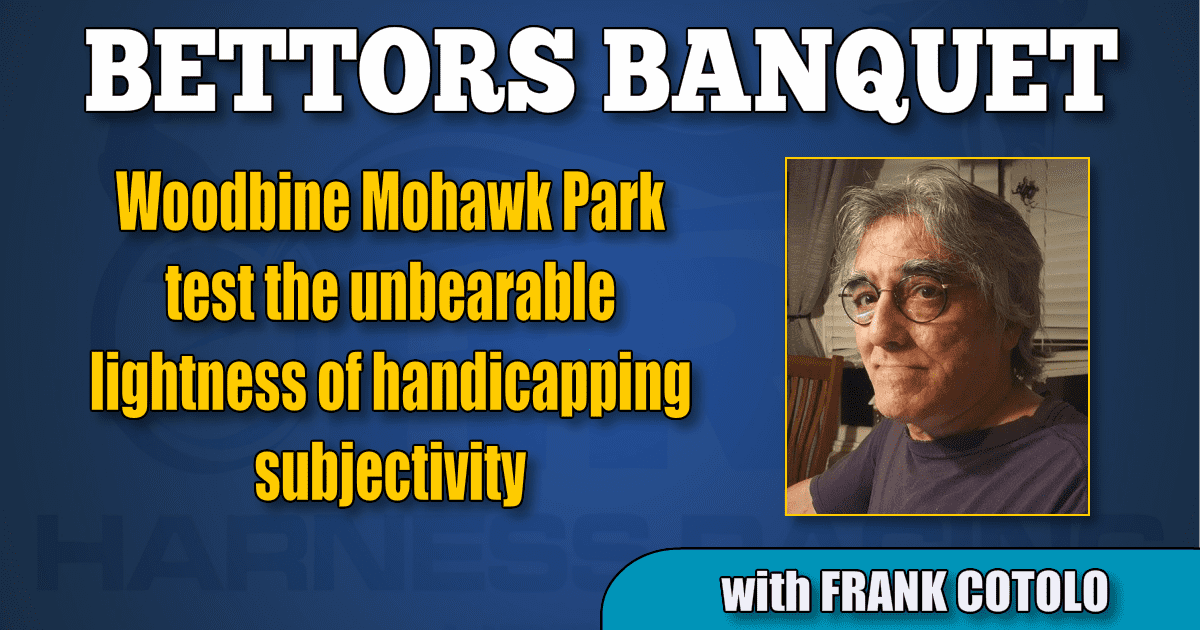 Woodbine Mohawk Park stakes test the unbearable lightness of handicapping subjectively
by Frank Cotolo
Bettors Banquet's (BB) search for the best races to wager upon often comes into conflict with programs that offer many stakes races, mostly because they feature so many classy horses per field.
Stakes-laden racing programs are always challenges; they serve so much talent that making a personal odds line (POL) becomes confounding at best.
Even after I learned to write POLs and was saved from the density of losing money while "picking" winners, the challenge of wagering on races including the best horses in the sport upset my focus. I have since realized that such emotions are common, or should be, and that to feel otherwise is an ego defense, a subjective approach as deadly to a bettor's bankroll as tossing darts onto past-performance lines to decide win bets.
A handicapper never becomes self-actualized.
As I write this BB column, I brace myself, because such a program takes place on Saturday (Aug. 31) at Woodbine/Mohawk (or as I like to call it, simply, WoMo), and it is an overture for more high-profile Grand Circuit events to come — soon.
As handicappers, we must attempt to be accurate, which is one of the toughest parts of the process. I have found that one simple rule is to delete all predispositions when it comes to races like the Maple Leaf Trot and Canadian Pacing Derby.
With horses as mighty as those involved, measuring their talents for a single event by using a POL can thwart accuracy. One or two percentage points (chances) taken from Jimmy Freight (in the "Derby") because you do not believe he shone last week and won't bounce, can prove silly in retrospect — even against Lather Up. Just as reducing Atlanta's chances (odds) because of a recent misstep followed by a loss and a bad post may cause a bettor nausea at the finish line.
As a professional bettor once told me, "It's tough work, but someone has to do it."
There is good news, though. It comes from the likes of those horses we could toss out confidently (explanation follows) in high-caliber stakes races, leaving the few prime contenders we find in the spotlight by process of elimination. Hopefully, dealing with the scant few allows for the public to help us decide which of the best of the rest we may (not "will") bet on—or, if we bet the race at all.
One of the most productive rules of strict money-management wagering (which we will cover in detail come future columns) is this: Never play any horse that you assign odds of over 6-1 in your POL.
This rule goes for races in the bottom barrel of claiming and conditionals to the star-powered, six- and seven-digit purse events. It is a safety feature that will allow you to pass races, but it derives from simple mathematic capabilities we use when calculating anything.
At 6-1, a horse has a 14 per cent chance to win. Assigning chances lower than 14 per cent produces larger margins of error as the chances lessen. So, a handicapper is apt to be incorrect proportionately when measuring chances of horses to win from 13 per cent to zero.
I find no reason to be liberal when it comes to strong stakes fields and the 6-1 rule. My POL for the Canadian Pacing Derby (CPD), for instance, offers only two horses I may bet — if and only if one of them offers the odds I demand.
This Is The Plan: 20-1
Done Well: 20-1
Western Fame: 9-1
Jimmy Freight: 6-1
Lather Up: 1-1
Courtly Choice: 50-1
Filibuster Hanover: 100-1
Casimir Richie P: 100-1
McWicked: 8-1
I re-wrote that POL five times to equal 100 and reflect as closely as possible my evaluation of the horses' chances. I became satisfied with four contenders — Lather Up, Jimmy Freight, McWicked and Western Fame. However, the 6-1 rule narrows my choices of win wagers to a pair — Lather Up and Jimmy Freight.
This is the point where all predispositions are banished. That is, I will never take another look at the racing program to search for reasons among the first four contenders in order to bet one and not the other three. First of all, I must immediately toss out McWicked and Western Fame based on the 6-1 rule. Then, I will never take another look at the program to search for reasons to decide which of the remaining two become the win bet because the odds set by the public will determine which gets the bet, if any.
With that, the win wager possibility is then locked and loaded. I get my price or I pass the race.
My POL for the Maple Leaf Trot, by in contrast, has more win-wager possibilities (vis a vis the 6-1 rule).
Six Pack: 6-1
Crystal Fashion: 3-1
Guardian Angel AS: 6-1
Speeding Spur N: 100-1
Dancer Hall: 100-1
Manchego: 5-1
Marion Marauder: 10-1
Emoticon Hanover: 100-1
Atlanta: 5-1
Contenders in this field equal five, all meeting the 6-1 rule even though my opinion presents a more contentious race than the CPD. The closing odds from all other bettors guide my wager or my pass. This is how to win races worth winning and pass races unworthy of wagers. It resembles Nietzsche's eternal-recurrence theory but for handicappers. Current races are like all the races already raced that will recur ad infinitum. You will better understand that the more you write POLs. … to be continued.