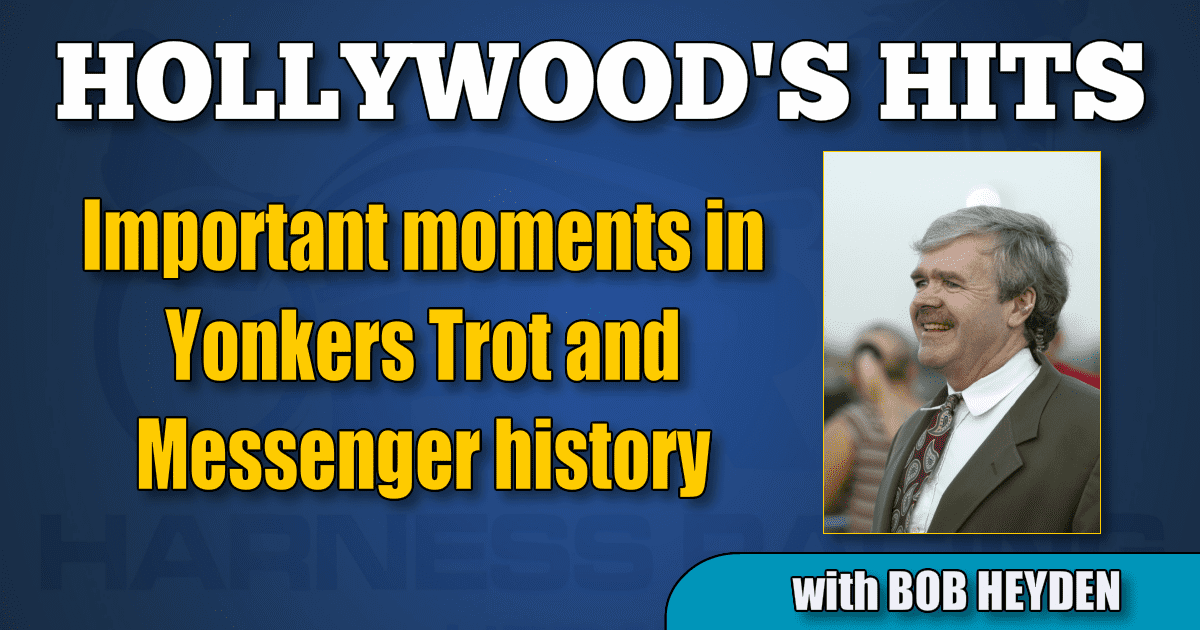 Important moments in Yonkers Trot and Messenger history
by Bob Heyden
1956 — In the Messenger, filly Belle Acton kicked off the final leg of the Triple Crown for pacers with a win for Billy Haughton. Fifty-seven years later, son Tommy also won it with Ronny Bugatti.
1959 — Adios Butler won the Messenger before he embarked on his Horse Of The Year campaigns of (1960 and 61).
1986 — Amity Chef won the Messenger as second choice over 3-5 favorite Barberry Spur. John Campbell and Blair Burgess — a full 20 years before their Triple Crown triumph with Glidemaster — teamed up. H H Shadow, the spectacular filly for Jody Stafford, paid $4.60 taking her elim and was second in the final.
1988 — The first time a single track — Yonkers — played host to three Triple Crown races in the same season (Roosevelt closed that year). Matts Scooter won the Messenger, Runnymede Lobell won the Cane Pace and Southern Newton won the Yonkers Trot.
1989 — An unusual year for the Triple Crown for pacers. Why? Because Dr. Ken Seeber won both the Cane and the Messenger with two different colts and neither was in the Jug (Sandman Hanover and Dancing Master). That was the year that Goalie Jeff dominated in the Jug after being second in his Messenger elim and final.
1989 — Valley Victory dominated the Yonkers Trot in 1:59.3 paying $2.40 in his elim, then a record 1:58.3 returning $2.60, both times from post 2 for Bill O'Donnell and Steve Elliott in Valley Victory's last career race.
1991 — was the year of Die Laughing winning the Messenger for 26-year-old Richie Silverman. Artsplace, in his only appearance in a Triple Crown event, was ninth. The time was 1:51.1 — wire to wire for the winner in this 11-horse field.
2022 — Will be the year that harness racing celebrates its 500th Triple Crown event. After 2019, the Yonkers Trot will have been contested 65 times, the Cane Pace 65 times, the Messenger 64 times, the Jug 74 times, the Kentucky Futurity 123 times, the Hambletonian 94 times for a total of 485 Triple Crown events.
Notes
Trond Smedshammer won the Yonkers Trot twice, the two years it was not at Yonkers. He won it in 2004 at Hawthorne with Windsongs Legacy and in 2005 at Freehold with Strong Yankee.
Glidemaster holds the record for the most amount of money to race for in the combined three Triple Crown races: $2,754,930. He won half of that — $1,377,465. John Campbell drove him for the first two-the Hambletonian and the Kentucky Futurity and George Brennan was in the bike for the Yonkers Trot.
Glidemaster and Windsongs Legacy won the Triple Crown twice in a three-year span — 2004, 2006. Before that was a 32-year gap back to Super Bowl in 1972.