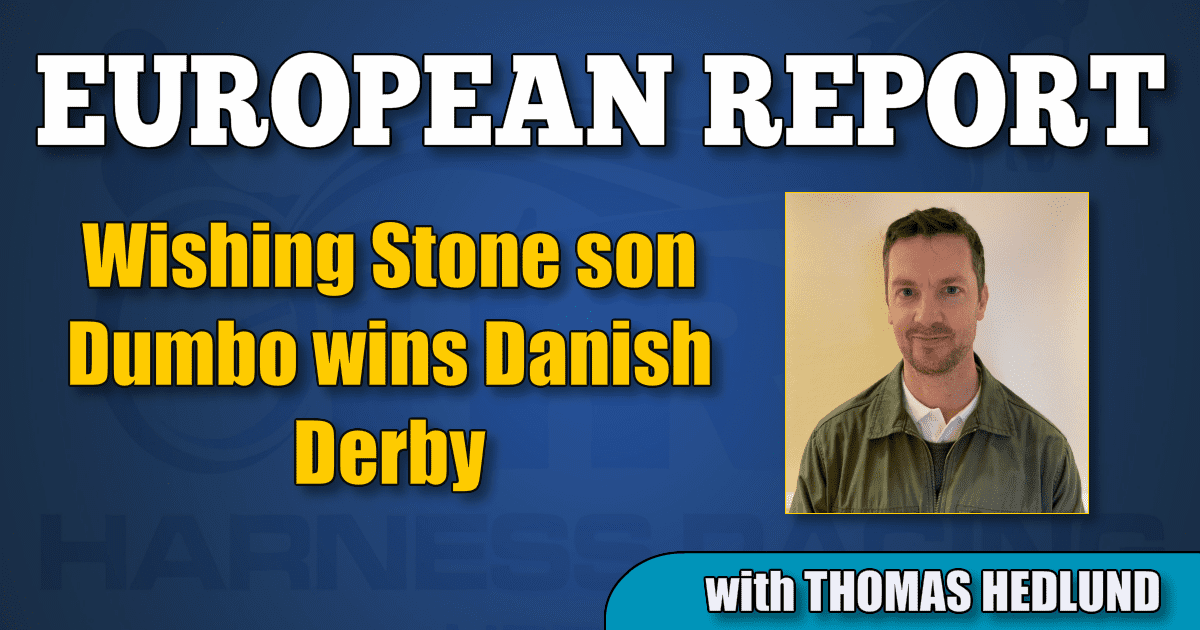 Wishing Stone son Dumbo wins Danish Derby
by Thomas Hedlund
The $180,400 Danish Derby for 4-year-old trotters was held in front of a crowd of more than 8,000 at Charlottenlund racetrack in Copenhagen, Denmark on Sunday afternoon and Wishing Stone son Dumbo pulled off a big upset.
Dumbo's trainer/driver Gordon Dahl had the bad number eight post, but Dahl opted for an offensive tactic and sent Dumbo right to the front in the 1.9-mile long race. Dumbo and Dahl eventually let Daytona steer the field, but Dumbo accelerated quickly with just 100 meters to go and got his nose first at the wire ahead of Donatello Garbo (Wishing Stone) in a mile rate 1:59.3.
"I got a little bit worried at the home stretch since my horse almost got out of gait, but he pulled himself together and we were first at the wire. Dumbo is a real warrior," Dahl said.
Dutch Derby to Boko again
The $48,900 Dutch Derby for 3-year-olds became another successful story for breeder John Bootsman and his Boko-stable. For the 10th time in history, a Boko-trotter won the Derby in The Netherlands and on Sunday afternoon it was Hugo Langeweg Jr who steered Yankee Glide son John King Boko to victory from the lead.
The mile rate was 2:02.2 over 1.6 miles.
World record performance in Italy
After two months away from competing, Holger Ehlert-trained Zacon Gio (Ruty Grif) recorded a world record when he won $44,500 Gran Premio Nello Bellei in Montecatini, Italy on Sunday night.
On a half mile track, 4-year-old Zacon Gio sprinted mile rate in 1:54.4 over 1.3 miles from the lead.
Urlo dei Venti had the record before Sunday night and Zacon Gio is likely a horse that will likely compete against the top trotters in Europe in the future. His last 10 starts have been victories, among them two in Group 1 races.
Set for Swedish Derby
The eliminations for the $828,000 Swedish Derby for 4-year-olds were held at Jägersro racetrack on Aug. 21 and this year, a Muscle Hill son will face the first choice position in the biggest race for Swedish trotters born 2015.
The Derby in Sweden is one of the most prestigious races there is in Europe since the purse has increased by double during the past years.
Many horses impressed a lot over 1.6 miles in the eliminations and the biggest hope for the Jägersro audience will be Campo Bahia (Muscle Hill) and Conrad Lugauer. Lugauer is stationed on a farm near Jägersro and his weapon Campo Bahia is predicted to be one of the new stars in the game.
The winners from six eliminations: Global Wise Guy (S.J.'s Caviar), Roofie (Andover Hall), Campo Bahia (Muscle Hill), Inti Boko (Chocolatier), Global Welcome (S.J.'s Caviar) and Ferrari Sisu (Djali
Boko).
In the $414,000 Derbystoet for 4-year-old mares, Fredrik Wallin-trained Activated (Jocose) chases her third win in a big staked race 2019.
Earlier this season, Activated has won Drottningpokalen and Stochampionatet paired with Carl Johan Jepson and the duo impressed in the elimination.
The winners from six eliminations: Aleppo Pine (Maharajah), Hankypanky Rubured (Love You), Staro Miami (S.J.'s Caviar), Conrads Rödluva (S.J.'s Caviar), Activated (Jocose) and Racing Brodda (Prodigious).
The two races are scheduled on Sunday (Sept. 1).
$828,000 Swedish Derby (2,640 meters )
Horse – Driver – Trainer
Global Wise Guy – Jorma Kontio – Timo Nurmos
Roofie – Johan Untersteiner – Johan Untersteiner
Campo Bahia – Conrad Lugauer – Conrad Lugauer
Into Boko – Björn Goop – Timo Nurmos
Global Welcome – Ulf Ohlsson – Svante Båth
Attraversiamo – Erik Adielsson – Svante Båth
Flight Dynamics – Carl Johan Jepson – Stefan Melander
Smokin Joe – Dominik Locqueneux – Adrian Kolgjini
Ferrari Sisu – Marc Elias – Conrad Lugauer
Kennedy – Adrian Kolgjini – Adrian Kolgjini
Alone – Örjan Kihlström – Pasi Aikio
Pinto Bob – Robert Bergh – Robert Bergh
$414,000 Derbystoet (2,140 meters )
Horse – Driver – Trainer
Aleppo Pine – Kenneth Haugstad – Roger Walmann
Hankypanky Rubured – Jorma Kontio – Timo Nurmos
Staro Miami – Mika Forss – Aripekka Pakkanen
Conrads Rödluva – Örjan Kihlström – Daniel Redén
Activated – Carl Johan Jepson – Fredrik Wallin
Adi Gallia – Erik Adielsson – Nicklas Westerholm
Fanny Chenal – Dominik Locqueneux – Björn Goop
Call Me Brodde – Kim Eriksson – Thomas Madsen
Racing Brodda – Rikard N Skoglund – Mattias Djuse
Valetta – Ulf Ohlsson – Björn Goop
Miss Sober – Robert Bergh – Robert Bergh
Zeta Kronos – Björn Goop – Björn Goop