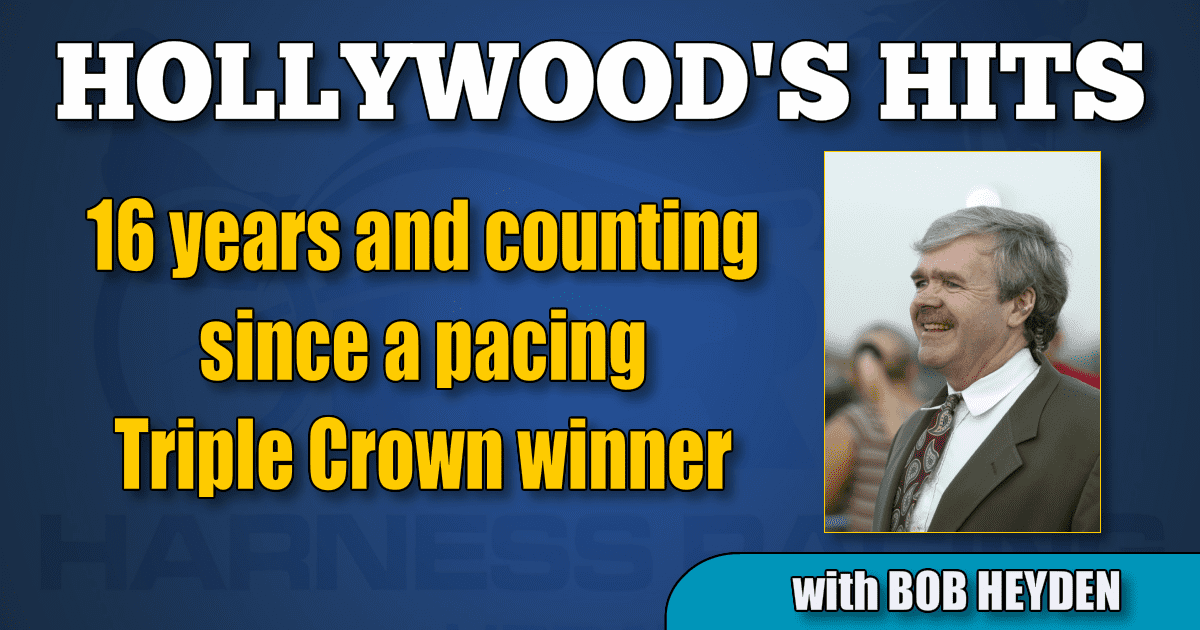 Now 16 years and counting since we've had a pacing Triple Crown winner
by Bob Heyden
The longest time between pacing Triple Crown winners is now at 16 years after the connections of Cane Pace winner Captain Crunch opted to skip the Messenger. The last pacing Triple Crown winner was No Pan Intended in 2003.
50 years on…
This week marks the 50th anniversary of Nevele Pride's consecutive world records (after a loss to Une De Mai in the International).
On Aug. 31, 1969 at the Indianapolis State Fair he posted a 1:54.4 mile with fractions of :27.3, :55.4, 1:25.1, 1:54.4.
On Sept. 6, he recorded a 1:56.4 half-mile world at Saratoga with fractions of :28.2, :57.1, 1:26.3 and 1:56.4. He won by 28 lengths in the $15,000 invitational with no betting.
Nevele Pride was on to his third straight HOY title in 1969, something no trotter has ever done in a career since.
He made 67 starts career, won 57 of them, started in New York 31 times and never once in Stanley Dancer's home state of New Jersey.
Remembering the first million-dollar season by a driver
Fifty-five years ago, Stanley Dancer became the first driver to top $1 million in a season. He ended 1964 with earnings of $1,051,538.
Billy Haughton was over $200,000 behind in second with earnings of $844,558.
The top 12 drivers by earnings that year all ended up being Hall of Famers. Beyond the top two, #3 through #12 were: George Sholty, Del Insko, Bob Farrington, Vernon Dancer, Buddy Gilmour, Ralph Baldwin, Joe O'Brien, John Simpson, Sr., Jim Dennis and John Chapman.
It was Dancer's third money title overall. Haughton won it a record eight straight times from 1952-1959.
Happy Birthday, JR
Happy Birthday #62 to Jerry Riordan on Aug. 27. He was the main man for Chuck Sylvester with Mack Lobell 30 years before winning the Yonkers International himself.
Speaking of Mack Lobell, his 12 and 3/4 length margin from 1987 in the Breeders Crown still stands as the biggest when he paid $2.80 to win at Pompano Park en route to his second of three straight Breeders Crowns. His defeat at the hands of Napoletano in the Kentucky Futurity is a tough one to believe when you look at his margins of victory in the Triple Crowns going into that final:
Yonkers Trot — 3 and a 1/2 lengths in 1:57.4
Hambletonian — 5 and 3/4 lengths in 1:54 first heat
Hambletonian — 6 and 1/4 lengths in 1:53.3 final
Kentucky Futurity — first heat 7 and a half lengths in 1:55.
Will Greenshoe continue an unusual streak?
IF Greenshoe wins the Horse of the Year, a very unusual stat line will continue. It would make it five straight Horses of the Year to taste defeat in stakes finals on Hambletonian Day.
In 2015, Wiggle It Jiggleit was fourth in the Cane Pace.
In 2016, Always B Miki was fourth in the U.S. Pacing Championship.
In 2017, Hannelore Hanover was fourth in the Steele Memorial.
In 2018, McWicked was second in the Sam McKee.
In 2019, Greenshoe was second in the Hambletonian final (after winning his heat earlier in the afternoon).
If Shartin N is HOY….
… it would be the first time in 30 years that the previous year's Horse of the Year runnerup came back to take the whole prize. The last one to do it was Matts Scooter in 1989. In 1988, he finished behind Mack Lobell for Horse of the Year.