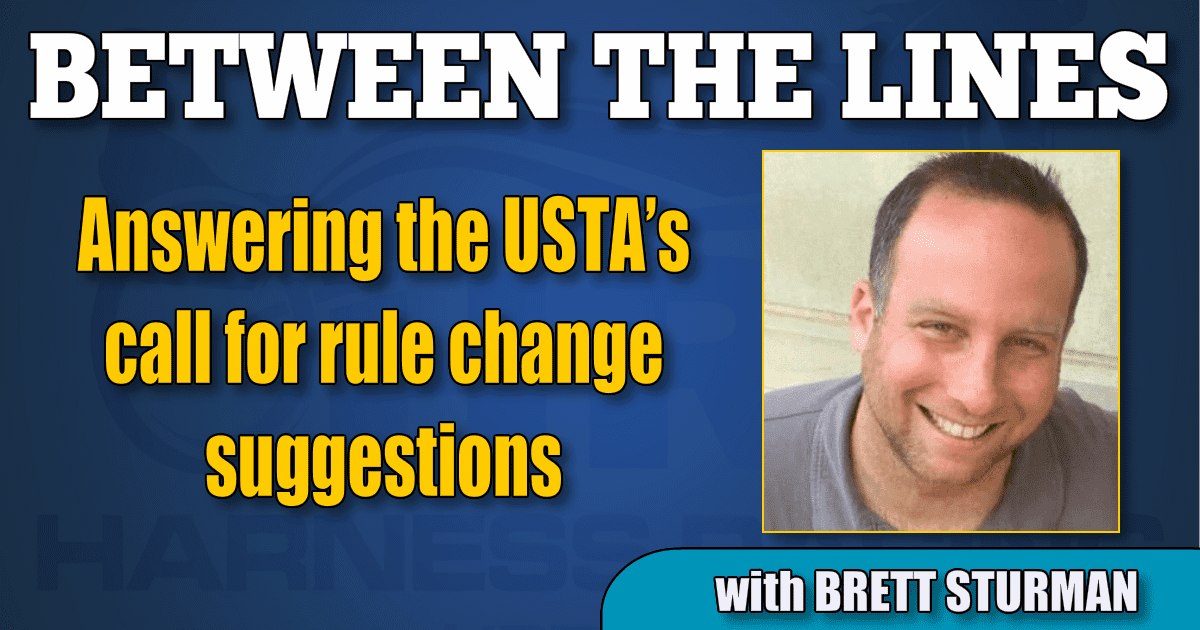 Answering the USTA's call for rule change suggestions
Here is my list of rule changes the sport needs.
by Brett Sturman
This week the U.S. Trotting Association (USTA) announced its final call for rule change proposals to be considered at upcoming district meetings. Deviating a bit from proposing the rule changes in the requested format and specifics, here's a macro-level look at rules that should be considered. Some may be more pressing than others, but in no particular order:
Consistency in driver colors
On this year's Hambletonian Day, a brilliant 2-year-old filly named Hypnotic Am won the $310,000 James Doherty Memorial trot. Her driver was Brian Sears, but you would have never known it based on the nearly all red colors that he was wearing that race. In that race Hypnotic Am was owned solely by Courant, Inc., but later in the day Sears wore his own colors on Greenshoe – a horse owned in part by Courant, Inc., but also in partnership with others.
A couple of years ago it looked like there was a growing trend in which in signature stakes races, owners were having drivers where their colors instead of the drivers own. With still only a small handful of owners opting to do this today from what I can see, it doesn't look like the trend has fully caught on and more importantly, there needs to be some rule of consistency put into place. Harness racing has always differed than their thoroughbred counterparts by having horses be easily identified by their driver, rather than owner. Because of the importance of drivers in harness racing, it's always been easier to follow race action being able to easily know who the drivers are. But now, in some select instances, you'd have no idea who a driver is solely by watching a race.
I understand the argument that if you're an owner, you pay a lot of money and should be able to see your own colors on display. But that's not the way harness racing works. Or, at the very least, if a majority of owners now do feel this way, then the rules should be changed entirely so that all drivers wear owner's colors. But there can't be the mismatch that there is today. Not only is there a mismatch of driver colors and owner's colors, but owners aren't consistent in which races their colors are to be used. It wouldn't make any sense for some players on a baseball team to be wearing the teams colors while other players where their own. Harness racing is no different and one color or the other, they need to be uniform for everyone.
Fair start pole
Used almost universally in Canada, fair start poles need to be implemented at all tracks across the U.S. Fair start poles were first implemented as a way to protect bettors who back a horse that for all intents and purposes aren't even valid race participants. I understand that gambling is gambling, but in these cases we are talking about horses who are in no position to compete even before the race event formally begins. Racing will need to start more seriously putting safeguards in for bettors with expanded gaming options now available, and it's simply a bad look for a track to be able to book a bet on a horse that was never seen on the television screen at the start of the race.
Clearly designated finish lines
At many harness tracks, the finish line is designated by nothing more than a stick in the ground. And in some cases, that stick is in the ground crooked. Combined with cameras that aren't on the finish line either, it's impossible to tell in close races who won because it's not readily apparent where the finish line even is. With the amount of money bet on races, it's unacceptable that race finish lines aren't more clearly defined. Tracks such as the Meadowlands and Woodbine Mohawk have implemented cameras at ground level directly at the finish line, and video from those cameras are shown in super-slow motion immediately after the race finish. These angles are amazingly accurate and give an almost indisputable visual as to which horses finished ahead of others. Similar technology should be implemented at all tracks.
Arm's length transactions
All too often in harness racing, when one trainer gets suspended it means almost nothing because the way in which horses are transferred to someone else. Usually the horses get transferred to a trainer's wife, husband, girlfriend or third-cousin and at the end of the day the person suspended is still the one calling the shots. Just like in the business world, there should be a rule that says the transfer of horses must be to someone completely independent of the suspended trainer with no direct relationship to that trainer. This would help to avoid any type of collusion or gaming of the system between the suspended trainer and the person the horse is going to.
Reciprocation
If a trainer is suspended in one state or one jurisdiction, then that suspension is acknowledged and upheld in all jurisdictions. Similar to as above, what's the point of a suspension of a trainer is suspended in New Jersey but can then race in Pennsylvania (while still racing in New Jersey through someone with that person is related to).
Driving Strategy
This one's been debated before, and drivers must not be able to grant holes to other drivers unless there's a strategic reason in mind. It's one thing to create a two-hole for a horse as to get that horse out of the way so that a driver can quarter move to the front, but it's another to give a hole for no other reason than to extend courtesy to another driver. Similarly, if a driver pulls a horse to the outside, then you must move forward. Again, it's one thing to strategically fish for cover for a moment, but it's another to uselessly stifle any outer flow.
Consistency
Whatever rules are decided; those rules must be the same across the board. I know this is something that's been discussed and is slowly being worked towards, but it has to eventually happen whether it be accomplished through an overseeing commissioner or some other mechanism.