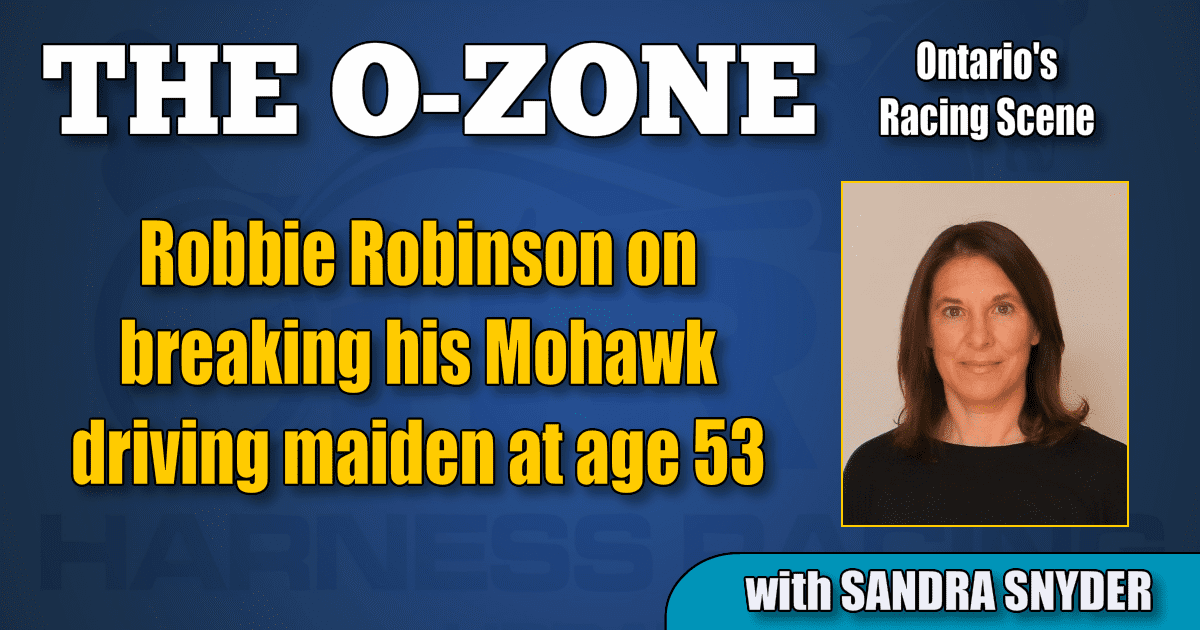 Breaking his Mohawk driving maiden at age 53
After more than two decades breaking and training young horses, horseman Robbie Robinson drove his first couple of winners at Woodbine Mohawk Park at age 53, including his former charge Warrawee Vicky, an Ontario Sires Stakes Gold winner.
by Sandra Snyder | Sponsored by Ontario Racing
This spring, at the age of 53, Robbie Robinson logged his first win as a driver on the Woodbine Entertainment Group circuit. The Metcalfe, ON resident piloted 3-year-old trotting gelding The Magic Of Life (Royalty For Life–Magic Factory) to a maiden-breaking 1:57.4 score at Woodbine Mohawk Park on May 23.
"With the trotters, I kind of like to drive them myself for a little bit. After a while I turn the lines over to somebody else," said Robinson. "I got my first two WEG wins this year driving, that's been my last two WEG drives, The Magic Of Life won there and then Warrawee Vicky won there, so that was pretty good for me."
Robinson piloted Warrawee Vicky (Royalty For Life–The Tall Poppy) to a 1:59.3 win in her first lifetime start on June 25, a trip that would prove to be his last behind the 2-year-old trotting filly. Trainer Scott McEneny watched Warrawee Vicky's impressive three-length victory from his Puslinch, ON home and within hours had made an offer to purchase the filly on behalf of owner Brad Grant of Milton, ON.
"It was a good offer, a fair offer, and a friend of mine told me after I'd sold her, he said, 'Robbie, if you can't afford to buy her, then you can't afford to keep her,' and it kind of makes sense you know," said Robinson, who has spent the better part of two decades focussed on breaking and training young horses. "It's one of those things, you have to really think about what's going to be best, and I'm happy for the horse and I'm happy for them, because now she doesn't have to run up the road five hours to race every time."
Since the sale, Warrawee Vicky has amassed three more wins, two of them in Ontario Sires Stakes Gold Series action, taking a mark of 1:55.4 in the July 11 Gold Series season opener at Woodbine Mohawk Park. The filly makes her fifth start of the season tonight (Aug. 9) in the third of three $73,000 Gold Series divisions at the Campbellville, ON oval.
Warrawee Vicky is just one of the pupils that have left Robinson's care this season and gone on to compete for other trainers. He started with six yearlings and five are currently racing in jurisdictions on both sides of the border.
"Out of those six, one was sold, which was Warrawee Vicky, two other ones, after I qualified them they went to different trainers. One went to New Jersey — she's back in Toronto now —Alyvia Deo, a Trixton filly, and an American Ideal colt (American Rebel) that I own part of with Rob Harmon, he's racing in New York Sires Stakes," said the trainer. "Another one we qualified, Alpina, I think she's in the Grassroots, so the only two that I have left is a horse called Link In Bio and I have an Art Major colt that is going to qualify in two weeks. And then he's going to go south."
Costa Athanassoulias' Synerco Ventures Inc. owns Alyvia Deo (Trixton–Blue Yonder) and Alpina (Archangel–Tymal Fireitup). Racing out of the Matthew Dupuis barn, Alyvia Deo has a runner-up finish in the Kindergarten Series at The Meadowlands under her belt through four starts. Alpina started her Ontario Sires Stakes career in the Gold Series for trainer Rob Boyd, finishing sixth placed fifth, then moved to the Grassroots level for her second outing and finished third. Link In Bio (Holiday Road–Workout Queen), who Robinson owns in partnership with Synerco Ventures, has struggled to find his groove in the Grassroots program, making breaks in all three of his starts. Robinson shares ownership of American Rebel with Middletown, NY trainer Rob Harmon and the colt is off to an impressive start in New York Sires Stakes action.
"He won an elimination for the (Lawrence B.) Sheppard and in the final he was locked in and got beat a length and a half, nowhere to go," said Robinson of the talented young pacer. "Then he dead heated with Groovy Joe at Saratoga (July 20) and (July 28) he got beat at Batavia by Groovy Joe."
American Rebel brought Groovy Joe's five race win streak to a halt on August 6 at Yonkers Raceway with a two length score in 1:54. The son of American Ideal and Restive Hanover has earned $87,547 for his owners, a nice return on the $6,000 investment Robinson made to acquire the colt at last fall's Lexington Selected Yearling Sale.
"Last year I didn't have a whole lot to do, so I went down to Kentucky," said Robinson, noting that London and Harrisburg are more typically his destinations for yearling shopping. "I'd been looking at horses and looking at horses, and a friend of mine said, 'If you want to buy a horse, look at every horse that is selling tonight (Day 4)'.
"So I started in the morning and I looked at every horse that was selling and kind of graded them what I thought, and that's how I ended up buying that horse. I'd graded him fairly high, but he was a little bit small. Really, looking at the pedigree, I don't know how I bought the horse for $6,000. His mother was Restive Hanover, she was a two-year-old filly of the year, and American Ideal is probably the best sire in New York. They start all the horses off at $5,000 so there's not really a bid at $5,000. I was a couple rows from the bid spotter and I said $6,000, and I got the horse for $6,000, I couldn't believe it."
While looking at every horse selling on Day 4 at the Lexington sale sounds like a lot of work, Robinson said shopping for yearlings has never felt like a chore.
"The yearling sale time is probably my favorite time of the year. It's like Christmas for me," he said with a chuckle. "That time of year is the most fun for me; when they start coming out with the videos, and you've got the catalogues and you're looking at them, and then you go to the sale and try to match everything up."
The lifelong horseman, who learned the business alongside his father Carl while growing up in Odessa, ON and worked for both Bill Wellwood and Ted Huntbach before launching his own stable, counts horses such as Gerries Sport, Swingman and Golfman among the best horses he has trained. Gerries Sport (Mach Three–Perfect Sport) earned $401,808 in his career, while half-brothers Swingman (Northern Luck–J Ns Scooter) and Golfman (Cambest) banked $270,813 and $617,230, respectively.
"They were all nice horses," said Robinson. "Probably the best horse I ever had was one that I bought in a mixed sale, Gutsy Volo (Yankee Glide–Gutsy Lobell, $268,819). His claim to fame was he was the first horse I had win at Mohawk as a trainer, and he beat San Pail in the Open. My first WEG win as a trainer was in the Open (June 28, 2009)."
Robinson's wife Jackie Dinelle retires this year and as a result the trainer is planning to reduce the number of horses he breaks and trains this winter.
"I might only have five or six horses this winter. I'll have to be selective I guess, I don't know," he said. "I'm probably only going to carry over one or two horses that I have right now, and then have three or four babies I hope."
Owners hoping to have their young stock winter in the nation's capital under Robinson's tutelage might want to make their appeal early. With the success the horseman's 2019 freshman pupils have had and his passion for researching and selecting future winners, those four spots may fill up in a hurry.
Stakes action Aug. 9 to 15:
Aug. 9
Woodbine Mohawk Park – OSS Gold Series (2ft)
Aug. 10
Hiawatha Horse Park – OSS Grassroots (2ft)
Aug. 11
Clinton Raceway – OSS Grassroots (3ft)
Aug. 12
Woodbine Mohawk Park – OSS Gold Series (3ct), Dream Maker Series Final
Aug. 13
Georgian Downs – OSS Gold Series (3ft)
Woodbine Mohawk Park – Whenuwishuponastar Series Final
Aug. 14
Grand River Raceway – OSS Gold Series (2fp)
Aug. 15
Woodbine Mohawk Park – OSS Grassroots (2cp), Define The World & Pure Ivory Series, Leg 2
Ontario handicapping picks
A deep selection of handicapping picks for Ontario racetracks — featuring the talents of Garnet Barnsdale, Michael Bozich and Michael Carter — is available on the Ontario Racing website.