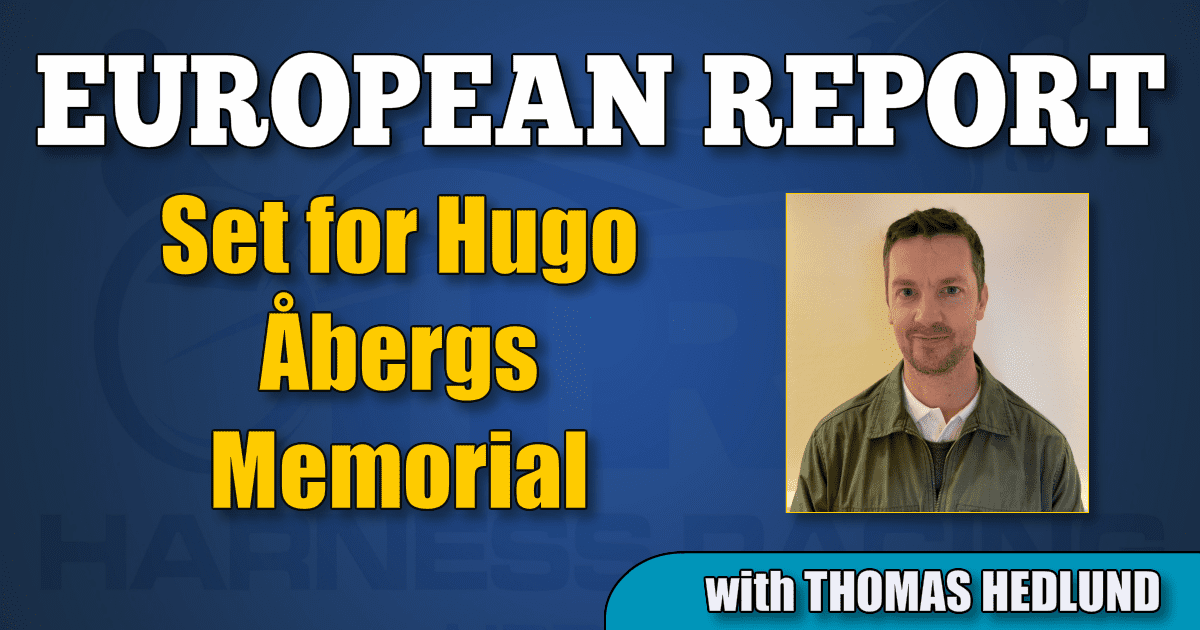 Set for Hugo Abergs Memorial
by Thomas Hedlund
The $337,400 Hugo Åbergs Memorial over the mile is scheduled at Jägersro racetrack in Malmö, Sweden on Tuesday night and 10 horses will be gathered behind the car.
Muscle Hill son Propulsion (out of Danae) chases his fourth consecutive win in the race and his victory from 2017, in 1:49.3, is still the fastest mile ever trotted in Europe.
Propulsion starts from post nine and driver Örjan Kihlström can choose to trail Ringostarr Treb or Pastore Bob when the car leaves.
The race is as always one of the biggest events for the harness racing fans in Europe and the atmosphere around the track is often described as "magical." The favorite in the race? That's a tough one. Many horses will be close this year and by reason of the post position, Ringostarr Treb might be the bettor's choice.
Horse – Trainer – Driver
1. Ringostarr Treb – Jerry Riordan – Wim Paal
2. Pastore Bob – Johan Untersteiner – Mika Forss
3. Lionel – Göran Antonsen – Jorma Kontio
4. Nadal Broline – Björn Goop – Björn Goop
5. Uza Josselyn – Rene Aebischer – Erik Adielsson
6. Bahia Quesnot – Junior Guelpa – Junior Guelpa
7. Racing Mange – Joakim Lövgren – Joakim Lövgren
8. Cyber Lane – Johan Untersteiner – Johan Untersteiner
9. Propulsion – Daniel Redén – Örjan Kihlström
10. Gretzky B.R. – Geir Vegard Gundersen – Magnus Teien Gundersen
Bazire wins again in France
The $111,300 Prix de Washington was held over a mile at the Enghien racetrack in Paris, France on Saturday afternoon and, as many times before in France this year, a horse trained by Jean-Michel Bazire entered the winner's circle.
Bel Avis (Ganymede) was determined to finish from second over and disarmed leader Billie de Montfort at the right time on the long stretch at Enghien.
Bel Avis won Gran Premio della Lotteria in Naples in May and Jean-Michel Bazire has every reason to have high hopes in Bel Avis in the big races in Europe even next season.
Feliciano takes Prix de Milan
The 4-year-old race $89,000 Prix de Milan was looking like it was going to be won by German Derby winner Mister F.Daag (Conway Hall), but the Paul Hagoort trainee had to capitulate from the lead when Philippe Allaire's Feliciano (Ready Cash) attacked from the leader's back.
The mile rate for Feliciano was 1:54.4 over 1.3 miles.
Ferrari fast in Norway
With Lionel and Gretzky B.R. out of the game (they both start in Hugo Åbergs Memorial next Tuesday) the $57,500 Norwegian Championship for trotters bred in Norway became a story where 6-year-old Muscles Yankee son Ferrari B.R. caught the gold medal, shortly ahead of leader Viking Va Bene in a mile rate 1:57.4 over 1.6 miles. Per Oleg Midtfjeld trains and drives the winner.
The $57,500 Norwegian Championship for mares saw a superior winner in Thai Tanic mare Madelen L.T.C. who attacked three wide at the back stretch and outclassed her opponents in safe win in a mile rate of 1:57.1 over 1.3 miles for driver Eirik Höitomt.