by Victoria M. Howard
Every owner dreams of owning a champion — either by raising a homebred or purchasing a yearling from a sale that develops into a nice stakes horse. People have been in the sport for decades and never reached that plateau, but still keep trying.
Judy Chaffee of Caviart Farms is one of the lucky ones who is living that dream. Today, Judy and her husband, Buck, are the proud owners of some of the sport's top horses. It didn't happen overnight, but the years of perseverance and sticking it out finally paid off.
Judy's dream began years ago when her then-beau, Buck, took her to meet his parents for the first time. When they arrived at his parent's house there was a note posted on the door that read, "Come meet us at Rosecroft Raceway."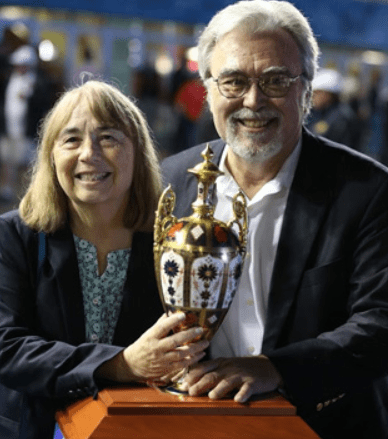 That was the first time Judy met her in-laws and attended an actual horse race at a harness track. It only took that one time and she was bitten by the horse bug.
Several years later, Buck and Judy went to the Harrisburg yearling sale "just to watch." Already in love with standardbreds it was a no-brainer when Buck asked Judy, "Which would you rather have? A house or a horse?"
Of course she chose the horse.
"That day we spent around $4,000 and bought a filly by Good To See You. After the hammer fell and we realized that we had just purchased a horse, we turned to each other and said, 'What do we do now?'
"Luckily, a man sitting behind us offered some great advice. He said, 'Since you bought an Ohio-bred filly, call trainer Joe Adamsky. He is a good, honest Ohio trainer.'
"We contacted Joe and gave the filly to him, and we had a great time with her. In fact, she became the Home Talent Colt Stake Champion.
"Unbeknownst to us when we met, Buck and I both had family involved in harness racing. Buck's parents, Clarence and Helen Chaffee, owned several horses that raced at Rosecroft, and my grandfather, Lowell Chapman, owned trotters in Maine.
"In fact, as a child I remember my mother telling me 'Grampie' owned a great trotter who raced the New England/Canadian circuit, and he eventually sold that horse 'for a whole lot of money.'
"When I was a little girl, my grandparents and parents went to the fairs in Maine to watch harness racing so I got to tag along with them to watch the horses, too. I guess you could say it was always instilled in me to someday own one of these beautiful, athletic animals."
Fast forward several decades. Today, Judy and Buck are the owners of Caviart Farms and proud parents of such great horses as Caviart Ally (p. 5, 1:48), Caviart Jane (a 2-year-old filly that has won all of her baby races and captured a mark of Q 1:53.1), and the great Captain Crunch (p. 3, 1:47.2).
Their youngsters are in the hands of top trainers Nancy Johansson, Tony Alagna, Brett Pelling, Brian Brown, Jim Arledge Jr., and Jeff Nisonger.
"Right now Caviart Farms has 6 3-year-olds and older, and 15 2-year-olds in training. We feel that each of our trainers is right for the horse he or she trains. Plus all are good, honest, hard-working individuals who care about the well-being of the horses and has a special talent in conditioning them," Judy said.
"Caviart Farms is a family operation and home to 20 broodmares. This year we are extremely happy to have added a Captaintreacherous-sired daughter of Darlin's Delight to the broodmare band. She is in foal to Always B Miki. Our goal, though, is to keep the number small, so every year we sell a few to make room for our new mares coming off the racetrack. When Caviart Ally retires, she will most likely be bred to our Captain Crunch."
Caviart Farms, located in Paris, KY has 235 acres of limestone rich soil and luscious bluegrass pastures; likely the reason why the farm foals are so healthy and good-looking.
The farm sits across from the former Perretti Farms of Kentucky.
"There is nothing more beautiful than the picturesque horse farms of Kentucky. When we are there it feels like 'a piece of heaven.' We try to visit the farm several times a year and there is nothing more pleasant and fun than watching the mares and foals in the rolling paddocks and fields.
"Our son, Terry, is farm manager and COO of the farm. He has done such a great job for us — raising horses like standouts Caviart Luca, Caviart Rockland and Celebrity Eventsy.
"The actual number of horses that we breed and raise every year varies, but our plan has always been to remain a small boutique farm — constantly looking to upgrade and as the saying goes, 'to breed the best to the best.'
"Buck and I work together as a team handling a responsibility for which each is best suited. I keep records on foaling, select the stallions for the mares, and maintain the breeding schedule. Then in the fall I enjoy spending hours poring over the sales catalogues and delving into a more extensive research on those youngsters that look interesting. By the time of the sale the list is generally quite narrowed.
"Just prior to the sale we also start having a conversation with our trainers, seeking their input, too. Buck and I always agree before buying a horse, but I will say that Buck is more financially oriented and logical. I am the emotional one — but we always reach an agreement."
Is there a certain method in choosing the names of their horses?
"For the most part, Caviart Farms has followed the lead of Hanover Shoe Farms by naming foals with the first letter of the mare's name."
Judy said there's three horses that are her favorites.
"My first would be a Western Hanover filly named Caviart Sierra. She was the first really talented filly we bred and raced. Sierra won all of her first five starts (all stake races) before suffering a career-ending injury. As a broodmare, Sierra produced many talented sons and daughters, including Caviart Sydney and Caviart Luca (still racing at Yonkers). Her offspring have earned in excess of $2.5 million."
"Of course, Caviart Ally owns my heart. I just love her. She completely knocks my socks off. She is gorgeous, has lightning speed right out of the gate and is the gutsiest filly I've ever known. I will never forget watching Ally in the Jugette and Milton eliminations — winning both by open lengths. Then she came right back and impressed in winning the finals, too.
"Ally is simply the best and she knows it! She shifts her head a bit getting ready to race and then digs in. I really believe that she will someday be just as successful as a broodmare as she has been racing. I really want to breed her to our Captain Crunch. What could be more exciting than an Ally/Crunch foal?
"And third is our Captain Crunch. He is super special. This is the first time we have ever owned such an amazing colt, and we have waited a long time for one like him.
"Together with our partners, 3 Brothers Stable, Christina Takter and Rojan Stables, we purchased Crunch at the Harrisburg sale. Since then he has taken us all to the winner's circle of some of the biggest stake races. For years, Buck and I dreamed of winning the Breeder's Crown, and it was Captain Crunch who got us there. And what a thrill when he won the North America Cup in Canada.
"We are living the dream and loving every minute."