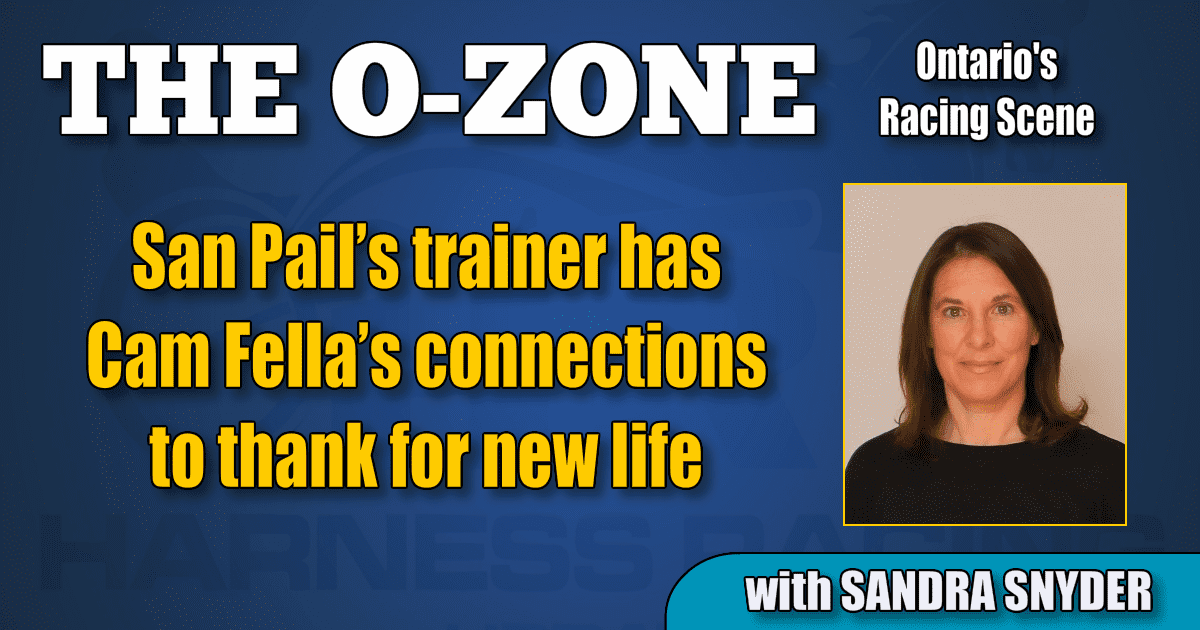 San Pail's trainer has Cam Fella's connections to thank for new life
Rod Hughes, nearly called it quits after making just four training starts in 2018, but a fortuitous trip to Lexington landed him a talented youngster which led him to work for the Clements family's Prince Lee Acres, the farm that co-owned Cam Fella and bred Camluck.
by Sandra Snyder | Sponsored by Ontario Racing
When Rod Hughes officially announced San Pail's retirement in 2015 he and his family, wife Emily and sons Wyatt and Trace, had put their Dunsford, ON farm up for sale and were intending to move closer to Mohawk Racetrack. However, things did not quite go as planned. The farm did not sell until last year and Hughes found himself with fewer and fewer horses to train, down to just four training and six driving starts in 2018.
In October, he and Emily made a last minute to decision to go to the yearling sale in Lexington, KY. They had a few yearlings marked down they felt might be in their price range and were pleasantly surprised when Tymal Tarot turned out to be one of them.
"We had him marked down as buy if we could afford him basically, and we ended up at the $11,000 and we were as shocked as anybody," said Hughes.
"You think you're about ready to step away from the business altogether and then… Literally, it was kind of a last minute thing to go to Kentucky. It was like, 'Let's go and just see, let's go sit by the ring,'" he said. "We didn't know whether we'd buy one or two, we put our hands up for a bunch of them and ended up with this one, so it must have been meant to be."
The son of Kadabra and $322,271 winner J M Aggie was an apt pupil through the winter and made his qualifying debut at Woodbine Mohawk Park on June 22, finishing third in 2:02.4. Hughes opted to try the gelding in the Ontario Sires Stakes Gold Series opener at Mohawk on July 4, but the youngster floundered against the top colts and finished ninth.
"I think, just looking back, he's probably two or three weeks behind everyone that's stabled up near Mohawk, just lacking a little bit of experience," said Hughes. "I do still think he has more potential, but yeah, maybe jumped in a little over our head there the first time."
In response, Hughes entered Tymal Tarot in a maiden at Kawartha Downs on July 13 and the pair was elevated to the win when Meeas Dream caused interference to another horse past the three-quarters and was set back to eighth.
"Not the way you want to do it, but we'll take it," said Hughes with a chuckle.
The tour around Kawartha also served as an evaluation point for the gelding. The second 2-year-old trotting colt Grassroots event goes postward at the Fraserville oval this Saturday, July 20 and Hughes wanted to give Tymal Tarot a practice run around the five-eighths mile oval.
The effort reaffirmed Hughes' confidence in Tymal Tarot and the pair will line up from Post 4 in the third $23,150 Grassroots division Saturday.
"He's got a nice look about him. He's just a really nice looking colt actually and the more you're around him, the more you like him," said Hughes of the long-legged trotter. "He's very calm, does everything you want. Really hasn't done much wrong all winter training down. He's literally just done nothing wrong so far, so hopefully Saturday doesn't put a blip on that."
This spring, Hughes moved Tymal Tarot to Prince Lee Acres in Uxbridge, ON. After serving as their blacksmith for the last year and helping out with the young horses on occasion, two weeks ago the horseman was asked to join the Prince Lee team as a trainer.
"Ronnie Morales was my trainer, and he wanted to go back to the States and drive horses so we just got these things to the races and needed someone to fill in Ronnie Morales' shoes," said Dan Clements. "(Hughes) has his horse stabled here, so it just worked out well.
"He's a good guy and I trust him and he's good with the young horses, so we started the relationship like two weeks ago. He started out with a bang, with a win in the Gold (July 11), so everything's going well, so far."
Less than a year after thinking he might be finished with training horses, Hughes suddenly found himself with an Ontario Sires Stakes hopeful of his own and a group of talented youngsters to work with on behalf of the Clements family best known for co-owning the legendary Cam Fella and breeding stellar sire Camluck.
"This spring's been very unexpected just the way it's kind of unfolded for me here so we'll just not get the hopes up too high. But, hopefully, it just keeps rolling along and we have some luck," said Hughes. "It's kind of like you get out of sight and you're out of mind with this business, so it was probably a good opportunity for me to step back in and see where it leads me."
Hughes made his training debut for the Clements family with P L Notorious in the 2-year-old pacing filly Gold Series opener at Woodbine Mohawk Park on July 8. The daughter of Sunshine Beach and P L Angel finished sixth, pacing her own mile in 1:54.
Three days later, Hughes harnessed 2-year-old trotting fillies P L Nikita (E L Titan–P L Blue Opal) and She Started It (Kadabra–Jayport Sweetheart) — who is owned by the fractional ownership group Bright Future Racing — in their Gold Series debut at Mohawk. P L Nikita delivered a 1:59 victory with Jody Jamieson in the race bike and She Started It rolled off stride at the head of the lane when Jamieson and eventual winner Massive Flirt powered up alongside her coming off the last turn.
"My Dad's a trooper, if anybody deserves any credit it's him. I mean, he's just been breeding these things forever and it's nice to see him have a good Ontario Sired, finally. I think P L Hercules (2014) was the last one that won a Gold," said Clements of his 80-year-old father Norm. "So, he's all excited, he's the guy that keeps everything ticking.
"The Kadabra filly, me and my son (Ryan) went to the London sale and bought her and he set up a fractional ownership thing — we did it years ago with Onlineharnessowner. There was like 26 people at the track the other night, they were cheering and then all of a sudden disappointment. It took $35,000 right out of our hands, we were going to be first or second, I know that, but that's racing."
For his part Hughes is confident She Started It will sort things out, and the horseman has more than a little bit of experience with fractious trotters; $3 million winner San Pail, the 2011 Horse of the Year in both Canada and the United States, was not the easiest horse to work with as a youngster.
"I think she just got a little lost. And she's a little bit hot and Jody rolled up outside her, maybe she just wasn't used to someone retaking on her that fast or coming at her like that," said Hughes. "I think she'll put it all together here soon."
However the remainder of the summer plays out for Tymal Tarot and the Prince Lee horses, Hughes is grateful to Dan and Norm Clements for giving him the opportunity to renew his career.
"Honestly I've been around the business my whole life and I don't think I've been anywhere they could treat me any better than over there. They're super nice people, really they are," said the horseman, who is now considering properties around Uxbridge rather than Woodbine Mohawk Park.
"I thought the ride might have been over in harness racing, but anyway, here we go again."
Stakes action July 19 to 25
July 19
Woodbine Mohawk Park — OSS Gold Series (2fp)
July 20
Kawartha Downs — OSS Grassroots (2ct)
July 21
Clinton Raceway — Vic Hayter Trot
Rideau Carleton Raceway — OSS Gold Series and Grassroots (3ct)
July 23
Georgian Downs — OSS Gold Series (2ct)
July 24
Grand River Raceway — OSS Gold Series (2ft)
July 25
Woodbine Mohawk Park — OSS Grassroots (3fp)
Ontario handicapping picks
A deep selection of handicapping picks for Ontario racetracks — featuring the talents of Garnet Barnsdale, Michael Bozich and Michael Carter — is available on the Ontario Racing website.