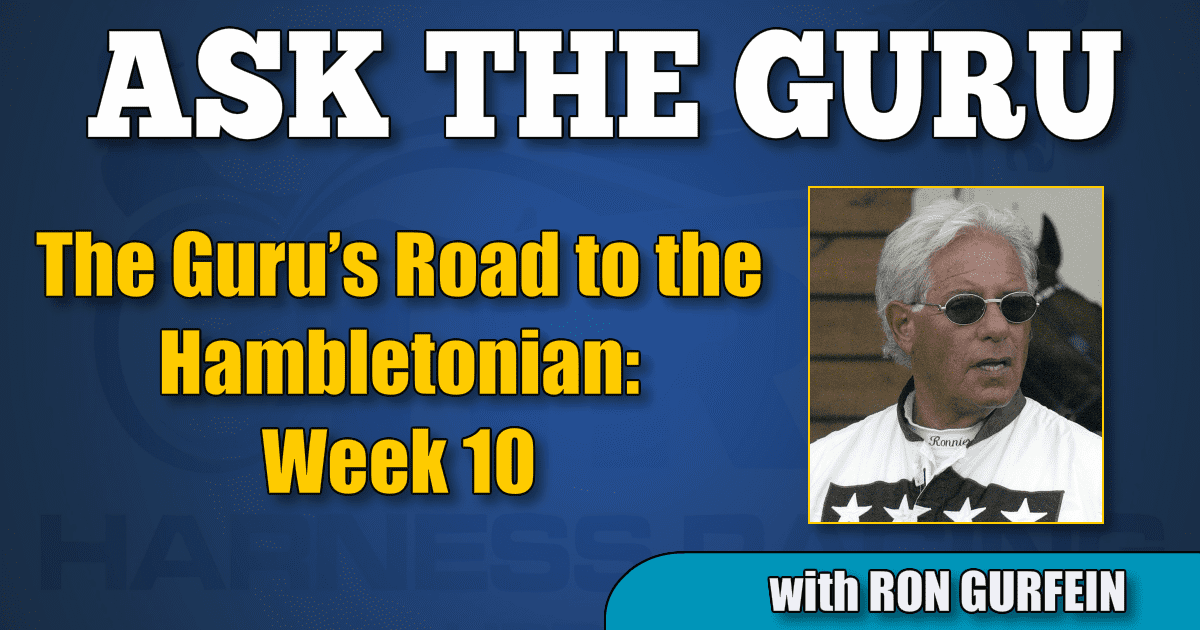 The Guru's Road to the Hambletonian – Week 10
by Ron Gurfein
HORSE
PEDIGREE
SALE PRICE, EARNINGS, RECORD
OWNER
BREEDER
TRAINER / DRIVER
COMMENT
1. GREENSHOE
Father Patrick — Designed To Be
$330,000 Lexington Selected $403,223 3,1:50.1
Courant Inc, Hans R Backe, Lars Granqvist,and Martin Langli
Marvin Katz and Al Libfeld
Marcus Melander / Brian Sears
In what may have been his most impressive race yet, he was beaten by Marseille after a cagey drive by Ake Svanstedt in the final of the Beal. Was loaded with trot coming from an impossible spot. Remains the choice of this writer by a large margin. Had the week off in preparation for next week's Stanley Dancer eliminations. Had last week off. If there were any non-believer out there I doubt there are any tody. Greenshoe absolutely crushed the competition in a 1:50.1 romp in his Dancer elimination last night. Truly amazing colt.
2. PILOT DISCRETION
Muscle Hill — Self Indulgent
$100,000 Lexington Selected $167,975, 3, 1:52
J. Leblanc, David Anderson and John Fodera
Steve H. Stewart and David W. Miller
Tony Alagna / Andrew McCarthy
Moved up off a stunning win in the Goodtimes final at Woodbine Mohawk. Qualified at the Meadowlands in what I expect was a prep for next week's Stanley Dancer eliminations, and what should be a showdown with the top pick and his stablemates. The qualifier could not have been better (1:51.3). He is ready for the Green Team. Raced well in defeat to Greenshoe but was NO MATCH.
3. GREEN MANALISHI S
Muscle Hill — Naga Morich
$270,000 Sweden , $621,307 2, 1:53.4
Courant Inc
AB Svensk Reklamfinas
Marcus Melander / Tim Tetrick
Lost no points in my book after a fine third-place finish in the Beal, also coming from an impossible place. I would think the week off before the Dancer was a smart decision.
4. GIMPANZEE
Chapter Seven — Steamy Windows
$170,000 Harrisburg $723,146 3, 1:54
Courant Inc and SRF Stable
Order By Stable
Marcus Melander / Brian Sears
Did not race this week as Melander kept him out of the Dancer most likely for a Sires Stakes event next Friday at Tioga Downs.
5. FORBIDDEN TRADE
Kadabra — Pure Ivory
$110,000 Harrisburg $43,130 3, 1:53
Determination, Steve Stewart
Luc Blais / Bob McClure
He crushed a field of open 3-year-olds Friday at Mohawk in a pedestrian 1:54. Colt was a very creditable second to Pilot Discretion in the Goodtimes Final at Mohawk. Won a Ontario Sires Stake for $80k Monday in 1:53 last quarter in a quick :26.3.
6. SWANDRE THE GIANT
Swan For All — Adagio
$17,000 Indy resold privately $417,568, 1:51.3
J & T Silva, Howard Taylor, Diamond Creek Racing, DM Stables
Ron Burke / David Miller
Wins his first race outside the state of Indiana with a very impressive win over Green Manalishi coming first up in the Stanley Dancer first division. That's the good news. Unfortunately, it was a case of first-time Lasix, which was a brilliant addition to a colt that had difficulty finishing his miles all season. The use of Lasix is not permitted in the rules for the Hambletonian so I would question first if he would even be an entry and then would he be competitive without the drug? One thing is for certain, it's good Ronnie solved the puzzle as this colt was a very expensive purchase.
7. DON'T LET'EM
Muscle Hill — Passageway
$80,000 Lexington Selected $254,367, 2, 1:51.4
Brittany Farm LLC, Christina Takter, John D Fielding and Herb Liverman
Brittany Farms LLC
Nancy Johansson / Marcus Johansson
Raced in a NW7 at the Meadowlands and looked fabulous destroying the overnight field in 1:51.3. It looks to this writer that Nancy has found the keys and this guy is well on the comeback trail. The colt put in a wonderful qualifier finishing a very fast closing second to Pilot Discretion at the Meadowlands in 1:51.3 last week. Sat a perfect trip last night in his elimination of the Dancer and made a break trying to keep up. It's been a bumpy road for this talented colt.
8. WHEN DOVESCRY (f)
Muscle Hill — Cedar Dove
$205,000 Harrisburg $290,710 2, 1:52.3
Go Fast Stable, Yvette Sarrazin, Kapildeo Singh and Lawrence S Dumain
William Weaver II
Rene Allard / Simon Allard
Look fabulous in her first appearance of 2019 running away from a group in a Pocono qualifier. Still has a lot of catching up to do. She is in to go tonight in a NW 7 event at Pocono.
9. EVIDENT BEAUTY (f)
Trixton — Struck By Lindy
$80,000 Lexington Selected $373,192 3, 1:52.3
Mel Hartman, Little E LLC, RAW Equine
White Birch Farm
R. Nifty Norman / David Miller
Undefeated very talented lass has won all three starts this year. The final of the New Jersey Sires Stakes was a whopper. Raced last week off a 36-day lay-off at the Meadowlands in a division of the Reynolds. She won a division of the Delvin Miller last night handily in 1:52.3. The chart makes it look closer than it was as Tim Tetrick and Cloud Nine Fashion made a furious charge to go head and head and appeared to take the lead, but off pedestrian fractions. The end result was never in doubt.
10. MARSEILLE
Muscle Hill — Order By Wish
$180,000 Harrisburg $317,758 3, 152.3
Ake Svanstedt, Order By Stable, Howard Taylor
Order By Stable
Ake Svanstedt / Ake Svanstedt
Upset winner of the Beal last weekend. Ake likes to win big races with horses no one can figure. This colt has won the most money of any 3-year-old this year. Do I think he is as fast as the top picks? Certainly not, but as I said I have seen Ake miracles before and right now the colt deserves a spot on the list. He is not eligible to the Dancer which means he will need another start somewhere before the big dance.