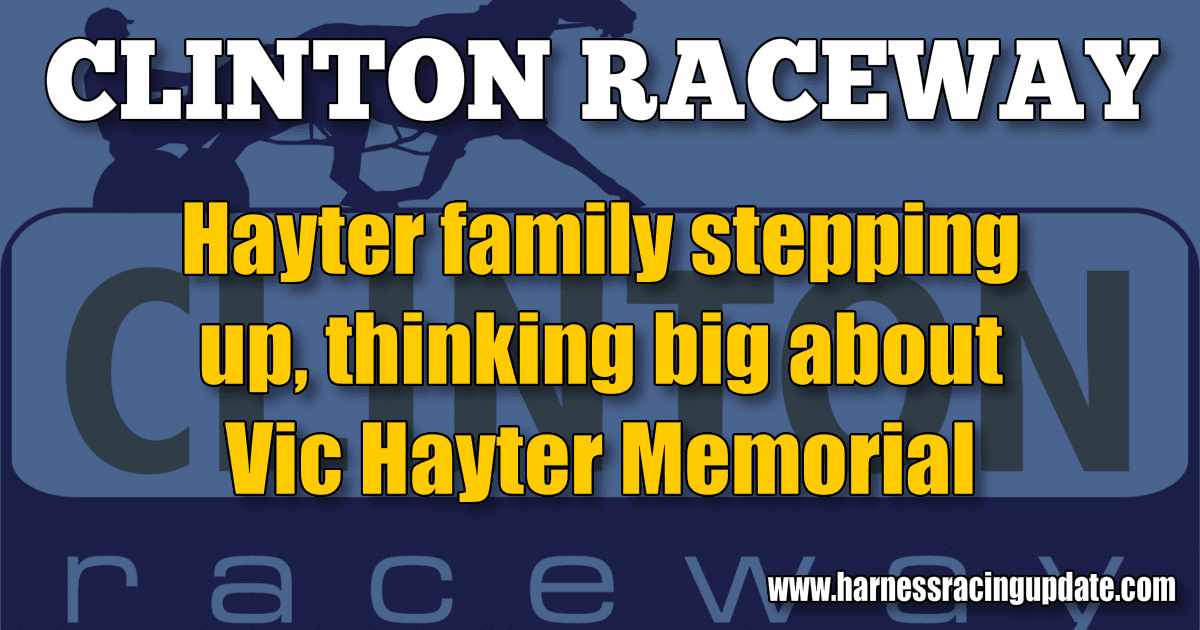 Hayter family stepping up, thinking big about Vic Hayter Memorial
The fourth annual $15,000 Vic Hayter Memorial Trot at Clinton Raceway on Sunday, July 21 will honor the late horse owner and hotelier by supporting the people that care for the animals he loved. The family has paid to increase all the purses on the card by 10 per cent and will pay to feed all the horsepeople in the backstretch as part of National Caretakers Appreciation celebration.
by Dave Briggs
Greg Hayter laughed when asked how his late father would feel about the family's decision to greatly increase its commitment to the Vic Hayter Memorial at Clinton Raceway in Ontario as part of an effort to, one day, make it an event that rivals some of the biggest events in harness racing.
"I think he'd want to make a contribution to the track in an anonymous name. He was a very humble man. He didn't long for recognition or go looking for recognition," Hayter said. "But aside from his humbleness, I think he'd be super proud of the fact that his family is honoring his name and his legacy in this way."
Vic, who owned many hotels, but is perhaps best known for operating The Arden Park Hotel and Festival Inn in Stratford, ON, died of cancer in February of 2016. He was 77. Managing his hotel business took up most waking hours, but Vic always made time for Clinton Raceway. He owned standardbred for 38 years.
"He worked seven days a week, but every Sunday at 12:30 he'd be home to pick up my mother and they'd go to Clinton Raceway," Greg said when the race debuted in 2016. "Dad was involved with horses since 1978 and even as kids, when we lived in Lucan, we used to always go to Clinton Raceway on Sunday afternoons. The last 15 years or so, mom and him used to go every Sunday and they'd sit right by the finish line.
This year marks the fourth anniversary of the Vic Hayter Memorial in support of both the Ontario Standardbred Adoption Society and the Stratford-Perth Humane Society and Greg said his family has not only raised the purse to $15,000 (from $12,500 last year), but also boosted the purses for all the other races on the card by 10 per cent.
"The long and the short of it, if you're racing every week for $4,000, you're going to race for $4,400 that day," Greg said. "It's not going to make anybody rich, but it just gives a bit of a boost to people."
Since the weekend also falls on National Caretakers Appreciation celebrations, Greg said his family is also paying for lunch for all the horsepeople in the backstretch.
"We want to have that as a small part of Vic Hayter Day, but more as the Hayter family's contribution to the industry," Greg said. "The caretakers are the unsung heroes. They are the people that live in the backstretch and basically live with the horses. Sometimes it isn't a glamorous job, but these people do it for the love of the animal. Somebody has got to appreciate it."
The dream, Greg said, is to one day make the Vic Hayter Memorial on a scale with some of his favorite events — the famed Little Brown Jug in Delaware, OH or the Vincent Delaney Memorial in Ireland.
"I'm a big fan of the Little Brown Jug and a big fan of the party atmosphere, the circus-like atmosphere of the Little Brown Jug with the fair in the background and the races going on and there's 50,000 people and everyone is eating Beavertails and poutine," Greg said, adding the Vincent Delaney Memorial has, "a bit of a Kentucky Derby spin to it, where all the girls get dressed up in hats. It's the same idea, just a party atmosphere and they are celebrating the one brother who died.
"I might be dreaming big things, but I really want to gain some momentum and get to that level one day. I know it's not going to happen this year or probably next year, but I guess my personal goal is to build this thing bigger and bigger and better every year, year after year after year.
"The day has evolved, from our original thoughts of a one-race Vic Hayter Memorial, and then everybody goes home. It's not just a race anymore, it's more like a Vic Hayter Day."
The July 21 card, which has a 1:30 p.m. post time, also will feature a raffle, silent auction, 50/50 draw and a Pineridge beef dinner.