by Victoria M. Howard
Harness racing is nothing new to Emily Gaskin Ratcliff. At one time, her father, Ernie, trained for the late, great Billy Haughton. In fact, that is where he met his future wife and Emily's mother.
Today, Ernie is one of the leading trainers at the Anderson, IN harness racetrack Harrah's Hoosier Park.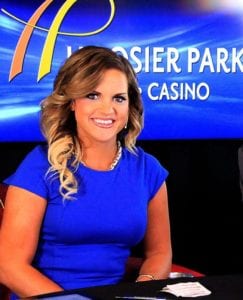 Growing up like many other young girls, Emily was horse crazy, but preferred riding and showing horses, instead of helping out in the stable.
After graduating from high school, Emily attended the University of Kentucky where she rode on the equestrian team.
"I always knew I wanted to be involved with horses in some facet; I just wasn't sure where. During my studies at the University of Kentucky I was fortunate enough to land an internship at The Horsemen and Fair World and the rest, as they say, is history.
"During my internship I was given the opportunity to work under some of the best horsemen in the industry. It was then that I discovered I enjoyed writing about the sport and marketing end. Upon graduation I had a variety of jobs, such as being a groom for my dad, while simultaneously working as a reporter for Harness Racing Update under the direction of Bill Finley."
Emily has worked at Hoosier Park in Indiana since 2012. She started as the racing publicist and assistant to the general manager of racing.
"When I started working there, Hoosier still hosted thoroughbred racing, so I had to learn a few things very quickly. In 2013, Hoosier Park began hosting harness racing full-time. The on-air talent left to follow thoroughbred racing at Indiana Grand and I was offered the position to do the on-air work.
"I wear a few different hats in my role(s) at Harrah's Hoosier Park. Presently, I am the race marketing manager, publicist, and broadcaster. I love my job for it's never boring. As the race marketing manager I am responsible for all the marketing, promotion and community events for racing. I work closely with our horsemen and organizations to ensure we are doing everything we can to highlight our racing product. I handle all of the press releases, publicity, and on-air segments for live racing."
Hoosier Park has a reputation of being one of the more generous tracks willing to go that extra step to help the horsemen in any way possible.
"I don't know if we are better than other tracks for I don't know what the other tracks do, but here at Hoosier we do everything we can to make Hoosier Park a great place to race horses for everyone.
From the grooms, to the owners, to the bettors, to the horses — they all have an equal part in putting on the show for the fans.
I feel fortunate to work for a company like Harrah's Hoosier Park who continually places an importance on improving our wonderful sport of harness racing — and it shows.
"Horse racing, as a majority, is a male dominated sport. I think more women gravitate to thoroughbred racing because it is more popular, and depending on who you ask it seems more glamorous. I also believe there are not as many opportunities for women in harness racing as there are in thoroughbred racing, but I am working hard to change that. Every year I employ two or three interns and try to introduce them to all the various roles in harness racing; whether it be through marketing, photography, grooming and anything else I can."
Currently, Emily owns seven horses that race on the Indiana circuit.
"Horses have provided me with some of the biggest thrills in my life — including the winner of the $200,000 Indiana Sires Stakes Super Final with the first horse my dad ever bought for me after graduation. His name was Jammin Joshua. My father trains for me and my mother manages his 20-horse stable. My sister is also involved in the business, working alongside me as the racing promoter and events specialist here at Hoosier. It is truly a family affair and we all also help out in the barn when we can. I love all my horses and enjoy spending my mornings with them. They keep me sane.
"My job is very demanding and requires me to be present at all times. I've had to learn to find a good balance and balance is important. I try to juggle everything the best I can. Working in the barn, my job as race marketing manager, publicist, broadcaster, and handicapping the racing programs keeps my cup full. I truly enjoy handicapping for it's like working a different puzzle 12 times each night. I enjoy following pedigrees, analyzing racing styles, and always trying to find a good angle — the things you can't see by just looking at a program. I've had to teach myself to be more analytical and less emotional, but I take great pride in providing my selections. I also love connecting with people that have played my picks."
Last September, Emily added another exciting thing to her busy life: she got married.
"You know the saying, 'for better or worse?' I joke with my husband that if this is true I hit the lottery because he understands he married a crazy horse lady and it's more like 'for better or for worse,' for he is as patient as they come. He's a dentist and quite literally we have opposite schedules; so spending quality time together can be very tricky. Luckily for me he also enjoys horse racing — he even owns a few horses. He also understands I am very passionate about my career. My philosophy is you should do things with passion or not at all, so he lets me do my thing."