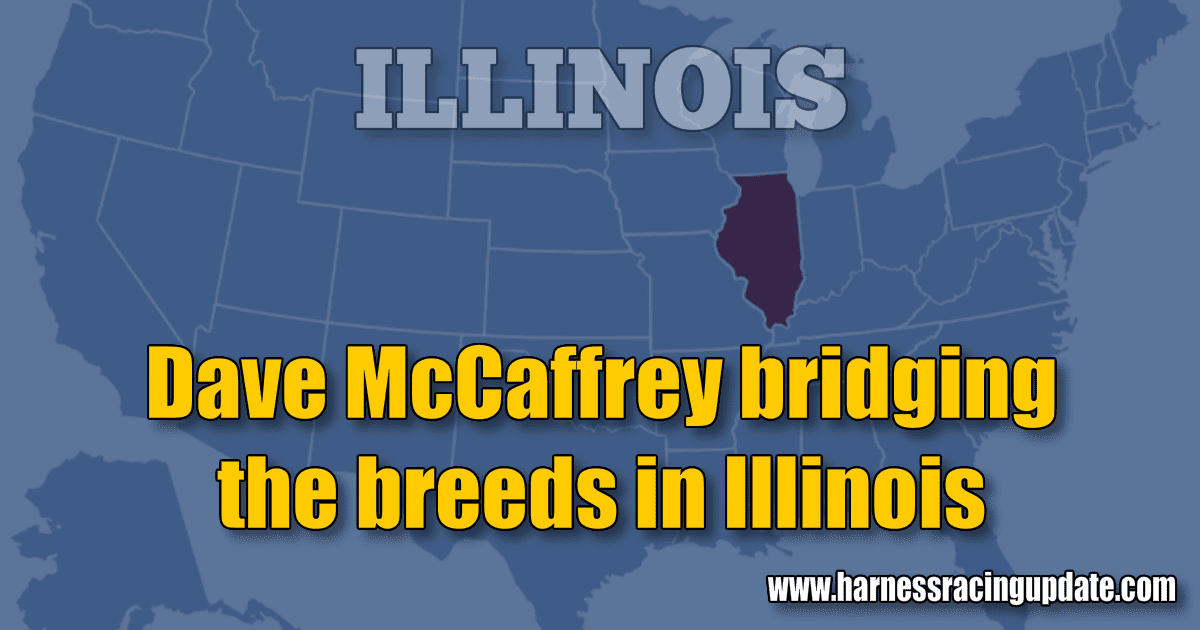 Former Illinois Harness Horsemen's Association president and standardbred trainer Dave McCaffrey is now in a similar role representing the state's thoroughbred interests, but he remains a standardbred owner and committed to unifying the breeds to the betterment of all in Illinois.
by Neil Milbert
The old adage "don't switch horses in midstream" doesn't apply to Dave McCaffrey, whose standardbred training career was so successful that he is enshrined in the Illinois Harness Horsemen's Hall of Fame.
McCaffrey trained standardbreds for 26 years. During that time his horses started 12,516 times, won 1,859 races and earned $13,887,933. He took seven training titles at Maywood Park. Three of his horses set world records.
Not only was McCaffrey prominent at the track he distinguished himself off the track, serving as a member of the board of directors of the Illinois Harness Horsemen Association (IHHA) starting in 1997 and then as IHHA president for nine years.
Early in 2016, at age 48, McCaffrey ended his training career and resigned the presidency to segue to his present role as executive director of the Illinois Thoroughbred Horsemen's Association (ITHA).
"It was tough to leave, but it was made easier because Illinois harness racing had descended to such a low level, both in terms of purse money and particularly in number of race days," McCaffrey said. "Back in 2014, we raced 202 days in Chicago and this year they'll race 71. The race schedule has been chopped by more than two-thirds."
The shrinkage came about because Maywood and its sister track, Balmoral Park, were forced into bankruptcy and the Illinois Racing Board shut them down after their 2015 meetings.
Hawthorne Race Course moved into the void to become the only harness game in town but, because it also conducts a thoroughbred meeting, of necessity the standardbred schedule had to be drastically curtailed.
For McCaffrey, there were two options: 1. He could relocate to another state "and basically kind of start from scratch and build up a stable." 2. He could embark on another career.
An opportunity to stay in Chicago racing immediately presented itself. The ITHA's executive director, Glen Berman, had decided to accept an offer to become the Florida Horsemen and Benevolent Association's executive director and ITHA president Mike Campbell, with whom McCaffery had established a close working relationship, asked if he'd be interested in taking the vacated job.
"Staying here and doing something I was accustomed to doing won out," McCaffrey said.
As IHHA president he had been collaborating with that organization's executive director, Tony Somone, to conduct contract negotiations with the racetracks and represent the horsemen at Illinois Racing Board meetings and when the state legislature convened in Springfield. He was no stranger to addressing issues and confronting controversy.
"I can't express enough how much of a full-time job being president of a horsemen's organization is," McCaffrey said. "I had two full-time jobs — the (Harness) Horsemen's Association and the barn.
"Becoming the executive director of the ITHA was a transition that was as smooth as it possibly could be."
However, a few months after taking the job, McCaffrey was confronted with a new challenge and the stakes were sky-high.
The thoroughbred horsemen's contract with Arlington International Racecourse had expired and track management, with the collaboration of a political ally, Racing Board Chairman Jeff Brincat, was attempting to oust the ITHA as the collective bargaining agent of owners and trainers and replace it with a puppet organization, the Illinois Thoroughbred Breeders and Owners Foundation (ITBOF).
When the ITHA filed a lawsuit in federal court, the ITBOF, Arlington and Brincat had a quick change of heart.
"They backed off and after that we made a deal pretty quickly," McCaffrey said. "It kept the ball rolling. Since then, our relationship with the folks at Arlington has improved. In retrospect, dealing with the Johnston family (that owned Maywood and Balmoral) and Phil Langley (their director of racing) was terrific. That acclimated me (for tough negotiating); I had seen it all before."
Until McCaffrey and Campbell made the missions of the IHHA and ITHA a common cause, these organizations also had an adversarial relationship.
"I was aware of David (but) I did not know him," said Campbell, who was elected ITHA president in November, 2008, two months after McCaffrey became IHHA president. "He came to me and said, 'Let's work together" and I said: 'Let's do it. Harness horsemen's kids have to eat just like thoroughbred horsemen's kids do.' From that day forward we've had a close relationship.
"When Glen left for Florida and I recommended David, my board voted for him unanimously. I think that's a big statement. I don't know of any leader of a harness horsemen's organization who has risen to a level where he was so appreciated by thoroughbred horsemen that he was a unanimous choice to represent them."
In McCaffrey's educated opinion: "Maybe one per cent of the time what's good for the harness horsemen might not be good for the thoroughbred horsemen but the other 99 per cent of the time what's going to be good for the harness will be good for the thoroughbreds. Mike bought into that and since then it has proven to be the case.
"So much of the economic health of horse racing is dependent on statutes and what happens in the state legislature. That's lost on a lot of horsemen, not because they don't care but because they're training horses, and it's not on their radar. Training is a 365-day profession and it is a difficult job. When horsemen have a voice statutes tend to be more horseman friendly.
"When racetracks speak for the horsemen, look out! You don't have to look any farther than (Isle Casino Racing) Pompano Park to know exactly what I'm talking about. Here's a track in southern Florida that should be one of the jewels of harness racing. Instead, it's kind of like a little 'B' track.
"I think they've got something like 2,000 slot machines, and essentially purses get one-half of one per cent (of the revenue from the slots). The reason is that Isle of Capri (the gaming conglomerate that owns and operates the track) went to Tallahassee and spoke for the horsemen (before the legislature). All you need to know about what happens when racetracks speak for the horsemen is right there."
In Illinois, McCaffrey cited two instances in which he believes horsemen were short-changed because the tracks were the ones who crafted the legislation — the legalization for off-track betting in 1986 and the legalization of full-card simulcasting from out of state in 1995.
"Think of how different the game would be if we were getting a 50/50 split at the OTBs instead of basically 25/75," he said. "Think of how different the game would be if recapture hadn't come in with full-card simulcasting and $300 million hadn't been ripped out of the purse accounts at the thoroughbred and harness tracks. That was money earned for purses. I'm not accusing the tracks of doing anything illegal; they rip the money out and legally they can because it's in the statute."
The "recapture" provision in the law stipulates that if betting on live racing is less than 75 per cent of the 1994 total, tracks can "recapture" 2 per cent of the amount from the purse account. Every year since the statute's inception the amount has been under 75 per cent, enabling the tracks to extract in excess of $284 million from the purse accounts.
Now, there's light at the end of the tunnel for the horsemen thanks to the massive multi-faceted gambling expansion bill that was passed by the Illinois legislature at the conclusion of its spring session and signed by new Governor J.B. Pritzger on June 28.
Among other things, the bill will allow the state's three tracks (Hawthorne, Arlington and downstate Fairmount Park, which has only thoroughbred racing) to offer gaming with a minimum of 12.7 per cent of the gross revenue guaranteed for purses. And when the gaming begins "recapture" will end.
In addition, each of the tracks and three of their OTB satellites will be allowed to conduct sports betting, but in this case the horsemen's cut will be determined by contractual agreements between them and the tracks.
Hawthorne already has announced a partnership with the Australian bookmaker PointsBet to introduce sports betting as soon as possible and "work in tandem to build a world-class, multi-faceted sports entertainment venue" at the track.
Of even more importance to harness horsemen, the statute allows a new racino exclusively for harness racing to be built in one of seven suburbs south of Chicago.
"The beautiful thing is the bill allows for a replacement track for Maywood and Balmoral," McCaffrey said. "Chicago racing used to be a 12-month gig for both breeds for all those years. You could buy a house and stay here all year. That ceased on the harness side because of the Maywood and Balmoral situations. This new track will bring harness racing back to a 10 or 12-month situation.
"This bill provides hope and optimism to horse racing in Illinois. Those two things — hope and optimism — happen to be the two cornerstones of horse racing, whether you're a bettor, whether you're an owner or whether you're a trainer."
While McCaffrey no longer trains harness horses, he remains a standardbred owner.
"I have three horses, all Illinois-bred pacers bought as yearlings, that I owned in partnership with Tony Somone and their trainer, Clark Fairley," he said. "Al's Briefs is a 4-year-old who has made more than $85,000. The other two are fillies, a 3-year-old Brienne the Beauty and a 2-year-old Amazon Princess.
"In 2015, I had about 40 horses (racing at the Chicago tracks and in Delaware) that I owned a big part of and I also trained for a number of people. There wasn't one particular day that I dissolved my stable (before becoming ITHA executive director); it was more like a six-month process. I sold some. Some were leased. Some owners bought me out and some owners I trained for took their horses back to New York. It was quite an undertaking.
"The last night at Maywood, I won the second last race. It was a good run in harness racing and I look back on it fondly. I have great respect for the people in harness racing and want them to do well."
A by-product of McCaffrey's immersion in thoroughbred racing is his realization that it is that it is very different than harness racing.
"I knew the politics and the horse side of the harness business, and I thought the horse side of the thoroughbreds was more similar than it actually is," he explained.
"It's startling how much different the two sports are. That came as a shock. The whole regimens in a barn on a given day are different — the feeding procedures and exercise procedures are tremendously different. The amount of equipment the horses wear is tremendously different. On the thoroughbred side they have four aluminum shoes all around. On the harness side there's more of a focus on equipment and shoeing. Conversely, on the thoroughbred side there all these nuances and subtleties in distances and surfaces.
"In harness racing you go to a track and race one mile on essentially the same surface; in thoroughbred racing you have dirt and turf and Polytrack and you have varying distances — 6 furlongs, 7 furlongs, a mile, mile and an eighth, mile and a quarter and so on. On the thoroughbred side there's more emphasis on exercise physiology and finding the right spot in terms of distance and surface and conditions."
McCaffrey has come to appreciate the pronounced physical and mental differences between the two breeds.
"Thoroughbreds are more fragile so their starts are much more limited," he said. "And they are much more high-strung. Thoroughbred racing is much more dangerous (because) it's much easier to get thrown from the back of a horse than the back of a cart."
In addition, McCaffrey pointed out that thoroughbreds require a bigger labor force because trainers hire exercise riders for morning workouts and jockeys employ agents to secure mounts and valets to take care of their equipment.
Although socio-economic differences among the participants also abound in both thoroughbred and harness racing, McCaffrey is convinced that the horsepeople and the people who own and operate the tracks have much more in common than they are aware.
"I wish in both sports the backstretch and management people would realize we all need each other," he said. "Both sides of horse racing are in precarious positions right now for lots of reasons. We'd be better off speaking with one voice instead of fighting amongst ourselves.
"When you find common ground it's important to exploit it. The problem is finding common ground and that's hard, a lot easier said than done. I fight like crazy for the horsemen."