by David Mattia
* Originally published on Sept. 2, 2018 in Harness Racing Update.
"Getting inducted into the Hall of Fame, yes, that's very nice. It's a good pat on the back, but the Hall of Fame is not a place where you should go to die. I'd still rather be out there winning the Little Brown Jug — especially if I could do it with a horse I own myself." – Ted Wing: speaking about his impending induction into the Harness Racing Hall of Fame.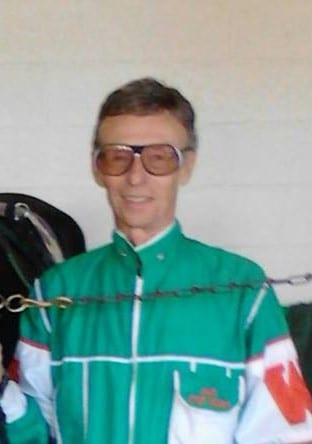 Now 70, and laying low while training a horse here and there, Ted Wing belongs to that small but elite group of harness racing drivers who changed the way the harness game was played out on the track in the 1960s and 1970s.
With a clock in his head and not in his hand, his patented quarter-pole brush to the top, and a bold three-wide tip-and-go at the five-eighths pole that was beloved by half-mile track punters, Wing sped up the pace and the action wherever he drove. His innovative ideas about movement and flow in races – daring stuff for the time – has had a profound and lasting impact on how drivers drive in races today.
Ted Wing was born in Farmington, ME to Morris and Emily Wing. Morris Wing was a manager at Woodlands International Paper Company, but he drove and trained horses on the side. According to Ted, a mare named Northern Maid is probably the horse he first remembers.
"I basically grew up around horses," Wing said. "One day I saw my father jog that mare and I said, 'By God! This is the deal.'
"I think I won my first race when I was about 12 years old. Of course, I did a lot of skiing too, and I'm known for that, but I could only ski when there was snow. Racing and training horses is something you can do at any time and you can earn a good living as well."
Wing was indeed an Olympic-caliber skier who competed as a Junior against some of the biggest names in slalom and downhill, but the long-believed story wherein he quit skiing because of a blinding injury is simply not true.
"Heck no," said Wing. "I lost my eye long before I ever wore a pair of skis. I stopped skiing because I wanted to train and drive horses. It's what I wanted to do then, and it's what I want to do now. I've never even considered anything else. Like I said, you need snow to ski. It's a seasonal thing. It was the harness horses who pulled me away from my skiing.
"Truth is, I lost my eye when I was a toddler and, messing around like toddlers do, I got a hold of a carving fork and jabbed my eye. I was about two, and my parents drove me all the way to a special hospital in Boston to try and save my eye, but they couldn't, so I went on with my life from there. Having one eye didn't affect my skiing a bit, although it should have, and I was pretty sure it wasn't going to affect my ability to drive horses," Wing said.
"My father knew that I was a good driver, so he took the time to speak to a local guy by the name of Freddie Roullard. Freddie was driving horses for Clearview Farm and he had only one eye too. He gave me good advice, and I listened. I'd also stand around and watch him drive, and I figured out a few things and it helped, but a lot of drivers will tell you that you drive with your hands and not your eyes. I learned how to tip my head one way or the other, just a bit to get the right view, and my hearing took over for my lost eye too. I could tell when a horse was coming and how far away they were. A lot of times I could even hear who the horse was, or at least I sensed who it was."
When Ted was 16, his parents, supportive of their son's driving and training ambitions, dropped him off at Presque Isle Racetrack where he would spend the next two months living in a tack room and racing two horses. That's where things started to snowball.
"I started doing really well and the old-timers were impressed with my work ethic. I'd be there working in the morning before they got in and I'd still be working in my barn after they'd all gone home. There was this one horseman, a truly great horseman named Link Keene. He gave me all the ups and downs. He told me what to do and what not to do. I listened intently, and I learned a lot from that man.
Despite his youth, Ted Wing quickly became a major force on the New England circuit; winning driving titles at Rockingham and Foxboro from 1970 to 1975 while driving against some of the best drivers in harness racing history.
"Jim Doherty was the toughest driver I ever had to go up against," Wing said. "He was always going forward and so were his horses. Jim was a guy who was under way all the time, but you know, that's how you learn to be better yourself. I was around a lot of guys who really knew how to drive a horse."
At 26, Ted Wing was the youngest American-born driver to win 1,000 races and the second youngest to win 2,000 and 3,000. He is already enshrined in the New England Harness Racing Hall of Fame alongside many of his friendly rivals from the past, including Canadian imports such as Jim Doherty and Bill O'Donnell.
Joe DeFrank, the racing secretary at the Meadowlands, and a man with a keen eye for talented horsemen, asked Ted to come down and give it a try on the brand-new mile oval which had just opened in 1976 to resounding success. In New England, Ted's driving style had always attracted fans to the track and bettors to the window, so it was logical to think that he would do the same thing for the new racetrack in New Jersey. He didn't disappoint.
Nicknamed "The Major" by Roosevelt track announcer Jack E. Lee, Ted Wing became a superstar when, in 1978, he finished up the Meadowlands meet with the leading driver trophy. He also took home driving titles from Yonkers and Roosevelt Raceway while sitting behind horses such as Calvert, Butler BG, Skip By Night, Stabilizer, Total Freight and literally thousands of others. He also had his turn in the bike with super horses such as Tarport Hap, Gallo Blue Chip and Courageous Lady.
"Catch driving can be very lucrative and it was what I did," said Wing. "The real money, if you want to work harder, is to train and race your own horses. You can make a good living and make some real money. In my barn, I always tried to be in the situation where the best horse in my barn was one that I owned myself."
Ted Wing proved that training his own horses was a viable formula with a horse named Art Attack that he claimed for $50,000 on Hambletonian Day in 2001. The super-sized stallion went on to win $650,000 over the next five years and was described by Wing as, "the most amazingly perfect physical specimen you will ever see."
While nowhere near as active in racing as he once was, Ted Wing now lives comfortably in Montgomery, NY with his wife, Jackie Allen Wing. Together, Jackie and Ted have two children, Ryan and Stacey, and four grandchildren, Baldo, Enzo, Melina and Layla. Ted's mom Emily is 96 and lives in Maine. His dad died many years ago.
"Mom is sharp as a tack," Wing said. I speak to her all the time and we visit as often as possible. It's amazing when I'm on the phone with her because it's as if time has never passed. We talk about the same kind of things and it might as well be 60 years ago."
Ted Wing dodges the retirement question before it can even be asked.
"Right now, I'm training one horse, because I've slowed things down a bit, but I don't understand what 'retired' is or what it really means. This is all I've ever done. There is no questioning why I decided to make it my life and there's no questioning that I will continue making it my life. Now I'm in the Hall of Fame for all of that, and that's nice because I'm being recognized for something that I set out to do from the start. I've never done anything else and there's never been an instant where I thought of doing anything else."