by Brett Sturman
Trainer Joe Holloway has been around harness racing for nearly all of his life and his illustrious career will be recognized this weekend in Goshen, NY with induction into the Harness Racing Hall of Fame.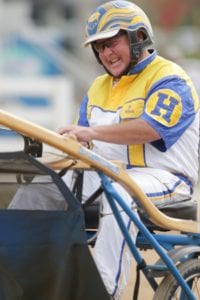 Holloway is a trainer whose longevity has been complemented by a constant level of success at the highest of levels at all points throughout his career. The best illustration of this is to go back just a few years to 2014, the year that Holloway set a personal mark for seasonal earnings when we went over $2 million.
That season, Holloway campaigned female standouts Shebestingin and Somwherovrarainbow as 4-year-olds, but his most well-remembered star from that year was sophomore pacing colt Always B Miki. Though he finished as runner-up in the 2014 Meadowlands Pace where Always B Miki was parked the mile three-wide, it is regarded as one of the best races ever run in defeat.
One of the reasons for Holloway's staying power is his ability to have changed with the times.
"I've had some good clients, but I also try to stay current," said Holloway, alluding to changes in the way races are run through the years.
"I don't really train a horse in the same way that may have worked before or how we used to do it. I try not to train the same way that I did 20 to 25 years ago because the horses are different.
"You have to stay current and I think you're doomed just like in any other business if you don't change. Racing is no exception and you have to be able to adapt to the times, that's for sure."
Before Holloway trained on his own, he gained recognition when teaming with the stable of David Rovine to dominate at the Meadowlands through the mid-to-late 1980s. Towards the end of that decade, Holloway made the decision to go out on his own and came into a couple of key horses that set the stage for the next phase of his career.
"My favorite sentimental type of horse would be Florida Jewel. When I left David following great success at the Meadowlands with overnight horses, Florida Jewel was one of my first horses. And you know how that goes where when you leave somebody and you better do well. Florida Jewel got to take me overseas to the Elitloppet and the Scandinavian races and that got me quite a bit of notoriety – that experience put quite a few horses in my barn doing that."
Holloway also recalls Tooter Scooter, a horse that battled Die Laughing in the 1990 Breeders Crown.
In the 1990s, Holloway won Dan Patch awards with She's A Great Lady in 1995 and 1996. Also winning Dan Patch awards those same years for Holloway, in addition to 1994, was one of the all-time pacing greats Jenna's Beach Boy. Holloway brilliantly campaigned Jenna's Beach Boy to win Dan Patch awards in three consecutive years beginning with the colt's freshman season, and it was his record mile in the 1996 Alfred E. Driscoll at the Meadowlands that left an indelible mark in harness racing history. Overcoming a stretch duel against Riyadh, Jenna' Beach Boy stopped the timer in 1:47.3 to obliterate the prior all-time mark of 1:48.2 that was held by Staying Together. At the time, winning driver Bill Fahy said that it would a long time before that record is beat, and he was correct as it was another 10 years until any horse ever reached the 1:47.3 mark.
Having horses such as the naturally gifted ones that Holloway had throughout the 1990's can make training look easy, but Holloway has had a knack for delivering on the big stage with less suspecting horses. Holloway won the Hambletonian Oaks in 2010 with Bar Slide and won the 2015 Breeders Crown with Divine Caroline – both of whom went on to win divisional honors in those respective years.
"I've been lucky that way," said Holloway. "Divine Caroline was good at the right time when she won the Breeders Crown and the same with Bar Slide when she won the Oaks. I've been able to peak horses for certain times to win some big races."
For Holloway, the ability to come up with wins in key spots is made more important because of the relative small size of Holloway's stable. "When I trained for David (Rovine) we did get up to 70 horses and I really didn't like having that many," said Holloway. "It's actually not even a large stable compared to some of the large stables by today's standards, but I've always been a lot smaller stable and have been lucky to get horses good at the right time."
In May, Holloway notched his "official" 1,000th training win. Training statistics weren't tracked by the USTA until 1991 so countless training wins have been excluded, though the milestone win came with a horse named Voyager, a gelding ironically out of Shebestingin – the world record holding 1:47 filly trained by Holloway.
Though harness racing has changed through the decades, one thing that hasn't is Holloway's ability to successfully train horses and win races. It's marked by his induction into the sport's Hall of Fame.