by Jay Wolf
Jerry Silverman, one of the leading Grand Circuit trainers whose career bridged six decades, will be enshrined into the Harness Racing Hall of Fame on Sunday (July 7) in Goshen, NY.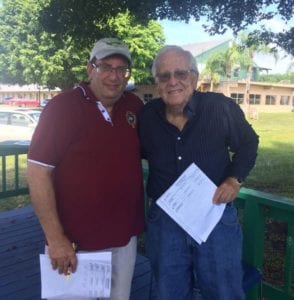 Silverman will join the hallowed Hall through its "Veteran's" selection process. The United States Harness Writers Association (USHWA) bylaws allow the Veteran's committee, once every three years, to choose one nominee (aged 70+) who will directly become a Hall of Famer.
"Getting that call (from the Hall of Fame) is something you don't get every day," said Silverman. "I couldn't believe it. It is amazing."
Silverman was born on Oct. 10, 1935 in the Bronx, NY. He grew up on the corner of 167th and Grand Concourse Streets, blocks away from the iconic Yankee Stadium. Although he was an ardent baseball fan in his younger days, Silverman's real love lay nine miles away at Yonkers Raceway, where he remembers sneaking under the fence at the half-mile oval.
After high school, Silverman took a job selling real estate in Florida.
"My career in real estate was very short, very short," said Silverman.
Silverman turned to harness racing and started his training career at the age of 24.
In the fall of 1964, Silverman's life would forever change. His wife was expecting a child and he was asked by the owners of Lucky Star Stable to find a winner.
"I was coming down the elevator in the building that we lived. When I got to the main floor, my wife told me that her water broke. So, I said that I would come back upstairs. She said 'No, no, just go to Harrisburg and see if you can buy a champion.'"
While in Harrisburg, a Dancer Hanover–Ramola Hanover colt caught Silverman's eye. The chestnut yearling was hammered down for $8,500. Silverman had his future champion and a newborn son, Richard (Richie), on the same day.
In 1966, Romeo Hanover swept through the $126,915 Cane Futurity, the $74,616 Little Brown Jug and the $169,885 Messenger Stake, to become the third pacer to win the Triple Crown.
Romeo finished his career with a 36 wins in 44 career starts and $658,505 in career earnings.
During the 1980s, Silverman found himself back in the limelight and in the winner's circle for some of the sport's top events.
He won the 1982 editions of the $1 million Meadowlands Pace (Hilarion) and Fox Stake (Fame). Masquerade won the 1985 Breeders Crown final for sophomore colt pacers. The uber-tough pacing mare Saccharum captured the 1986 William Haughton Memorial Series final.
Silverman developed Die Laughing, who as a 2-year-old of 1990 won the $1 million Woodrow Wilson final. At three, the son of No Nukes scored wins in the Messenger Stakes and Prix d'Ete. Die Laughing became the first $2 million winning male pacer of all-time and harness racing's first millionaire at age two and three.
Silverman captured his second Breeders Crown title in 2005 with the older pacing mare Glowing Report.
When Glowing Report finished her racing career with $2,095,144, Silverman became the sport's first trainer to have a pacing male and pacing female earn $2 million.
Silverman announced his decision to retire from training in the spring of 2014 at the age of 78. He is officially credited with only 280 wins in 2,148 starts and $8.7 million in earnings, as the United States Trotting Association only began keeping training statistics in 1991.
Silverman's training talent and work ethic was passed down to Richie, and daughter Melissa Silverman Beckwith.
Richie, who was named the USHWA "Rising Star" in 1986, has almost 2,000 career driving wins. After suffering a near fatal racing accident in 2010, the young Silverman turned his attention to the training game.
Melissa is a training force on the New York circuit. She is the seven-time leading trainer at Saratoga Harness.
While the elder Silverman is definitely proud of his children's success on the track, his greatest pride may be his 16 year-old grandson, Brett Beckwith.
At the conclusion of his recognition speech at the 2018 Dan Patch Awards banquet, Silverman gave his grandson a shout-out before he left the stage.
"Watch out for a new one on the market, a young fella named Brett Beckwith," said Silverman.
Grandpa's comments came two months before Brett's first career start, a fourth-place finish in the North American Amateur Drivers Association event at Yonkers Raceway. The young Beckwith has two wins in five career starts and sports an impressive .578 UDRS.
"He's doing terrific. He's a great person and a great kid," boasted Silverman.
During a career that lasted over 50 years, Silverman is nostalgic to look at his past while looking forward to the future.